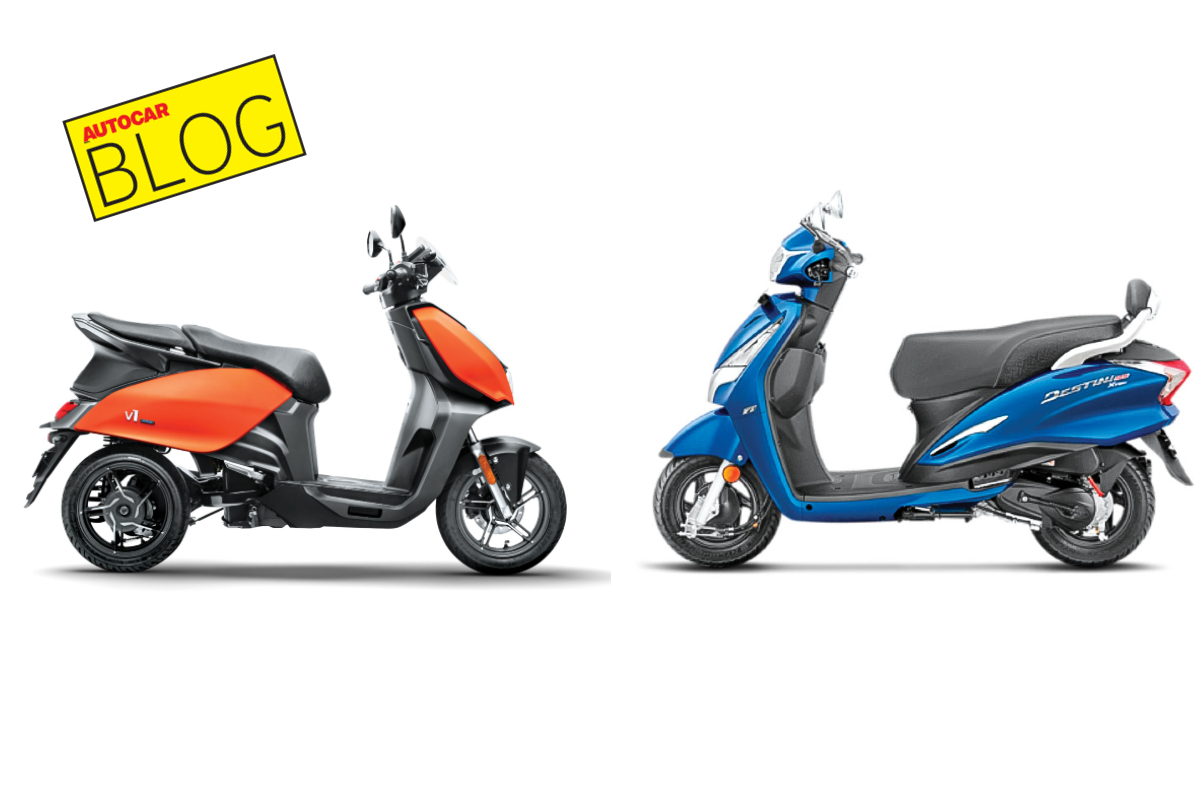 We spent days testing India's top four EVs for our big comparison review last month and after a collective 1,000 plus km of city riding, I'm not sold on any of them. Watch our comparo of the Ather 450X, Bajaj Chetak, Ola S1 Pro and TVS iQube S on our YouTube channel and you'll see that they all have some drawback or the other.
Going to the Vida launch event after having ridden those four scooters, the expectations were high. This was bolstered by Hero's 'not-first' marketing campaign, which, while admittedly clever, has also put the company in a position where there are no excuses when it comes to the product's ability to deliver.
And yet, despite the might of the world's largest two-wheeler manufacturer behind it, the Vida launch still felt very much like what we've grown to expect from new EVs. For example, the product was launched, but with the caveat that deliveries would only begin in December. The scooters we rode were also pre-production models where quality levels were disappointing in some areas; although, we were promised that this would be addressed in the production units.
The quality is my only product-related downside, for now, because while the Vida isn't a game changer, it comes across as a quick, comfortable, well-equipped and fun product. Even based on the small taste we got at Hero's impeccably smooth test tracks, I'm fairly confident it could be a strong contender for the best all-rounder EV scooter at the moment. But how many people will actually want to buy one at Hero's asking price... I'm not so sure.
At Rs 1.59 lakh (ex-showroom), the V1 Pro is India's most expensive electric scooter. It's the sort of price tag that you just don't expect from a company whose products are all about the people. Quite literally – nearly 90 percent of Hero's sales are from 150cc and below. Hardly surprising then that the company's share value took a big hit minutes after the pricing was announced to a buzzing auditorium, which suddenly went very silent.
Yes, Hero never once suggested that this was going to be an affordable product, but it's only natural to have expected that the company's late entry into this fast-growing segment would be headlined by aggressive pricing. Especially since chairman and CEO Dr Pawan Munjal stated just a year back that the company was willing to adopt a start-up style cash-burn strategy if the need arises.
One can only assume, then, that Hero doesn't believe the need has risen yet. The company will surely know it won't get any (relatively) significant sales numbers with a product this expensive, especially since it will only be sold in three cities at the start. Make no mistake though, with all the money Hero has invested into Ather (it now owns a little above 35 percent in the acclaimed start-up) as well as the alliances announced with Taiwanese Gogoro and American Zero Motorcycles, there will be a lot of exciting EV stuff to come. I'm just a little underwhelmed with the way they decided to start this journey.
Also see:
Vida V1 electric scooter review: Late bloomer
Vida V1 electric scooter video review
from Autocar Indiahttps://cdni.autocarindia.com/ExtraImages/20221118063201_Rishaad%20Blog.jpg