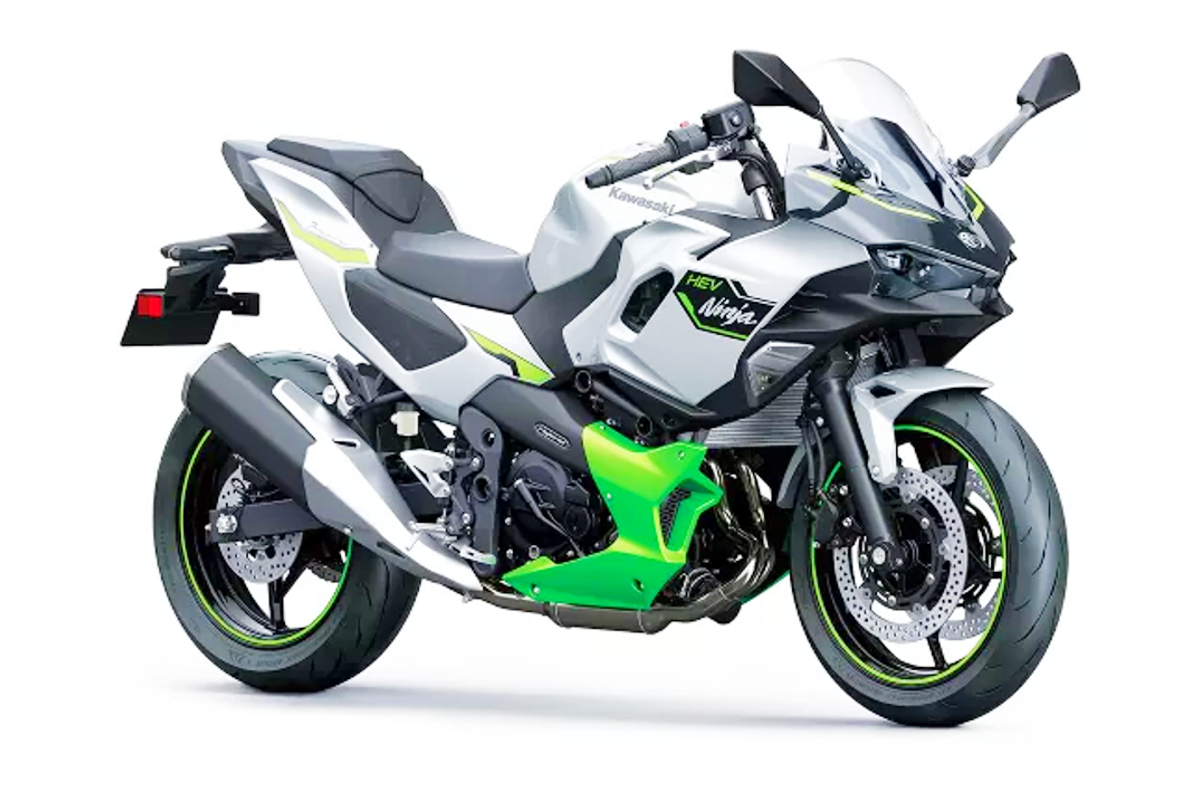 Alongside the Ninja e-1 and the Z e-1, Kawasaki has also revealed a few more details of the Ninja 7 Hybrid motorcycle.
Power comes from a liquid-cooled, 451cc, parallel-twin engine and an electric motor. Combined peak power output stands at 60hp, and if the e-boost function is engaged that rises to 69hp for 15 seconds at a time. The petrol engine is responsible for 48 of those ponies, while the electric motor accounts for the remaining 12.
Three riding modes – Sport Hybrid, Eco Hybrid, EV

Also has walk and reverse features

Front fascia similar to 2024 Kawasaki ZX6R
That's not the only quirky thing here as the Ninja 7 Hybrid also does away with a traditional clutch-gear shifter, in favour of shift paddles on the left hand side switch cluster, similar to Honda's DCT gearbox bikes. The Ninja 7 Hybrid also allows riders to automatically select 1st gear with the push of a button, no matter what gear they are in previously, thanks to the Automatic Launch Position Finder.
When you come to a complete stop, the bike will turn the engine off to reduce emissions and will automatically restart it once you twist the throttle grip. There are 3 riding modes on offer – Sport Hybrid, Eco Hybrid and EV, and just like the Ninja and Z e-1, a Bluetooth-enabled TFT dash allows you to receive notification and navigation alerts.
Complete specifications are yet under wraps but what can be seen is that this bike is suspended on a telescopic fork/monoshock setup and it gets twin front brake discs, componentry that's very similar to the Ninja 400 and 650 models.
The company claims that the Ninja 7 Hybrid offers performance comparable to a 650-700cc machine while offering fuel economy akin to a 250cc bike. Another bold claim is that the Ninja 7 Hybrid's 'instant acceleration can rival that of a 1,000cc-class supersport model from a standing start'.
The Ninja 7 Hybrid is slated to go on showroom floors in Europe in January 2024 and whether or not it makes its way to India is a question only time will answer.