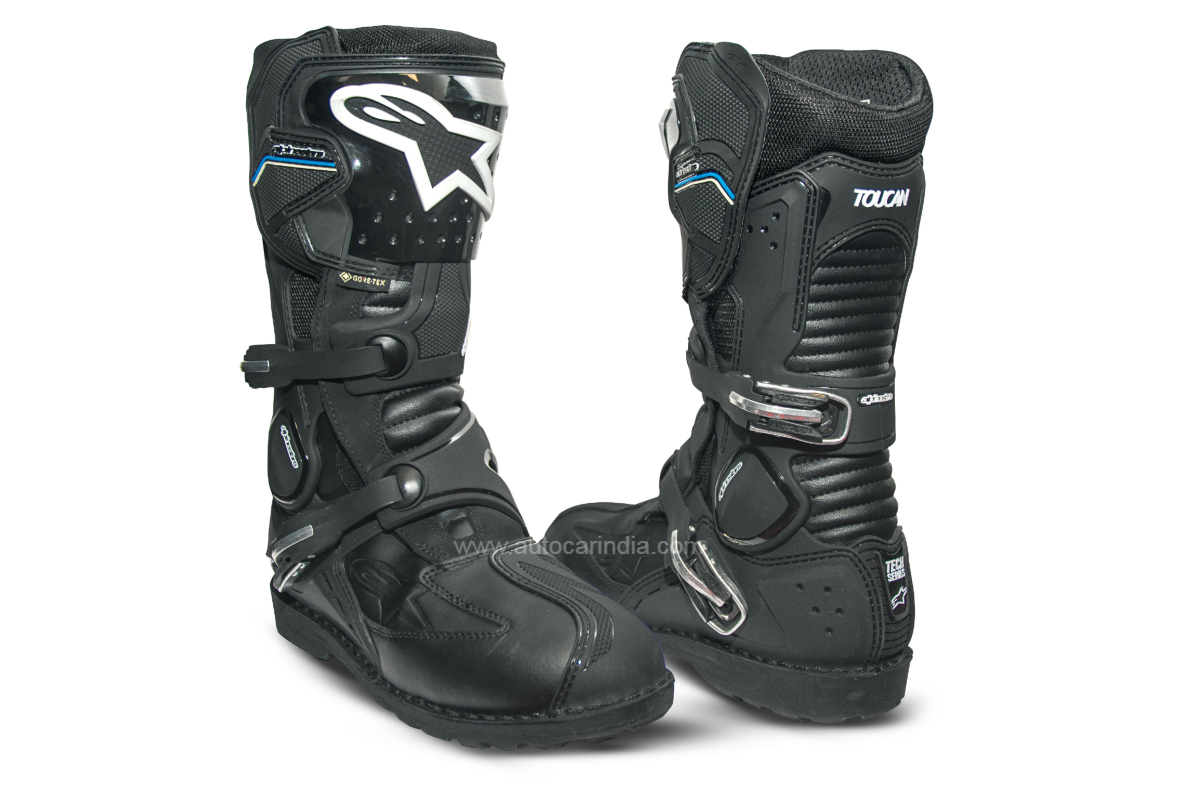 In an ideal scenario, we'd all be wearing MX/Enduro boots when playing with 200kg-plus ADV machines off-road. However, the discomfort and completely disconnected feel these boots tend to have will put off most casual riders. And that often leaves you with the uneasy choice of having to choose between comfort and protection. This is the conundrum that the Alpinestars Toucan GTX boots try to solve – they offer more protection than the average ADV boot, but still try to keep all-day comfort at a high.
This is the highest-spec boot in Alpinestar's ADV touring line-up, which is why it's the only one that comes with a Gore-Tex waterproof liner. Adding to the comfort aspect is the fact that the toe section is not too tall or bulky, but still nicely spacious. The inner liner also feels very comfortable although I find that the upper rim of the liner does chafe slightly against the skin when I wear my pants over the top of the boot. Be aware that these are wider at the top than your typical road boot, but not as wide as an MX boot. Still, slim pants definitely won't go over and you should check this before buying.
What adds to the appeal is the more toned down appearance compared to the typically flamboyant MX/Enduro boot. The Toucan is only available in black, and instead of the usual four buckle closures it has just two. However, these are the same self-cleaning aluminium buckles from Astar's best MX boots and they work superbly well.
Self-cleaning aluminium buckles.
Safety wise, there's a lot to talk about. First is the steel shank in the sole that provides the necessary stiffness. There's still a small amount of flex to keep things comfortable while walking, but the Toucans are considerably stiffer than the average road boot. Over at the front, there's hard TPU armour on the shin as well as the flex-blade system from the MX boots which allows some nice flexibility, but limits the amount of motion that can lead to hyper extension.
Stitched soles like on MX boots.
The entire heel area is surrounded by a reinforced area of hard TPU plastic while the toe gets an additional layer of TPU over the leather for some extra protection. The inner side uses a grippy material that will allow you to hold onto the bike better and also provide some heat protection. On the outer side, you have a small raised section near the bottom buckle that protects the buckle in case of a fall. This section also houses some small vents.
Having lived with them for a while now, they will need some breaking in to get comfortable, but once that's done, they're good for all-day use. They're not as tall or heavy as an MX boot, but you still feel like you have a substantial amount of protection on your feet. The only thing that stops me from wearing them to work all day is that they squeak quite a bit thanks to that flex-blade protection system.
Rugged sole aids grip off-road.
Overall, the Toucan might be a bit of an overkill if you are looking for an everyday commuter, but for long distance comfort along with waterproofing and reassuring protection off-road, it doesn't get much better than this. This is a top-tier boot and once our taxes are accounted for, you'll have to pay a top-tier price as well.
Where: supermoto.co.in
Price: Rs 55,000