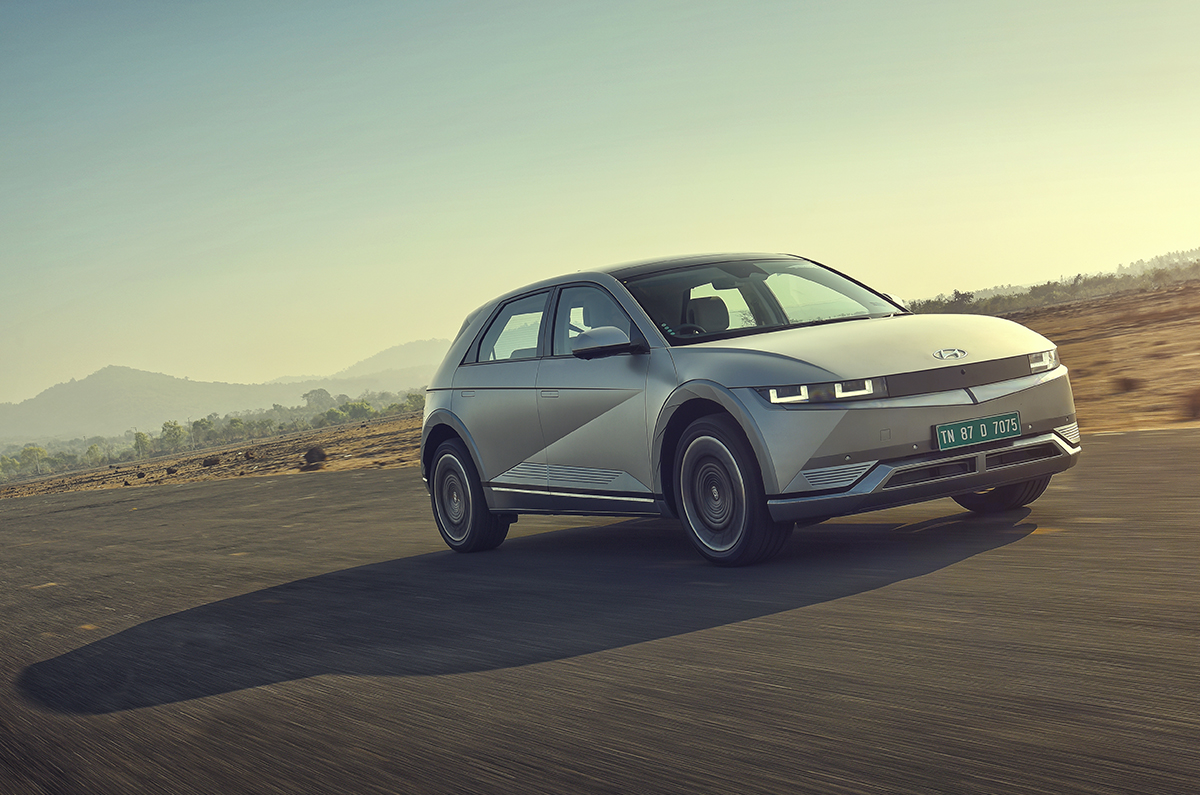 Hyundai started its electric car journey in India with the Kona in 2019. While the Korean company was the first off the block – and the Kona was both fast and fun to drive – it didn't quite capture the imagination of Indian car buyers.
All this is set to change with the introduction of Hyundai's mold-breaking Ioniq 5, the company's first EV based on a born electric platform. A thoroughly modern electric that comes loaded with tech, a style sheet of its own and loads of truly unique features, the Ioniq 5 is a bold step-up for Hyundai. Question is, is it too much of a step forward, is it too radical? And just how well will it sync with what Indian EV buyers want? Especially at a Rs 45 lakh ex-showroom price.
Hyundai Ioniq 5: exterior
When you see the Ioniq 5 in pictures or in a video, you assume it's around the size of a large hatch. It's understandable; it has a hatchback like profile, the stance and glass house are hatch-like too, and with shorts overhangs and a compact form it looks small in pictures.
Nothing could be further from the truth. As wide as Mahindra's XUV700, and almost as long, it is built on a huge three metre-long wheelbase, and that's more Mercedes E-Class.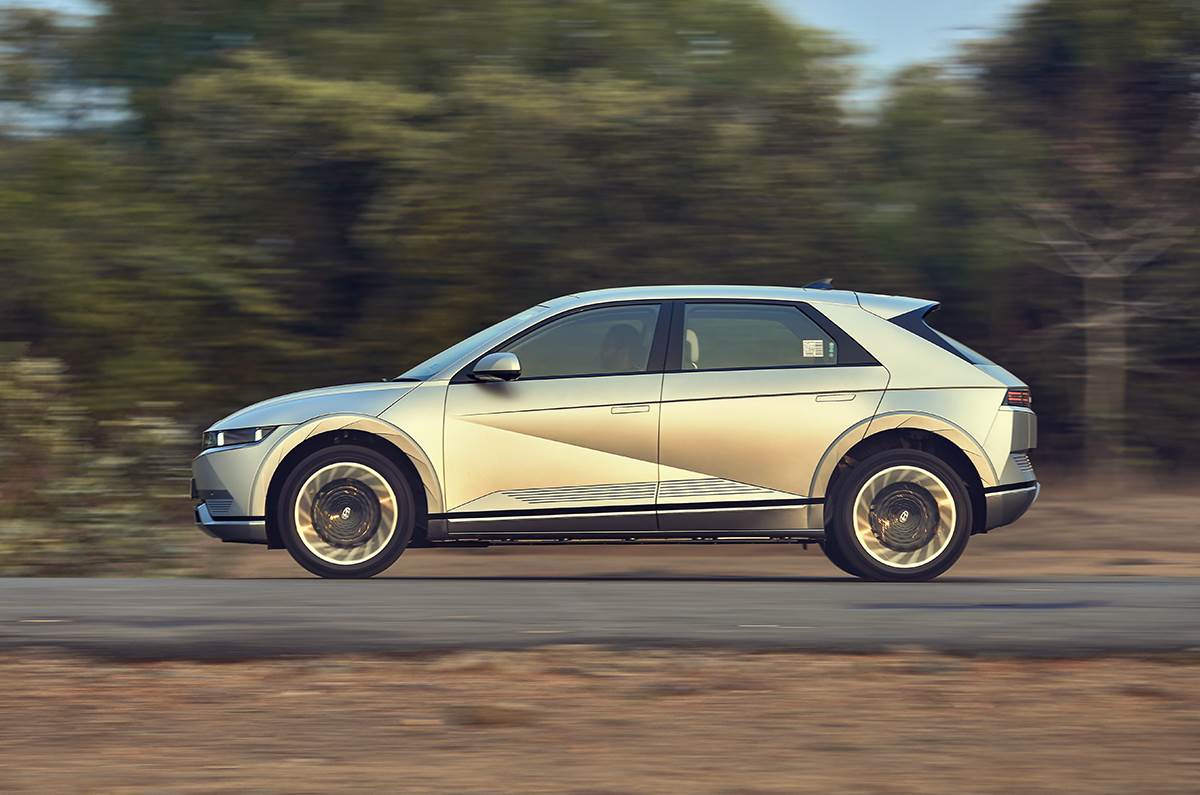 The Ioniq 5's design pays homage to Hyundai's first car, the 1974 Pony.
The Ioniq 5 is also superbly designed. The profile is half hatchback, half crossover and causes some confusion initially, but, what your eyes settle on next are the clean lines and muscular stance, and the cuts and creases that add plenty of definition.
The details on the nose are particularly nice. The staggered LED Daytime Running Lamps (DRLs) gel superbly with the void-like 'blackened space' between the lights – a neat optical illusion. The Ioniq 5 also gets attractive helical cuts on the wheel arches. Further back, another interesting detail is the VW Golf or Lancia Delta like 'C' pillar. Amazingly, there is a link. The Ioniq 5 is designed to pay homage to Hyundai's first car, the 1974 Pony, which was designed by Italian legend Giorgetto Giugiaro, who also designed the VW Golf and Lancia Delta. Even the 'parametric' lights at the rear look stunning. Little wonder then that the Hyundai Ioniq 5 won the World Design of the Year in 2022.
Built on the e-GMP platform, the Ioniq 5 gets a rear-axle-mounted 217hp e-motor.
Under the sharp cut skin the Ioniq 5 is built on Hyundai's new born-electric platform called e-GMP. A stiffened skateboard cradles pouch type cells in a slim pack, making it space efficient. A 217 hp oil-cooled e-motor oil sends power to the rear wheels. It also gets a 5-link independent suspension. The Ioniq 5 has also been raised by 20mm so that the long wheelbase doesn't ground. Total ground clearance stands at 176mm when laden, which should be sufficient.
When it comes to recharging, Hyundai use an 800 Volt system that allows for even quicker charging times. While a 11kW AC charger takes around 7 hours, a 50kW DC charger can do 10-80 percent in 57mins. At 350kW, the same 72.6kWh battery can go from 10-80 percent in just 18mins.
Hyundai Ioniq 5: interior, comfort
The insides of the Ioniq 5's cabin, if anything have been designed with even more of an 'open mind' with only fresh ideas and new solutions apparently implemented. And that's exactly what you want from your modern EV.
The Ioniq 5 has loads of room for the front passengers.
Step into the cabin and first impressions are of a very large and open space. This is no illusion. The cabin is extremely wide, tall and comes with a flat floor both at the front and the rear. What also adds to the feeling of airiness is that you can slide the central console back around half a foot and 'walk through' the cabin. There's loads of legroom up front, a massive amount of shoulder room, and, in an effort to make it feel more airy, Hyundai's designers have even used a lot of white. It even has a massive fixed glass roof that floods the cabin with light.
What also goes a long way is that the front seats are large and comfortable, get a cooling function and uniquely even get a mini ottoman that allows you to rest your calves. There's no massage function however, and wireless Apple CarPlay and Android Auto appear to be absent without leave.
Despite the three metre-long wheelbase, legroom at the back is only sufficient.
Comfort on the second row isn't quite as good as up front. You are sat a bit low, due to the battery under you, and for a car built on a three meter long wheelbase, legroom is only sufficient. The rear seat however can be moved forward or back at the press of a button, there's a manual recline function as well and the rear is so wide it can even accommodate three passengers in the back.
Upfront the dash is flat and wide and gets aircon controls that are activated by a touch panel. Quality and fit and finish, though not quite up to luxury car standards, are the best seen on a Hyundai yet. The twin screens are also placed low enough so that they don't interfere, giving the driver a good field of view. The steering wheel rim however blocks your view of the 'speedometer' and some of the numbers on the instrument panel, especially those at the bottom, are tiny.
The screens are mounted low enough so that they don't interfere with the driver's field of view.
The twin screen layout however is both functional and reasonably intuitive. It comes with a white Tesla like background but follows Hyundai convention when it comes to icons, fonts, features and general interface. A useful function is an auto dehumidifier you can select for really muggy and moist days, and then the connected tech even allows you schedule events such as switching on the aircon.
Other unique features on the car include a huge glovebox that functions like a drawer, plenty of storage space on the central console, a pad on the right of the instrument panel to place fridge magnets, and this car even gets a high capacity Vehicle To Load function for hassle free camping.
It also gets Vehicle to Load function that can power external devices.
To create the perfect ambience you even get a background score called 'Sounds of Nature.' You can either choose the sounds of the sea and a sailing ship, outer space, a rainy day or a warm fireplace. The latter could however be slightly disconcerting for those who aren't aware of the feature the last thing you want to hear in an electric car is a crackling, hissing fire.
In the back the Ioniq 5 gets around 500 litres of useable bootspace. The boot is wide and easy to stack with bags. But there's no spare tyre, just a puncture repair kit.
Hyundai Ioniq 5: drive, performance
The Ioniq 5 is a wide car, so initially you need to pay attention to the width. What comes as a pleasant surprise however, is just how well it rides. The stiff chassis and 20mm extra ground clearance appear to have given it an extra dash of suppleness, and it even glides beautifully over some rough patches and sharp ridges. Even more impressive is that it seems well in control of its weight, with almost no pitching or bobbing discernible. It even managed quite easily over some very large speed breakers, despite the long wheelbase. And out on highway roads, the Ioniq is also pretty refined; what little road and wind noise there is seems well contained.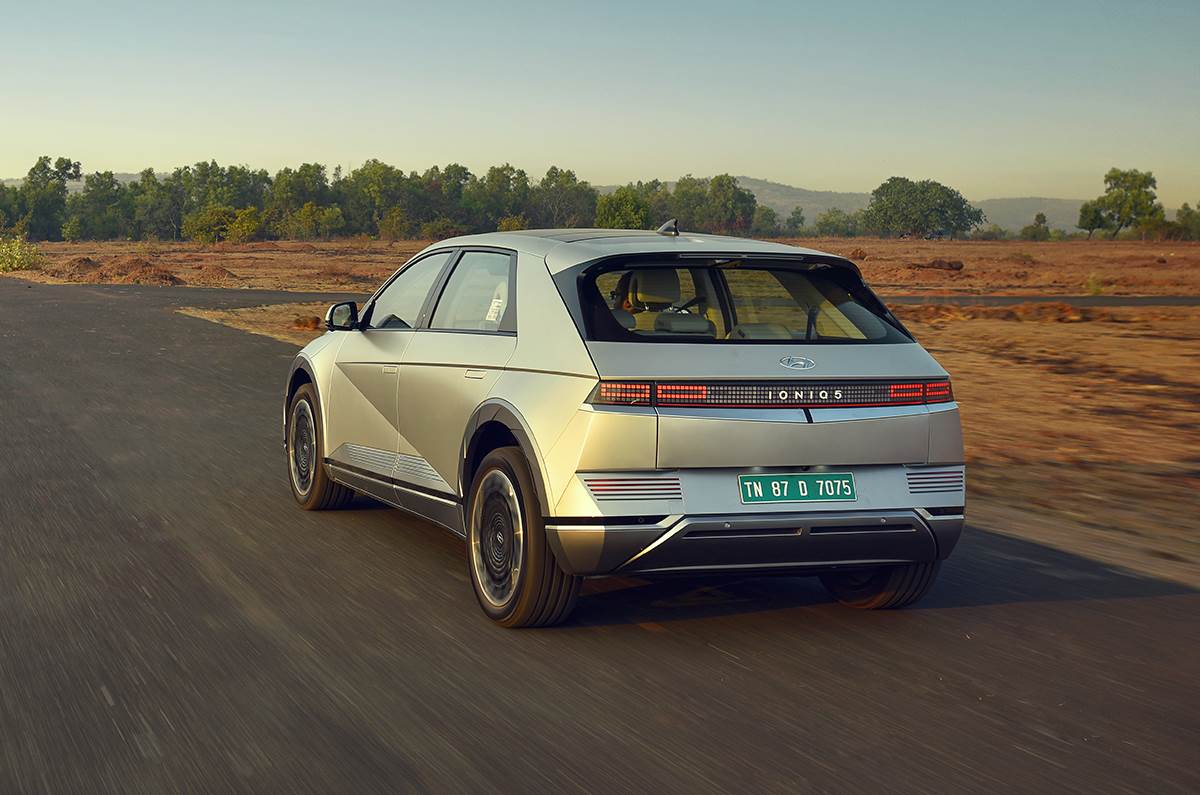 The C pillar is similar to the VW Golf and Lancia Delta.
It does roll a bit in corners, especially when driven with a fair amount of verve, but the Ioniq5 also has a nice and direct steering, and a neat and tidy manner in which it goes around corners. The rear wheel drive chassis is even entertaining to drive with the ESP off. Make sure you do this one a wide open road or in an empty parking lot though, it can get tricky with all the weight transfer happening.
Even the brakes work beautifully. The pedal feels very natural, there's a good amount of bite when you want it and Hyundai have even managed to blend the braking done via the electric generator and the disc brakes quite seamlessly.
The Ioniq 5 has a 57-litre frunk.
While the Ioniq 5 isn't quick per say with 217hp and roughly two tons, it has a surprising amount of poke when you goad it. In 'Sport' even a firm tap on the throttle gets the car surging forward nicely. This is useful when you want to overtake, and with a claimed 0-100 kph time of 7.6 seconds, the Hyundai clearly has a good amount of performance.
Normal mode, one step down from Sport, feels even more relaxed, but urgent enough when you want it to be. And Hyundai have even managed to make it drive reasonably well in Eco, should you need to stretch your range. We never did, not with a ARAI certified range of 631km. Expect around 480 or 500km in the real world, depending on how you drive.
It has an 800V system that allows for quicker charging times.
While we never got a chance to test the various systems, the Ioniq 5 gets plenty of driver assistance features. These include forward collision avoidance assist, Blind Spot avoidance assist, lane keeping assist, smart cruise control, and reversing collision assist, among others.
Hyundai Ioniq 5: verdict
Hyundai's Ioniq 5 doesn't quite fit in a box. It doesn't really need to. Go down the checklist and you find it scores really well in almost all areas. Its individual looks, to begin with, give it loads of character. The well appointed and generously equipped cabin feels big, very comfy and off the future and then what sets it apart is that it has plenty of genuinely refreshing and new features on the inside.
What sort of rounds off this impressive performance is that it even manages to ride comfortably and drive in a smooth effortless manner.
The Ioniq 5 is almost as wide as the Mahindra XUV700, but looks smaller in pictures.
Yes, at Rs 44.95 Lakh it is the most expensive Hyundai on sale and rear seat comfort is only good not great. Still what Hyundai has managed to deliver is a comfortable, well built, easy to drive EV that's both loaded with character but comes with no real compromise; and that's huge. Expect to see many on our roads, this car exerts plenty of appeal.
Also see:
Hyundai Ioniq 5 EV India video review
from Autocar Indiahttps://cdni.autocarindia.com/ExtraImages/20230211093312_Ioniq%205.jpg