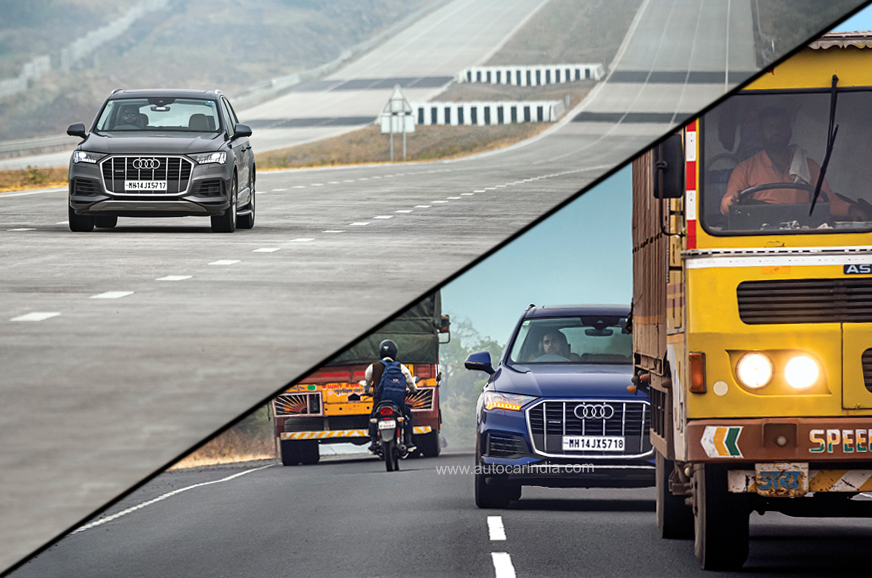 The Hindu Hrudaysamrat Balasaheb Thackeray Maharashtra Samruddhi Mahamarg officially opened for commuters in December last year, and rave reviews by some of my privileged colleagues – who had exclusive access to this road in April 2022 – triggered my urge to find out what the hype was all about. It must be noted that, for the moment, three-fourth of this expressway is operational, starting from the city of Nagpur, often referred to as Maharashtra's second capital, to Shirdi, a town that attracts millions of Saibaba devotees from around the world.
The plan we devised was simple. My colleague Jay Patil and I would drive two identical cars from Nagpur to Shirdi – one would take the newer route and the other would take the beaten path, to understand how much of a difference the expressway makes in terms of time, energy and money, among other things. The car that we chose to drive us on this unique 'road test' was the Audi Q7 because of the exceptional mile-munching capability of its creamy twin-turbo V6 petrol engine and the pillowy-soft suspension.
The journey began at the Zero Mile Marker in Nagpur - the geographical centre of India.
Unsurprisingly, neither of us volunteered to take the older route, so we resorted to tossing a coin to settle the matter. As luck would have it, Jay won, which meant that he would drive on the new Nagpur-Shirdi expressway, whereas I would take the older road. Well, what could I say?
The starting point for our journey was the Zero Mile Marker in Nagpur, which is the geographical centre of India. For the first photo op, we placed the two cars beside the iconic milestone. Fifteen minutes went by, then 15 more, but the camera team was so absorbed at capturing multiple frames that they were oblivious to the passage of time. As I stood there twiddling my thumbs, I noticed the city of Nagpur getting into the groove and the traffic thickening.
On Google Maps, my driving time to cover the 611km had already shot up by 20 minutes, to 12 hours 45 minutes. This was twice as much as Jay's, despite the end point in Shirdi being just 59km more than Jay's route via the new expressway. My average speeds were going to be half of what's possible on the Samruddhi highway. That was it then, I had to press the panic button; it was high time we got going.
For the next 20-odd kilometres, the two Q7s drove alongside each other. We breached Nagpur city limits and joined NH44, which is where our paths diverged – Jay turned left onto the Samruddhi expressway ramp, while I continued straight on the old highway.
Super highway
Jay: You know you are in for a truly world-class experience the moment you climb the entry ramp of the expressway and take in the first sight of the humongous 12-lane road, and yes at that moment, I did feel sorry for Saumil. What greets you within metres is the first and only toll booth on the highway (for now); all other toll collection centres are placed on entry and exit ramps. While on that topic, toll is Rs 1.73 per km for cars, which works out to Rs 900 for a 520km distance to Shirdi.
There are hardly any elevation changes and the road simply tunnels through the mountains.
Once the toll barrier lifts and you've got a green light to proceed, what lies ahead are swathes of six-lane concrete roads with clear lane markings, guard rails on either side, and hard shoulders. For kilometres in front are arrow straight lanes that fade into the horizon. With traffic so scant, even the speed limit of 120kph, the maximum legal speed you can drive in India, feels restrictive, especially when you're in a capable interstate express like the Audi Q7, which is built for the high-speed German Autobahns.
Of course, it's tempting to tear up the rule book, floor the throttle, unleash the 340hp twin-turbo V6 engine and watch the Audi gobble up vast distances at a rapid rate. However, with cameras deployed at regular intervals and interceptors with speeding guns placed randomly, you're better off curbing your need-for-speed itch.
Vast stretches of smooth, arrowstraight roads fade into the horizon.
What truly shone on this highway with clear lane markings was the Q7's brilliant lane assist function, which alerts you and also steers the car automatically when it detects it veering off its lane. And while a vehicle with adaptive cruise control, autonomous braking and lane assist would minimise driver effort, it is imperative that the driver remains alert and has their hands on the steering wheel at all times.
Safety has been one of the Samruddhi highway's underlying features. It is an elevated road with guardrails on either side to prevent pedestrians and stray animals from loitering on the highway. In fact, the developers have gone a step ahead and specially constructed overpasses for wild animals to cross in certain sections which cut through wildlife sanctuaries.
Thoughtful animal overpasses at multiple places where road cuts wildlife sanctuary.
What's more, there are a plethora of signages, road warning, clearly defined entry and exit points, and time and again, you will spot emergency median openings and even helipad markings on the road, to facilitate air-lifting in the event of a medical emergency. But driving on the expressway has challenges of its own. After a couple of hours into the journey, it feels as though the scenery and the never-ending road are playing on loop. At a constant pace and little driver involvement in terms of steering inputs for gentle directional changes, the drive eventually feels uneventful.
To stay alert and awake, I engaged MJ (camera person) in trivial conversation, and even learnt about his neighbour's cat who delivered kittens just a day before we embarked on this trip. And when we ran out of topics to discuss, I delegated duties to the Audi's 19-speaker Bang and Olufsen system to keep me entertained. Three hours into the journey, we stopped for fuel, food and to freshen up.
The new expressway features several company-owned petrol stations along the way.
Speaking of which, there are multiple food courts which are likely to be operational in the coming months; however, at the moment, travelers have to make do with light snacks like vada pav, ready-to-eat noodles served at temporary tea stalls in each of the several company-owned fuel stations along the way. EV fast chargers aren't operational as yet, so it'll be a while before the Samruddhi expressway witnesses any activity from the green plates.
Traditional Indian highway
Railway crossings and bad roads, the Audi Q7 soaked it all in its stride like a champ.
My journey was adventurous alright, and certainly far more eventful than Jay's, as I took what was the textbook definition of the 'traditional Indian highway'. Along NH44, NH361 and NH753C, I encountered two-lane roads, as well as four-lane roads, in some sections. I navigated my way across small towns and villages, crawled through road works and battered patches, dodged trucks, livestock and everything in between.
Drivers be wary of livestock, strays and humans on the national highways.
I must confess that the quality of roads, for the most part, were far better than what I had imagined, with buttery smooth, freshly laid tarmac on certain sections. And it was on these few occasions where I got a chance to push the big Audi, and boy, it moved. The way it built speed was simply baffling, and it felt hilariously quick for a car of this size. However, it wasn't possible for me to hold high speeds for more than a few seconds, as I was inevitably slowed down due to erratic traffic manners of fellow motorists.
Wrong-side driving isn't uncommon. So be prepared!
Concentration levels were at pro max, and my peripheral vision was constantly on the lookout for wrong-side and unruly drivers, as well as strays loitering about on the streets. As expected, there were several nasty patches along the way, but appreciably, the comfortable Audi Q7 wafted along and let its air-suspension soak everything in its stride.
Erratic driving manners by other road users require you to be on your A-game at all times.
Perhaps the only motivating factor on my route were the breathtaking vistas of lush grasslands, mustard and cotton fields, emerald green rivers flowing, windmill farms and stunning mountains in the distance. There were plenty of eateries and fuel stations along the way to satiate the appetite of both, the driver and the car. What was also reassuring were the multiple tyre puncture shops and mechanics by the highway, in the event of any untoward failure, which thankfully we didn't have to deal with.
Speed, distance and time
It took me an excruciating 12 and a half hours to reach the destination in Shirdi, with an average speed of just 52kph. Sure, my journey was prettier and I didn't have to shell out a single rupee for tolls, but not only was the older highway longer in terms of distance, the drive experience was far more exhausting and mentally draining, due to the several hurdles along the way. On the other hand, Jay's trip via the Samruddhi expressway was smooth-sailing and he reached the destination in... wait for it... just five and a half hours – a whopping seven hours less than me.
Jay: Yes I covered 552km (520km being on the Samruddhi expressway) at an average speed of 92kph, which is ridiculously fast. It was an incredible drive experience. This road is substantially faster and much safer, so I see no reason for someone to take the old highway.
While the results of this 'road test' were predictable, experiencing the Hrudaysamrat Balasaheb Thackeray Maharashtra Samruddhi Mahamarg and the 'traditional Indian highway' first hand was a true revelation. The difference between them was night and day, quite literally in our case, with me reaching during the day and Saumil at night.
The old road was 7 hours slower than the e-way, so the difference between them was night and day. Quite literally!
Of course, the expressway isn't complete, and facilities such as food courts, medical care and EV charging stations aren't operational yet. The volume of motorists on the expressway is gradually increasing and is likely to witness a steep rise once the 181km section from Shirdi to Mumbai is complete, eventually connecting Nagpur to Mumbai.
It will be a total distance of 701km, passing through nine districts – Wardha, Amravati, Washim, Buldhana, Jalna, Aurangabad, Nashik, Ahmednagar and Thane. Till then, if you want to experience this world-class superhighway in its rawest form with light traffic, now would probably be the right time to do so. As for me, I've already called dibs for our next story from Mumbai to Nagpur on the Samruddhi highway, whenever that happens. Can't wait.
Also see:
Driving on the Samruddhi Expressway with the Audi Q7 video
from Autocar Indiahttps://cdni.autocarindia.com/ExtraImages/20230207035529_opening.jpg