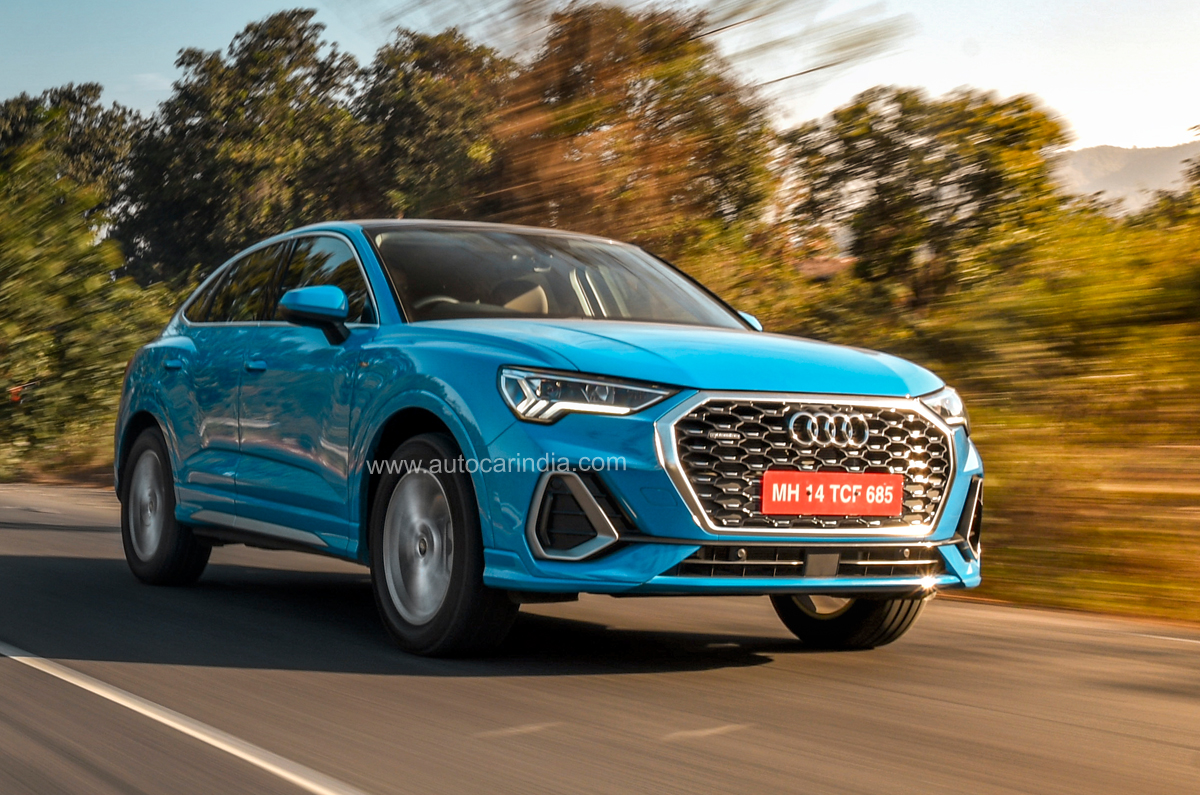 After years of Audi's popular Q3 being off the market in India, in the short span of six months, we now have two of them. The standard Q3 SUV was launched last year, and then there's this new Sportback variant, which aims to bring the coupe SUV trend down from the higher segments to a wider set of buyers. In that sense, it's a unique offering in the segment, with no direct rivals in India, the closest being Volvo's C40 Recharge EV that's coming later this year. The big question is, does this make for an enticing proposition at this price point?
2023 Audi Q3 Sportback exterior design
The big draw here is visual differentiation, and to that end, Audi has been clever to save its sporty S-Line styling package exclusively for the Q3 Sportback. What this gets you is far more aggressive front and rear bumpers with big brushed silver trim inserts, a hexagonal mesh pattern with more brushed silver elements rather than the vertical chrome slats in the standard SUV, and a welcome five-twin-spoke design for the 18-inch alloy wheels. This striking Turbo Blue paint shade is also exclusive to this version.
The S-Line package is exclusive to the Q3 Sportback; adds sportier front and rear bumpers.
Then, of course, there's the sloping roof itself, although the execution is perhaps not quite as graceful as larger coupe SUVs like the Q8 or e-tron Sportback. It might be the overall proportions or the chunky tail-lamps and bumpers, but it's more than likely because it's much tricker to balance design and practicality in a smaller package, as we'll find out further on. Either way, it'll certainly draw attention, and gives the Q3 Sportback a look like no other SUV on sale right now
2023 Audi Q3 Sportback: interior and features
The front half of the cabin is identical to the Q3 SUV and that means a smart and modern design with some interesting shapes and surfaces, wrapped in high-quality materials at every touch point. It perhaps doesn't have the wow factor of a Mercedes-Benz GLA, but it's not far behind, and you even get the option of brown or beige upholstery.
The dashboard layout remains unchanged from the standard Q3.
It's pretty well kitted out too, with powered front seats, fully featured infotainment and digital dial screens, dual-zone climate control, gesture-controlled powered tailgate, wireless phone charger and a 10-speaker sound system, amongst other things. At this price, however, driver-seat memory would have been a welcome inclusion.
As for the elephant in the room, yes, the back seat isn't as spacious as the regular SUV. You have to duck a bit to get in, and once in place, headroom will be tight for taller passengers. That aside, however, it's a rather comfortable place to be, with good leg room, plenty of thigh support and comfortable seats. As in the standard car, the bench is contoured for two passengers, so the third won't be quite as comfortable, but unlike the SUV, you only get a single-pane sunroof, not a panoramic one.
Headroom in the second-row is unsuprisingly tight, but its rather comfortable otherwise.
Amazingly, Audi quotes the same 530 litre boot space for the Sportback as the regular Q3, and though usable storage space isn't quite as much, it's still quite a lot. And this is despite a space saver spare tyre being tucked under the floor.
2023 Audi Q3 Sportback: engine, mileage and drive impressions
As with any new Audi, there's no diesel engine on offer, but in the Sportback, this doesn't feel like too much of an issue; practicality wasn't your first consideration when choosing this version after all. Moreover, what a great petrol powertrain this 40 TFSI is! It packs a solid 190hp and 320Nm wallop, which is meted out with incredible precision via a 7-speed dual-cutch auto and standard AWD, something that's fast disappearing from this segment. It's not the last word in handling sharpness, but that's okay; it's benign, predictable and neutral to drive, with the underrated safety net of AWD, which will suit most owners fine.
The 190hp, 2.0-litre petrol engine is also shared with the standard Q3.
What's more, it manages to be smooth and refined when you want, too; just prod the Drive Select switch until you get to Comfort or Efficiency modes. And, speaking of which, it even managed to net us between 10 and 12kpl when we were driving easy. The steering is light and easy in this mode, which is great for use in the city.
The ride and handling balance is oriented more towards comfort than sportiness.
The suspension is on the soft side, and again, that's perfectly fine. It still maintains great composure when pushed fast through corners, so you can have some fun with it, but the rest of the time, it is supremely comfortable, and that's of far greater value in the Indian context.
2023 Audi Q3 Sportback: expected price and verdict
Though prices are yet to be revealed at the time of this review, the Audi Q3 Sportback will not come cheap; the standard SUV is already one of the priciest cars in the segment after all, and this will only cost more. We expect it to be around Rs 55 lakh (ex-showroom), but then all coupe SUVs come at a premium over their more pedestrian counterparts, don't they?
The Q3 Sportback requires you to trade between practicality and style.
The thing is, owing to their larger overall size, coupe SUVs from higher segments don't feel compromised in the back seat, whereas the Q3 Sportback does. So you really have to consider the trade-off between style and practicality here, but frankly, if you don't have rear-seat passengers all that often, it might just be worth it.
What you're getting with the Q3 Sportback is a head-turning SUV in a compact size that just so happens to be superbly built, well equipped, luxurious, comfortable and great to drive too.
from Autocar India - All Car Reviews https://ift.tt/Jxqwe5S
https://ift.tt/9lHBrZV