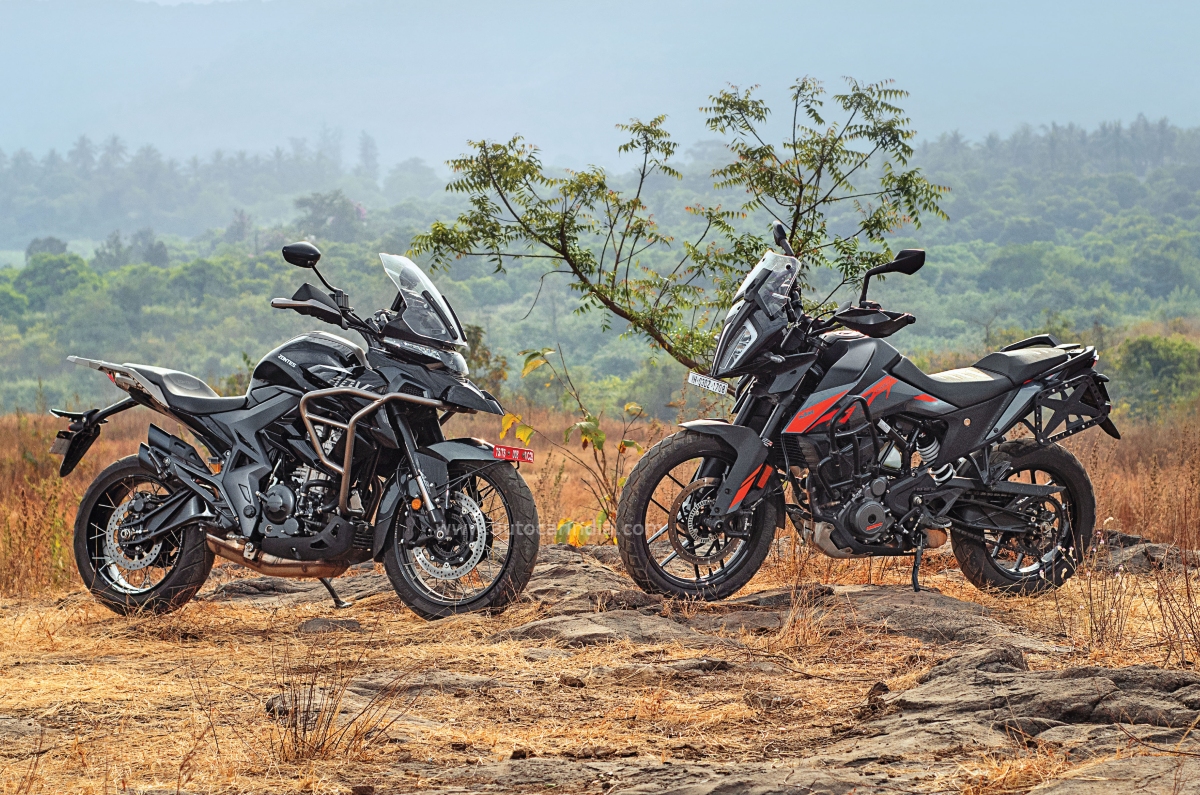 It's been a big year for Adishwar Auto Ride India (AARI), the Hyderabad-based company that currently handles Benelli's India operations. In 2022 alone, AARI introduced four more Chinese-owned motorcycle brands to our shores, namely QJ Motor, Zontes, Moto Morini and Keeway. Effectively, the company has gone from selling a handful of Benellis to retailing 26 different models from five manufacturers. One of those bikes is the Zontes 350T ADV you see here, with its striking styling, superb features list, 350cc engine and an ex-showroom price of Rs 3.67 lakh. That kind of pricing positions it higher than the Rs 3.37 lakh (ex-showroom) KTM 390 Adventure, a bike we regard as one of the best road touring solutions at this money. Can the Zontes keep up?
Zontes 350T ADV vs KTM 390 Adventure comparison: design and features
It certainly hits the spot in terms of design. Where the KTM's long, skinny and insect-like styling is certainly an acquired taste, the Zontes is a much larger and more conventionally styled ADV. It packs a striking looking LED headlamp (which also works very well), a huge 18-litre fuel tank, MV-Agusta style dual exhaust pipes and a fat 160-section rear tyre. Where the KTM simply blended into the traffic, the Zontes never ceased to turn heads and get people to point at it. If it's sheer standing-out from the crowd that you're after, the Zontes easily takes this one.
If some of those gawking onlookers come up for a closer look, you can wow them with the Zontes' features, some of which you'll only find on bikes that cost 7-8 times as much. For example, the ignition is keyless, the windscreen can be electronically raised up and down at the touch of a button and the same applies for the rear seat release mechanism and the fuel tank flap. This really is a motorcycle where the key never needs to leave your pocket.
Zontes display is customisable but small.
The Zontes' TFT display, while a little small, also has various display modes and can even mirror your smartphone display. While all that is quite cool, it isn't much good if the display doesn't work. And this is exactly what happened to our test bike when the display decided to call it quits halfway through our shoot. This was later diagnosed to a blown fuse, which also prevented the windscreen adjust button from working.
That's not good on a motorcycle with less than 1,000km on the odo and quality is a concern here. Some of the plastics feel flimsy, other panels have edges that aren't smooth enough and the overall feeling isn't one of pleasing quality or premiumness. In comparison, the KTM feels much better built and its TFT display is larger and much easier to read and operate. The KTM also has its own unique features like a traction control system, switchable rear ABS and an off-road mode with more lenient traction control. There's also a bi-directional quickshifter, but this feels awfully clunky unless you use it above 6,000rpm.
390's display is easier to read and use.
As far as seating positions go, the Zontes feels like a much bigger bike around you and it has more comprehensive wind protection. The KTM, meanwhile, feels relatively slim but more roomy for tall riders, and it has the more comfortable seat. However, shorter riders will find the KTM's seat height to be more of a challenge.
Zontes 350T ADV vs KTM 390 Adventure comparison: performance and mileage
Zontes claims that its 348cc, DOHC, four-valve liquid-cooled single makes 38.8hp and 32.8Nm of torque, which isn't far from the KTM's 43.5hp and 37Nm. The engine feels and sounds gruff, with quite a bit of vibration in the higher reaches of the rev range. The gearing is also a little on the tall side, but fourth gear is weirdly close to the third, and it's almost like experiencing a repeat of the same gear when you shift up from third. The Zontes managed an 8.2sec run from 0-100kph in our tests, which is slower than what we were expecting and a whole 2.1sec slower than the KTM.
Zontes' standing ergos are also not very good and this bike is best saved for tarmac.
The KTM's engine also feels quite rough and clattery at low revs within the city, but it smooths out once you cross about 4,000rpm. It's still a gruff engine and you will feel some vibrations through the foot pegs, but they're the kind you can live with and it's a smoother mill than the Zontes in general. It's also a lot quicker with shorter gearing and an enjoyable surge that begins at 6,000rpm. The KTM engine can hold a higher cruising speed as well. We tested both bikes for efficiency on the highway and at a steady 70-85kph, the KTM returned 34.6kpl where the Zontes managed 31.6kpl.
Zontes 350T ADV vs KTM 390 Adventure comparison: ride and handling
The easiest way to explain the gap in performance and efficiency between the two is that the Zontes is heavy. The company claims a kerb weight of 196kg, and I won't be surprised if it's even higher than that. The bike feels top heavy and sluggish right from the moment you set off – simply turning the handlebar takes more effort than it should. The cumbersome, heavy steering feel continues when the speeds rise, and it takes quite a bit of work to hustle the Zontes through a set of bends.
KTM's rear shock feels harsh on poor roads.
The KTM is a peach in comparison. This bike has always been a great handler on the road and its blocky Metzeler Tourance tyres offer more feedback and grip than the Chinese CST tyres on the Zontes. When it comes to off-road riding, we've always complained that the KTM has odd, road-biased ergonomics and the suspension isn't very compliant. When you learn to work with these challenges, you can jump or slide the KTM around, and it takes it all in its stride.
KTM's standing ergos are street-biased and awkward, but it's quite capable in the dirt.
The Zontes has awkward standing-up ergos as well, with the sharp fuel tank edges digging into your thighs while the pillion foot peg holders splay your heels outwards. The top-heaviness adds a further layer of unhappiness off-road, but what really stopped us from taking the Zontes beyond a gravel road was its relatively low ground clearance and unprotected engine. The KTM's bash guard is made from plastic, but it is quite tough; however, the Zontes' exhaust collector box is completely exposed and the soft front suspension meant that it would scrape rocks quite easily.
Zontes scrapes its exhaust easily.
On road, the Zontes has pretty good suspension comfort, but the fork can bottom out on bigger impacts. In comparison, the KTM's front suspension is quite decent, but the rear feels harsh over rough and broken roads and that's due to extremely strong rebound damping. This is a motorcycle that will benefit greatly from aftermarket suspension, particularly at the rear. Braking performance and feel is decent on both, but the lighter KTM comes to a quicker halt and the Zontes' ABS system can sometimes be too intrusive.
Zontes 350T ADV vs KTM 390 Adventure comparison: verdict
The Zontes primarily has its wow-factor looks going for it and there are some features like the tubeless spoked wheels and keyless wizardry that give it an air of uniqueness. However, it needs a big jump in quality, refinement and capability, if it wants to justify this price and hold a candle to similarly expensive motorcycles like the KTM or the BMW G 310 GS. As an attention-attracting gadget, the Zontes is unparalleled at this price, but while it is competent in certain areas, it ceases to impress once the wheels start moving. If you want a comfortable, capable motorcycle that can take on the daily commute along with a long tour and a bit of off-roading along the way, the KTM is still very much the way to go.
Specifications
Zontes 350T ADV
KTM 390 Adventure
Rating
5/10
8/10
Price (ex-showroom, Delhi)
Rs 3.67 lakh
Rs 3.37 lakh
Engine
Single-cylinder, 348cc, liquid-cooled
Single-cyl, 373.27cc, liquid-cooled
Power
38.8hp at 9,500rpm
43.5hp at 9,000rpm
Torque
32.8 Nm at 7,500rpm
37 Nm at 7,500rpm
Gearbox
6-speed
6-speed
Power to weight
197.95 hp/tonne
245.76 hp/tonne
Wheelbase
1420mm
1430mm
Ground clearance
173mm
200mm
Kerb weight
196kg
177kg
Seat height
830mm
855mm
Fuel tank
19 litres
14.5 litres
Front suspension
USD fork
USD fork
Rear suspension
Monoshock
Monoshock
Front brake
320mm disc
320mm disc
Rear brake
265mm disc
230mm disc
Tyre size (front)
110/80-19
100/90-19
Tyre size (rear)
160/60-17
130/80-17
Acceleration
0-60kph
3.2s
2.82s
0-100kph
8.2s
6.15s
Roll-on acceleration
20-50kph
2.14s
2.33s
30-70kph
4.02s
3.95s
50-80kph
3.62s
4.03s
Braking
60-0kph
16.64m
16.05m
from Autocar Indiahttps://cdni.autocarindia.com/ExtraImages/20230117022754_Zontes%20KTM%20comparo%201.jpg