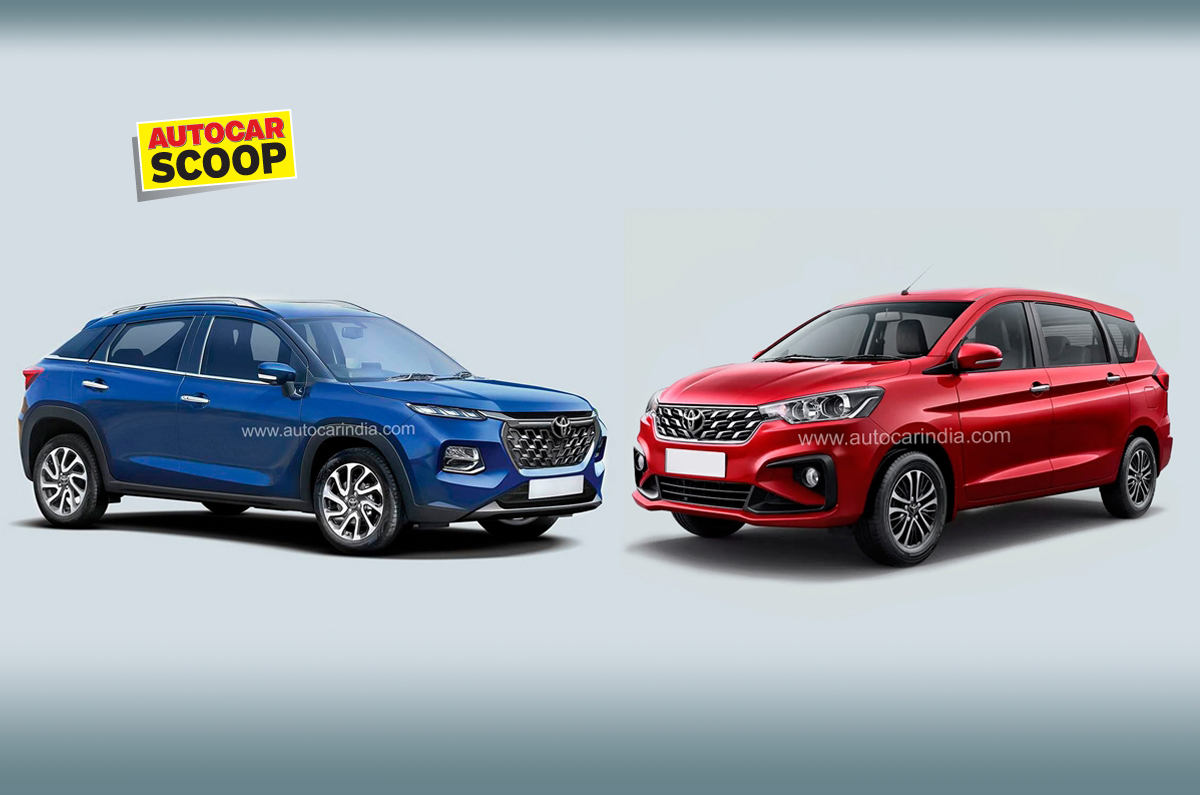 Having raised the bar with the new Innova Hycross, Toyota is now looking to tighten its grip on the more affordable end of the MPV segment. The company is working on a new Maruti Suzuki Ertiga-based MPV that is set to debut sometime around mid-2023.
That's not it, Toyota will also address a critical gap in its portfolio of sub-compact crossovers/SUVs with a new Maruti YTB-based crossover, filling the void created by the now-discontinued Urban Cruiser. Both these models will be built and supplied by Maruti Suzuki to Toyota.
Ertiga-based Toyota counterpart to debut around mid-2023
Maruti YTB-based Toyota crossover to debut later in the year
Both models will look considerably different from their Maruti counterparts
Ertiga-based Toyota MPV: what to expect?
Toyota's version of the Ertiga-based MPV is understood to be codenamed the D23 and is expected to debut sometime in mid-2023. It will share the same Heartect platform as the Ertiga, and will also be powered by Maruti's K15C petrol engine, likely in both petrol and CNG guise. It, however, will be sufficiently differentiated from the Ertiga to have its own identity.
Toyota already sells a rebadged Ertiga as the Rumion in markets like South Africa. However, that was based on the pre-facelift Ertiga, and barely had any differences in terms of styling. One can expect Toyota's upcoming MPV to be as differentiated from the Ertiga as the Glanza is from the Baleno, which means the front and rear fascia will be different on both models with more brand-specific styling cues.
We, however, do not expect any major changes to the interior or equipment list, as is the case with the existing shared models. Toyota's version of the Ertiga could be priced at a slight premium over the Maruti, but it is also likely to come with a better warranty.
What is unclear at this moment is if Toyota will also have its own version of the XL6, or if there will just be a single model covering both bases – multiple seating configurations and more premium features – perhaps spread across a wider trim line-up.
Either way, Toyota will have one of the widest MPV range in the market straddling across petrol, diesel, CNG, mild-hybrid and strong hybrid catering to the needs of buyers from Rs 10 lakh to Rs 30 lakh price point. Do note the Innova Crysta is also set to make a comeback with a facelift this year and in diesel-only guise.
Glanza-based Toyota coupe SUV: what to expect?
Maruti Suzuki will be taking the wraps off the YTB SUV for the first time at the upcoming Auto Expo 2023. So, all that we currently know is that the YTB will be based on the Baleno's (and Glanza's) Heartect platform, will measure under 4-metres in length, will be powered by a 1.0-litre turbo-petrol engine and will have crossover styling cues with a jacked-up suspension and flared wheel arches.
It is, therefore, safe to assume that all this will be true for the Toyota counterpart as well, except that it will be styled differently from the Maruti. It has been internally codenamed as the A15 and is expected to see the light of day by the end of 2023.
We have previously also reported to you that Maruti Suzuki will have its own version of the recently launched Innova Hycross. With both brands looking to further diversify their portfolio with more cross-badged products, by the end of 2023, Maruti and Toyota together will have five pairs of shared models on sale in India, apart from what they also offer globally.
Also See:
Auto Expo 2023 preview: A-Z of all new launches, concepts and debuts
The ultimate Auto Expo 2023 Guide, and more: Autocar India January 2023
Every new car, SUV launching in January 2023
Honda's Creta-rivalling midsize SUV coming by mid-2023
from Autocar Indiahttps://cdni.autocarindia.com/ExtraImages/20230106125313_Toyota%20Maruti.jpg