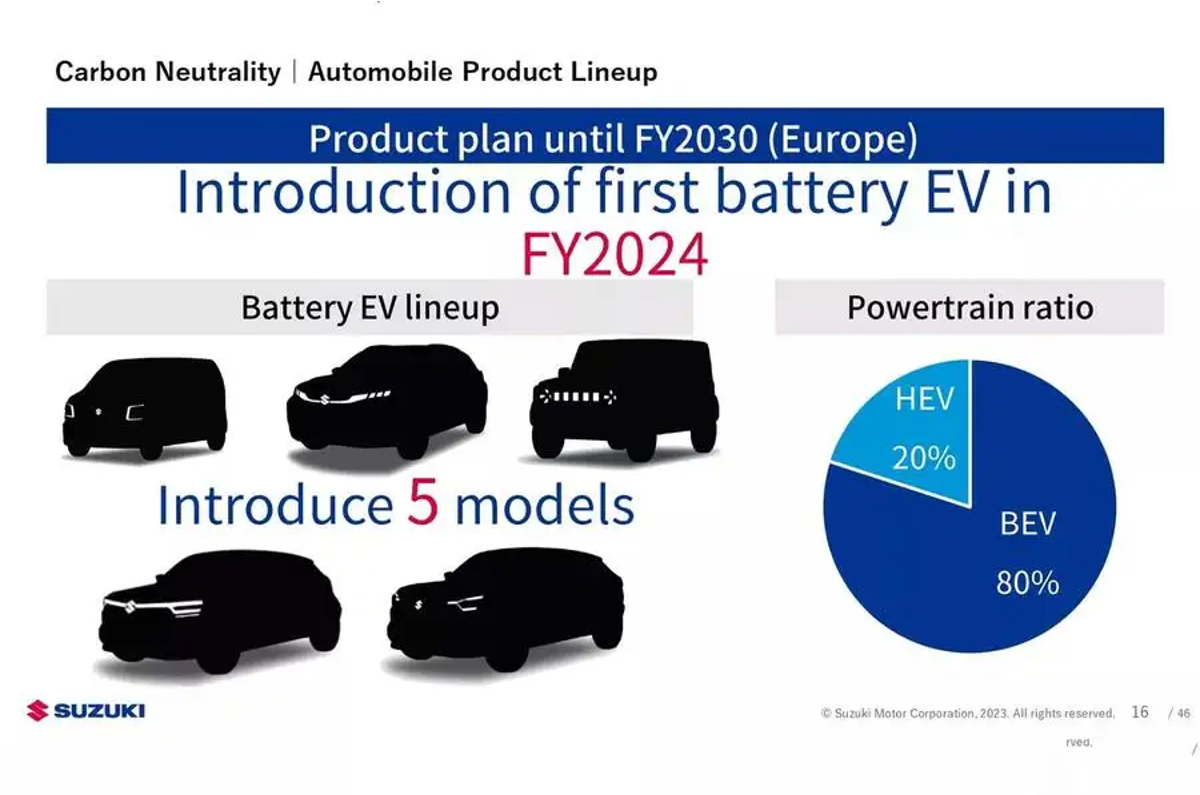 As part of its global strategy plan, Suzuki Motor Corporation, the parent of India's largest carmaker Maruti, will introduce five new electric cars in Europe from 2024 onwards, along with a pledge to achieve carbon neutrality by 2050. This plan also includes a £3 billion investment in battery development as well. Suzuki has also announced its EV plans for India.
Production-spec eVX to become the brand's first EV
Four more EVs for Europe by 2030
Suzuki aims to achieve carbon neutrality in India by 2070
Suzuki Jimny EV expected by 2030
Prior to the arrival of the Jimny electric, Suzuki will launch the production version of the recently revealed eVX concept as its first fully electric model. The eVX was showcased at the Auto Expo 2023 in India and features a 60kWh battery that will offer around 550km range. However, the electric Jimny is unlikely to share the eVX's underpinnings given its much smaller footprint, and is expected to use an adapted version of the combustion car's platform in a bid to maintain its affordable billing.
The current Jimny 3-door, which is sold overseas, is only available with a 1.5-litre naturally aspirated petrol engine that produces 100hp and 129Nm of peak torque. Therefore, an electric version will showcase a marked improvement in both power and torque. Suzuki has not yet confirmed the powertrain details of the electric Jimny, but the official preview image released suggests that it will retain its distinctive two-box silhouette, 5-slat grille and squat proportions. The new star-shaped headlights, however, hint at a subtle redesign.
Suzuki's global growth strategy
The Japanese firm plans to expand its product portfolio by introducing electric SUVs by 2023, and has committed to invest 2.5 trillion yen (Rs 1.57 lakh crore) in the construction of a battery plant and other sustainable developments. Suzuki also forecasts that 80 percent of the cars it sells in Europe will be battery-electric, with the remaining 20 percent taken by hybrids.
However, Suzuki is not immediately set to become an electric-only firm and will continue to work towards developing a carbon-neutral combustion engine for sale in other global markets.
Suzuki cars sold in fast-developing, core regions such as India will eventually be powered by biogas and ethanol mixed fuels as the firm works towards achieving carbon neutrality by 2070. Although it will continue to develop hybrid powertrains in other regions like Japan, it will focus only on EV power in Europe.
Also see:
'5-door Jimny won't lose off-road appeal': Maruti Suzuki CTO
Opinion: Why the Jimny and Thar are not competitors
from Autocar Indiahttps://cdni.autocarindia.com/ExtraImages/20230128050648_Untitled.png