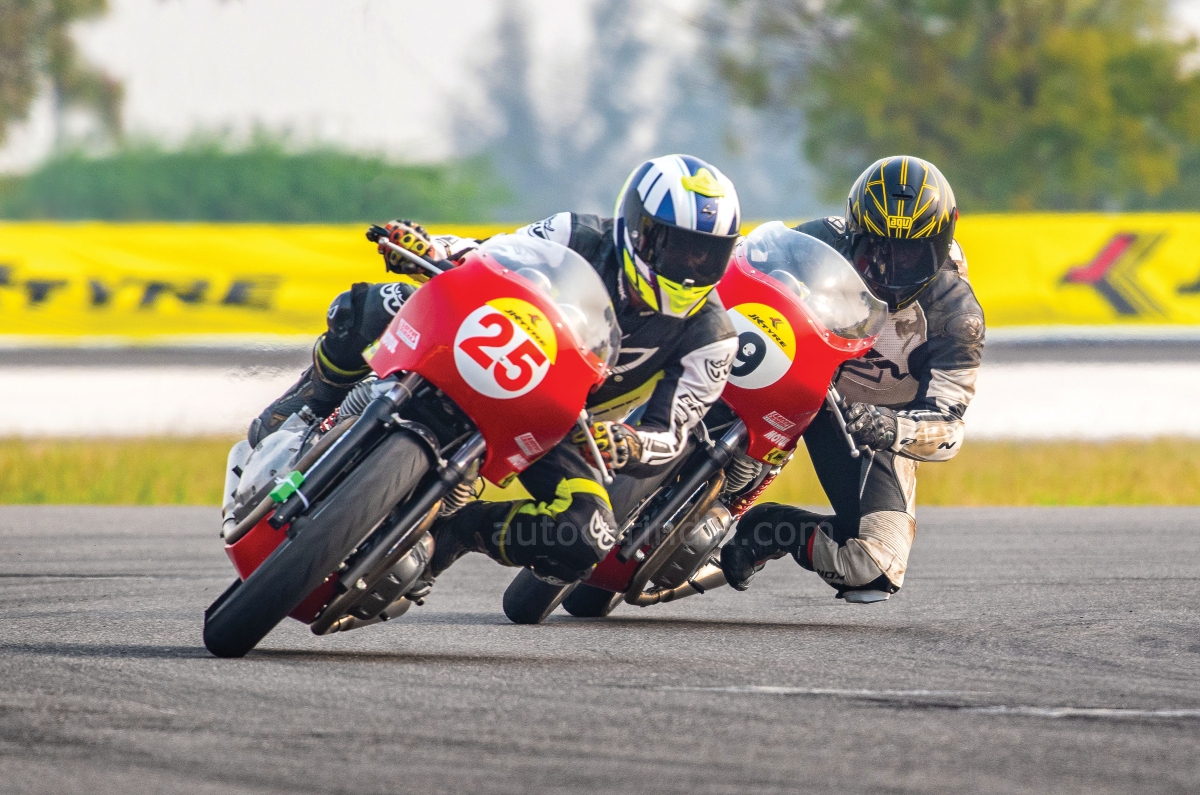 As exciting as the idea of sharing a racetrack with national championship competitors sounds, in truth, it's a fairly unspectacular event, with a foregone conclusion. No motoring journalist can hope to mix it with professional racers – both in terms of skill and willingness to risk it all in the chase for glory. This meant that my wildcard appearance at the Royal Enfield Continental GT Cup last year, though a thoroughly enjoyable affair, felt more like a solo track day experience than a race. Happily, though, this year, Royal Enfield was daring enough to let a grid full of motoring journalists fight it out against each other for one race, aboard the very same Continental GT-R 650 race bikes that the professionals compete on.
Once again, the idea fills me with glee. But a little further thought reminds me that despite the significant weight reduction that has been made to get this bike race ready, it's still a 190kg machine, and one that demands to be treated with respect. What we journos lack to the pro racers in terms of technique, we more than make up for in competitiveness. The perfect ingredients for a dangerous cocktail called 'Getting carried away'.
A first trial of this year's sharper ergos.
Thankfully, the weekend starts off sedately enough. On Saturday, the 13 of us can only use the five spare bikes in batches, for practice and qualifying – it's only after the championship wraps up on Sunday that RE will let us loose on the bikes used by the racers (a decision that will later prove prudent). So, real estate on track is easy to come by. Track time, though, is not. With just 10 minutes each of practice and qualifying, I'm barely beginning to reacquaint myself with the idiosyncrasies of a 190kg race bike, when I see my final chequered flag for the day. Nevertheless, my 20 minutes of floundering are good enough for a fourth-place start the next day. Not fantastic, but not terrible either.
I wake up content in the knowledge that as one of the lightest riders on the grid, I have a good chance of making up some places at the start, so long as I can get off the line well. Many hours of downplaying my nervousness later, that's exactly what happens as the lights go out. The elation is short-lived, as pole-sitter Jehan slices past me at turn 3. The deflation is short-lived, as he suffers a bike issue just 20 seconds later, returning the lead to me. The race is short-lived, with a nasty crash behind us bringing out a red flag. See why RE didn't trust us with the racers' bikes on Saturday?
Despite the serious face, it was a super fun weekend.
Mess cleared up, we go racing once again. And I luck out with a second great start, only to once again lose the lead a few corners later, this time to Varun. That leaves me fending off Jehan behind (who was lucky enough to repair his bike under the red flag and rejoin). It is not a comfortable place to be, what with him having been the fastest man on track the previous day. But hey, it's a new day. So I put my head down and dig as deep as I can. I do my best to use my weight (or lack of it) to my advantage, focusing on exiting the important corners as well as I can. But a new challenge presents itself.
You see, yesterday's spare bikes all had fresh tyres fitted. Today, we're searching for traction from battered old tyres that have suffered a weekend's worth of abuse at the hands of the very best in the business. But with a nice, long wheelbase and friendly, smooth power delivery, the GT proves to be a friendly giant, predictably squirming around when traction runs out, rather than snapping violently like a more focused race bike would. Confidence and comfort build quickly with each lap, and despite very earnest attempts by some backmarkers to wreak havoc in the closing laps, I manage to bring home a hard-earned second place.
Sure, it's all in the name of fun, but it doesn't hurt to take home a trophy at the end of it.
Think of high-octane fun on a racetrack, and you probably don't think of jumping on a big retro Royal Enfield cafe racer. But there is a unique joy in racing machines that were never born with the intention of racing (check out the King of the Baggers class at MotoAmerica), and the media race at the GT Cup was some of the most enjoyable track time I've had in a while.
from Autocar Indiahttps://cdni.autocarindia.com/ExtraImages/20230127031531_GT3.jpg