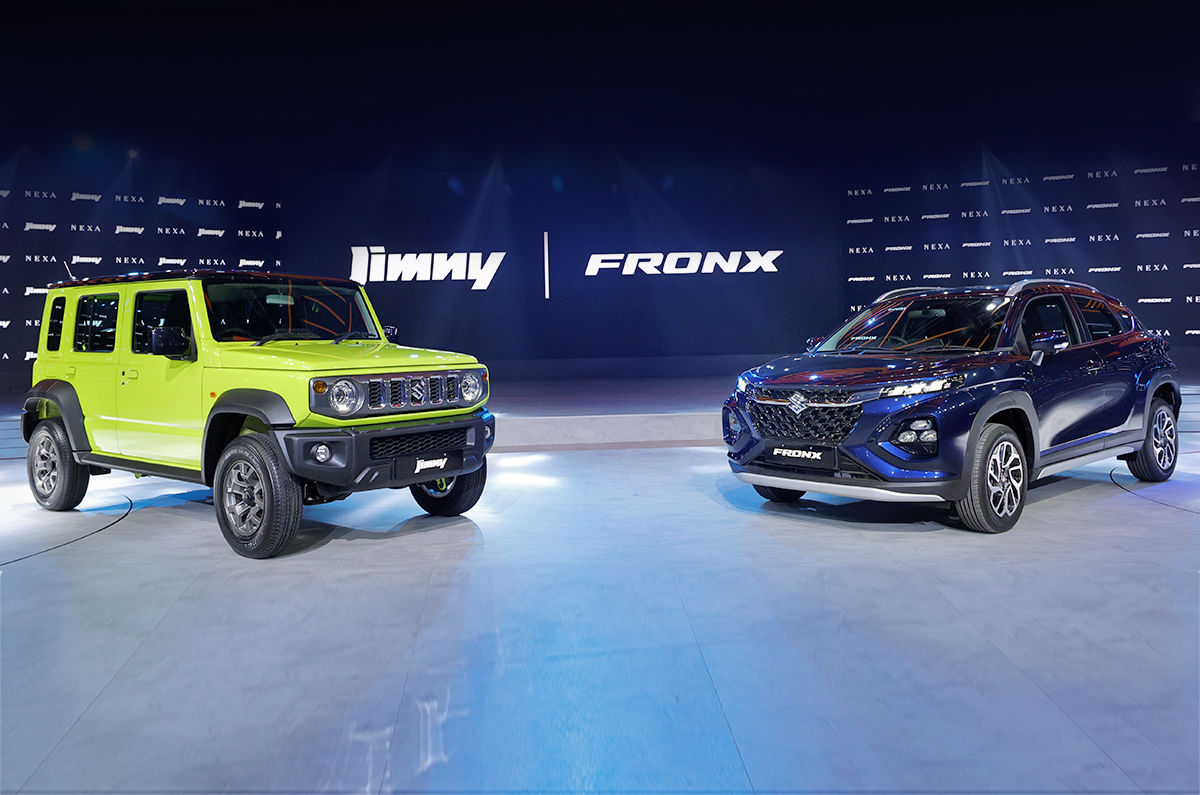 Maruti Suzuki, the country's largest carmaker, says it is working towards grabbing the number one position in the SUV space in financial year 2024 (April 2023-March 2024). This plan will be led by a new range of products unveiled by the brand at Auto Expo 2023.
Maruti Suzuki aims to secure 45 percent market share by 2024 end
Aims to lead the segment with the help of the Jimny and Fronx
Will be adding another 1 lakh production capacity to meet demand
Maruti Suzuki aims to lead SUV segment
With a plan to outpace its competitors, Maruti Suzuki aims to grab at least four percentage points share in the passenger vehicle market, led by incremental units coming from the recently unveiled the SUV coupe Fronx and lifestyle SUV Jimny. The company currently has a market share of 41 percent, which it hopes to increase to 45 percent by the end of the next financial year.
Tata Motors is the current market leader in the SUV segment with volumes of close to 3.5 lakh units' annual sales.
Hisashi Takeuchi, MD & CEO, Maruti Suzuki India, said the Jimny and the Fronx will set new benchmarks in the Indian SUV market. "I am confident that Maruti Suzuki will attain the number one position in the SUV segment in FY24," said Takeuchi at the unveiling.
The MD has admitted that the company has been late to enter the SUV segment but now believes the company has "good weapons" to be able to grab the Number One SUV position in the next financial year.
Tata Motors overtook South Korean rival Hyundai Motor to grab the pole position on a calendar year basis. Given the sustained increase in volumes, it is expected that on a financial year basis too, Tata Motors will be ahead of Hyundai Motor in SUV sales.
While Maruti Suzuki is non-committal on numbers, our sister publication Autocar Professional learns that between the new Jimny and Fronx, the company is likely to bring in incremental sales of three lakh units, apart from the additional volumes from Grand Vitara midsize SUV, which was not part of its portfolio last year.
Maruti Suzuki has a backlog of over 3 lakh units
With a pending order book of 3.2 lakh units and additional output needed for new models, the company has already expanded capacity across factories. Suzuki Motor has added a second shift in Gujarat's third factory, and Maruti Suzuki will be adding another one lakh capacity in Manesar to meet the additional demand.
Takeuchi says there is likely to be a lesser disruption in the supply chain in Q4 of FY23 and the company will try to produce higher output.
The MD says the fresh orders are as good as the current production – hence the company expects the demand momentum to sustain, plus incremental volumes from new models will help the company outpace the market.
Also see:
'Flex fuel availability key for commercial production of compatible cars': Maruti MD
Auto Expo 2023: Maruti Suzuki Jimny five-door image gallery
Auto Expo 2023: Maruti Suzuki Fronx image gallery
from Autocar Indiahttps://cdni.autocarindia.com/ExtraImages/20230117111318_52622447104_0af15c9214_o%20_1_%20_1_.jpg