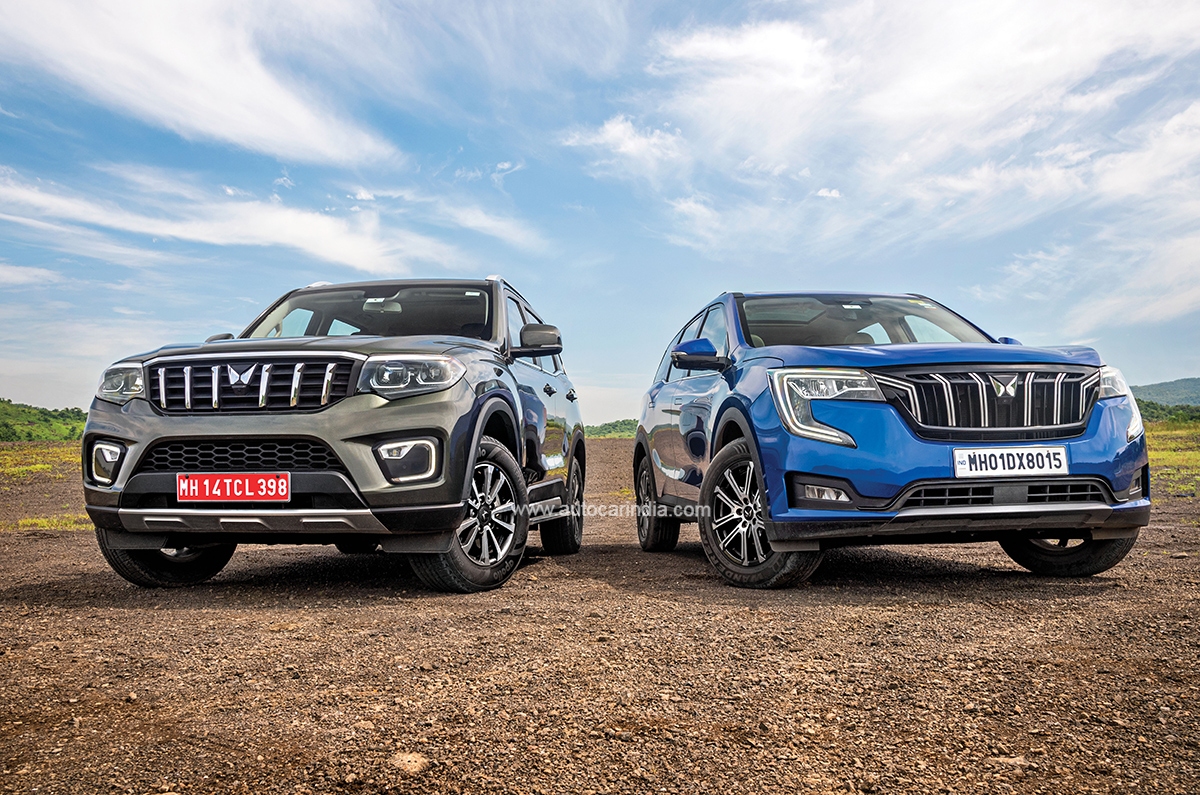 After setting the sales chart on fire with the XUV700, Mahindra has another blockbuster on its hands, the Scorpio N. And while the XUV700 is a monocoque-based SUV with an urban bias and the Scorpio N is a more rugged option underpinned by a ladder frame, they do have plenty in common – their 7-seat configuration, engines and gearboxes, plenty of features, and the prices of some variants overlap too. So, what separates these two and which one should you pick?
Mahindra Scorpio N vs XUV700: exterior, interior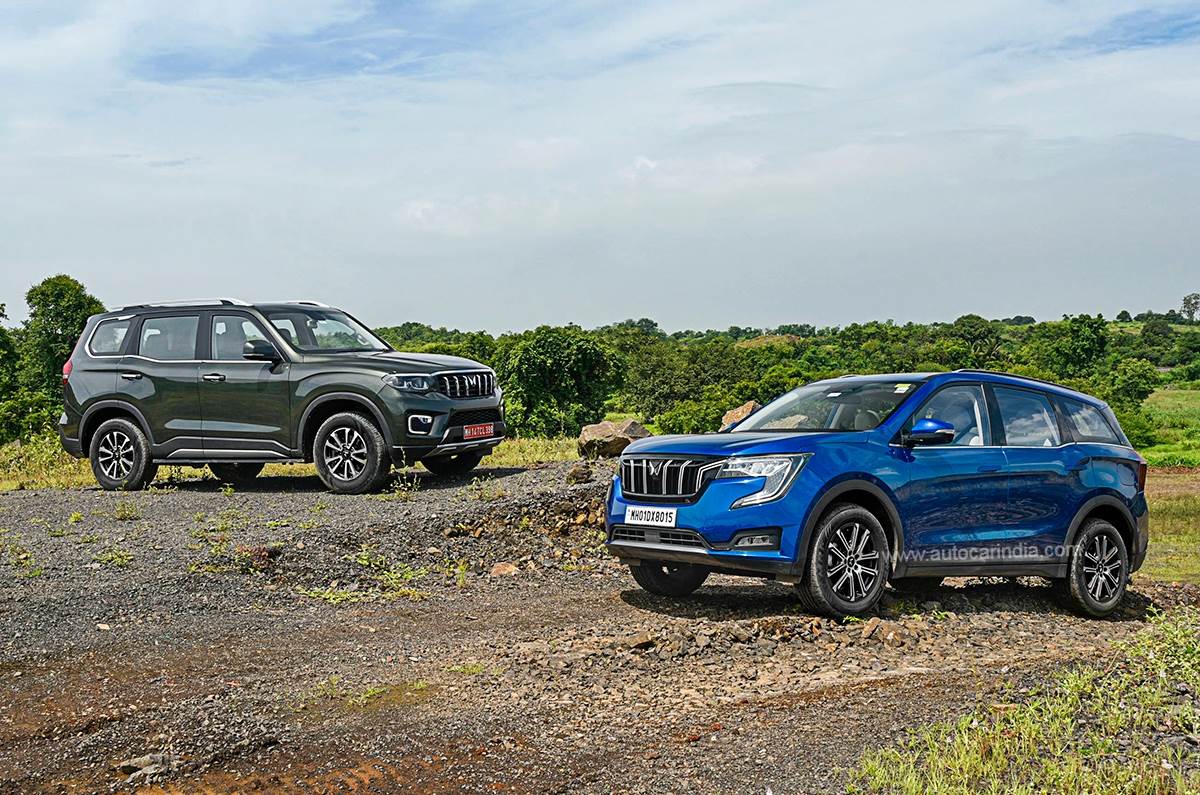 The Scorpio N showcases a traditional butch design whereas the XUV700 looks more sophisticated.
The new Scorpio N stands tall, with a confident posture bearing traditional design cues of the outgoing version, but it has been modernised and gets all the right ingredients expected in a butch SUV, like an imposing grille, flat bonnet, slab-sided profile and roof rails. The Scorpio N looks intimidating and has an air of indestructibility, something old-school SUV buyers long for. But those looking for a suave, urbane crossover are likely to gravitate towards the XUV700. It doesn't come across as burly – like the Scorpio N – due to its shorter height and more horizontal stance. Plus, with elements like flush-fitted door handles and distinct LED lights, it would be safe to classify it as the more sophisticated of the two.
With soft-touch bits, quality materials and tasteful elements, N's cabin feels well-appointed.
Step into the Scorpio N (literally), and you're perched high into throne-like seats, which make you tower over other road users and offer a great view outside. The well-appointed brown and black interiors with soft-touch materials and a vertically-oriented piano-black centre console that houses the touchscreen feel like a far cry from the outgoing Scorpio's cabin.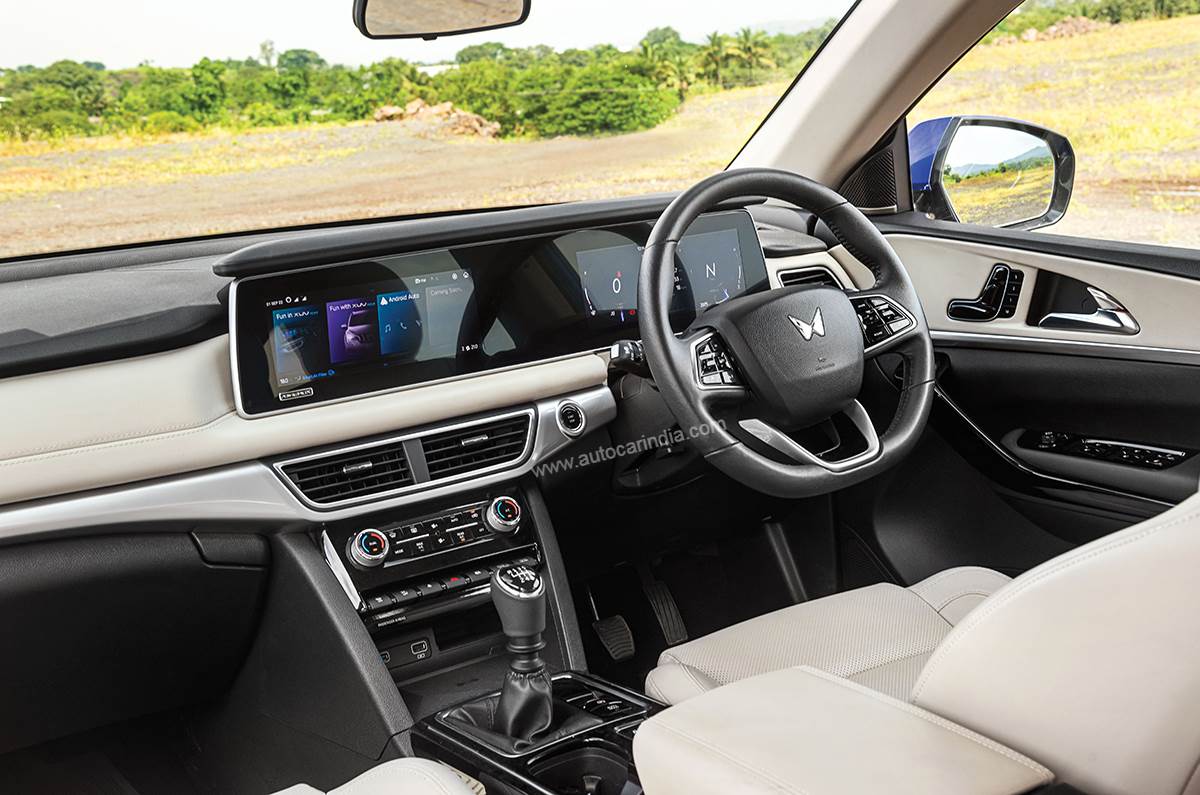 Brighter colours, twin screens and panoramic sunroof lend the XUV's interior a genuine luxury car vibe.
And while the Scorpio N's interiors are a huge step-up, the XUV700's cabin takes things to a different level altogether. It will bowl you over with its ultra-wide twin screens, akin to a Mercedes-Benz GLS, and its massive panoramic sunroof. Adding to comfort is the softer seat cushioning, and what's more, the second-row backrest can be reclined. Interestingly, the XUV has a roomier third row, and the floor isn't as high as the Scorpio N's, so adults won't mind sitting here compared to the Scorpio N.
XUV's boot is a bit bigger with all rows in place; its hatch is more convenient than N's swinging gate.
However, with all seats in place, neither of the cars has a boot that's big enough to swallow much more than a couple of soft cabin bags. While the XUV gets a conventionally opening boot, the Scorpio N gets a rather inconvenient swing-opening tailgate.
Mahindra Scorpio N vs XUV700: price, features
In the fully-loaded diesel-manual two-wheel-drive guise, the Scorpio N costs Rs 19.49 lakh and the XUV700 costs Rs 22 lakh (ex-showroom, India). Both cars are well-equipped with safety and premium kit like six airbags, leatherette upholstery, touchscreen with 12 Sony speakers, Android Auto and Apple CarPlay, surround camera, powered driver's seat, all-wheel disc brakes and more.
By way of features – for the extra Rs 2.5 lakh – the XUV700 offers a panoramic sunroof, twin digital screens for the instrument cluster and central touchscreen, and a reclining middle-row seat. It also offers a host of advanced driver assistance systems (ADAS) such as adaptive cruise control, lane keep assist, autonomous emergency braking and more, giving you your money's worth.
Mahindra Scorpio N vs XUV700: powertrain, ride and handling
Mahindra uses a 2.2-litre diesel engine to power these cars. In the Scorpio N, it is longitudinally mounted and produces 175hp and 370Nm, with the power transmitted to the rear wheels via a 6-speed manual transmission. On the other hand, it produces 185hp and 420Nm in the XUV700, where it is transversely mounted and sends power to the front wheels via a 6-speed manual.
Both SUVs share the same 2.2-litre mHawk diesel engine which is quite refined.
What's simply commendable is how smooth, refined this diesel unit is in both SUVs. Besides being hushed, there are almost no vibrations inside the cabin. Only at higher revs do you hear a drone, which reaffirms that there's a diesel under the hood. The clutch and manual gearbox are similar in both and are quite light to operate.
The Scorpio N builds speed with ease and its strong mid-range ensures that overtaking is a breeze. As far as drivability goes, it has a fairly linear and a more agreeable power delivery. In comparison, the XUV700 feels a lot livelier and lighter on its feet in the way it delivers its power. The boost feels much stronger and dumps power to the front wheels, and you can even induce some wheel spin. Predictably, the XUV's flat-out performance is better too. It dispatches the 0-100kph sprint 2sec quicker, and rolling acceleration from 20-80kph in third gear and 40-100kph in fourth gear is around 1sec quicker.
The Scorpio N offers linear power delivery whereas the XUV700 feels a lot livelier.
The Scorpio N, however, will remain the preferred choice for buyers tackling hilly terrain, because its rear-wheel-drive layout offers better traction than the front-wheel-drive XUV700, and it proves its mettle where road conditions worsen. It superbly flattens out the rough and exudes a sense of indestructibility, thanks to its tough ladder-frame construction. Its multi-link rear suspension with a Watt's linkage improves its dynamics, compared to the outgoing version. However, its ride still remains lumpier than the XUV's, and it feels top-heavy around corners.
This is where the monocoque XUV feels a lot more sophisticated, with its all-wheel independent suspension resulting in a planted, composed ride quality. It feels more car-like from behind the wheel and tackles corners with a greater degree of confidence. Ride quality is also good, and it feels tough and absorbs road shocks well, much more than most other monocoque offerings in the market.
Powertrain, performance
Mahindra Scorpio N Z8L
Mahindra XUV700 AXL
Engine
4 cyls, 2179cc, turbo-diesel
4 cyls, 2179cc, turbo-diesel
Power
175hp at 3500rpm
185hp at 3500rpm
Torque
370Nm at 1500-3000rpm
420Nm at 1600-2800rpm
Gearbox
6-speed manual
6-speed manual
PERFORMANCE
Acceleration (from rest)
0-20kph
1.64s
1.34s
0-40kph
3.45s
3.09s
0-60kph
5.60s
4.90s
0-80kph
8.77s
7.11s
0-100kph
12.38s
10.29s
ACCELERATION IN GEAR
20-80kph (in third)
9.05s
8.25s
40-100kph (in fourth)
10.75s
9.80s
Mahindra Scorpio N vs XUV700: verdict
The burly Scorpio N will appeal to buyers seeking a 'proper SUV'. It is intimidating to look at, tough in its construction, and now feels reasonably posh on the inside, with ample features to keep you entertained. The car-like XUV700, on the other hand, is clearly the more sophisticated of the two. It has richly-appointed interiors and feels far more upmarket, thanks to its twin-screen layout and panoramic sunroof; it offers a host of ADAS features as well, which could be a big draw for some. In addition, it gets comfier seats, has a better third row, and, dynamically, it is much superior too.
The Scorpio N and XUV700 are definitive improvements over their outgoing generations.
So, the choice boils down to your preference, we'd recommend the Scorpio N to those looking for a tough-as-nails SUV to take on difficult terrain, but for those looking for a sophisticated all-rounder, the XUV700 fits the bill. Irrespective of which SUVs you pick, both are a huge improvement over their respective outgoing generations in every possible measure. And the fact that customers are willing to wait over a year for either of them, is a clear testimony to that.
Also see:
2022 Mahindra Scorpio N vs XUV700 comparison video
from Autocar Indiahttps://cdni.autocarindia.com/ExtraImages/20221011015923__DSC8069.jpg