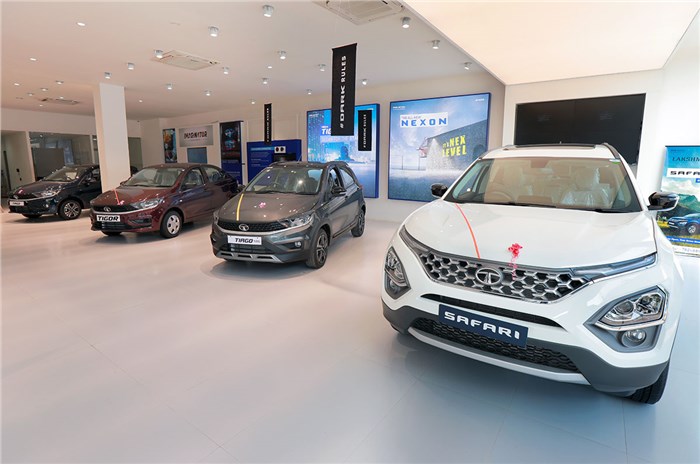 Tata Motors ended the year in style by notching the best performance in the passenger vehicle (PV) segment in December with wholesales of 35,300 units and retail sales of 40,000 vehicles. In terms of retail sales, Tata Motors overtook Hyundai, climbing to the second position.
Tata sold over 3.31 lakh vehicles in the 2021 calendar year
Maruti Suzuki retains top spot in December sales chart
Hyundai sales dip by 32 percent year-on-year
Tata sales growth
With an aggressive SUV-led product assault, the company is definitely welcoming the new year on a high. Shailesh Chandra, president, PVBU, Tata Motors, said, "Tata Motors set several new milestones during the quarter despite witnessing a shortfall in production due to the ongoing semi-conductor crisis. Decade-high quarterly and monthly sales at 99,002 units in Q3 FY22 (growth of 44 percent vs Q3 FY2021) and 35,299 units in December 2021 (growth of 50 percent compared to December 20) were recorded. In addition, the company also posted sales of 3,31,178 vehicles in CY2021, highest ever since the inception of the PV business."
Chandra added that "the overwhelming market response to Tata Punch launched in October 2021 is further boosting demand for the company's 'New Forever' range of cars and SUVs."
Tata also achieved some sales milestone in the EV segment. According to Chandra, EV sales saw a new peak of 5,592 vehicles in Q3 FY2022, a three-fold growth compared to Q3 FY2021. The share of EVs in monthly sales touched 5.6 percent during the quarter compared to 1.8 percent in the same period in FY2020.
Tata Motors' EV sales also touched 10,000 units in nine months of FY2022 and crossed 2,000 monthly sales landmark for the first time in December 2021 (2,255 units).
However, Chandra pointed out that "going forward, semi-conductor supplies will remain the key source of uncertainty. Additionally, the impact of the new strain of Covid needs to be closely tracked. We will continue to work on business agility plan and take proactive actions to mitigate these risks."
Other Indian carmakers' December 2021 sales figures
The country's largest carmaker Maruti Suzuki saw its wholesale numbers decline by almost 12 percent YoY at 1,13,851 units.
Hyundai Motor India, which has been the second biggest carmaker in terms of sales, saw its monthly and yearly sales dip by almost 13 percent and 32 percent respectively. The Korean carmaker reported wholesale of 32,312 units.
Mahindra too managed to improve its performance with wholesale of 15,338 units, thanks to strong demand for its new launches, including the Thar and the XUV700. But with the ongoing semiconductor shortage is a major concern for the carmaker. Veejay Nakra, CEO – Automotive Division, Mahindra & Mahindra, said, "The issues around semi-conductor related parts continue to be a challenge for the industry and remains a major focus area for us."
Toyota Kirloskar Motor reported 45 percent YoY increase in wholesale numbers at 10,382 units in December, but a decline of 17 percent compared to the previous month's sales.
For the younger Korean brand Kia Motors India, the wholesale numbers declined 34 percent YoY and 45 percent compared to the previous month at 7,797 units.
Among the other players in India, Skoda has regained a new charge, thanks to the Kushaq SUV. Zac Hollis, brand director, Skoda Auto India, said, "Despite the headwinds in the form of the pandemic and supply constraints that plagued the industry and economy at large, we have achieved triple-digit growth in our annual sales volumes. While we built on our product campaigns, we have maintained our sharp focus on customer centricity, expanded our customer touchpoints across the country and embraced innovative and impactful business solutions. "
With the Omicron strain and semiconductor issues continuing, it will be interesting to see how the passenger vehicle sales pan out across the country.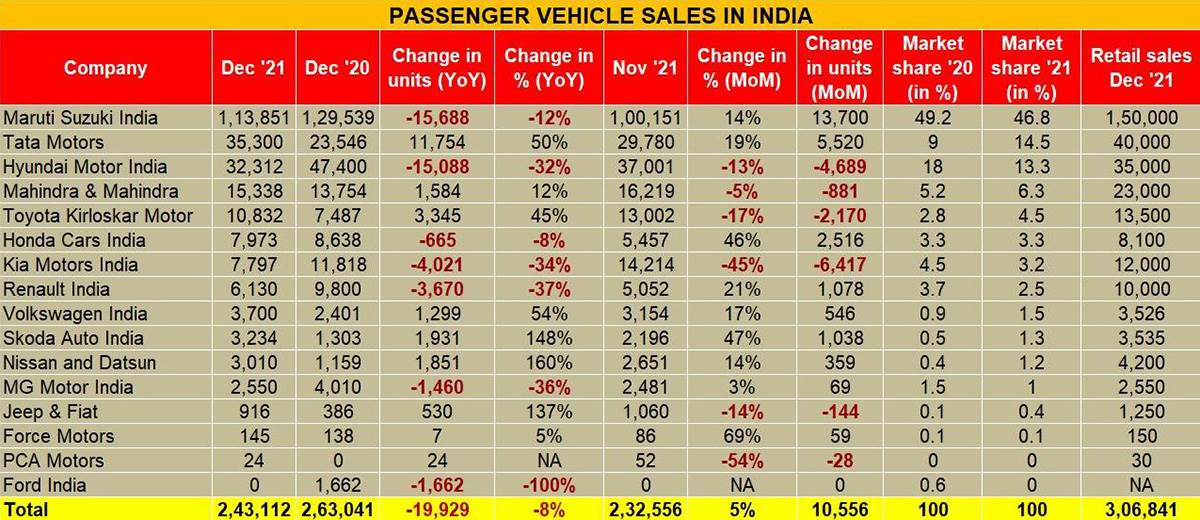 Let us know what you think of the various automakers' December sales performance in the comments section below.
https://ift.tt/3qLelTc