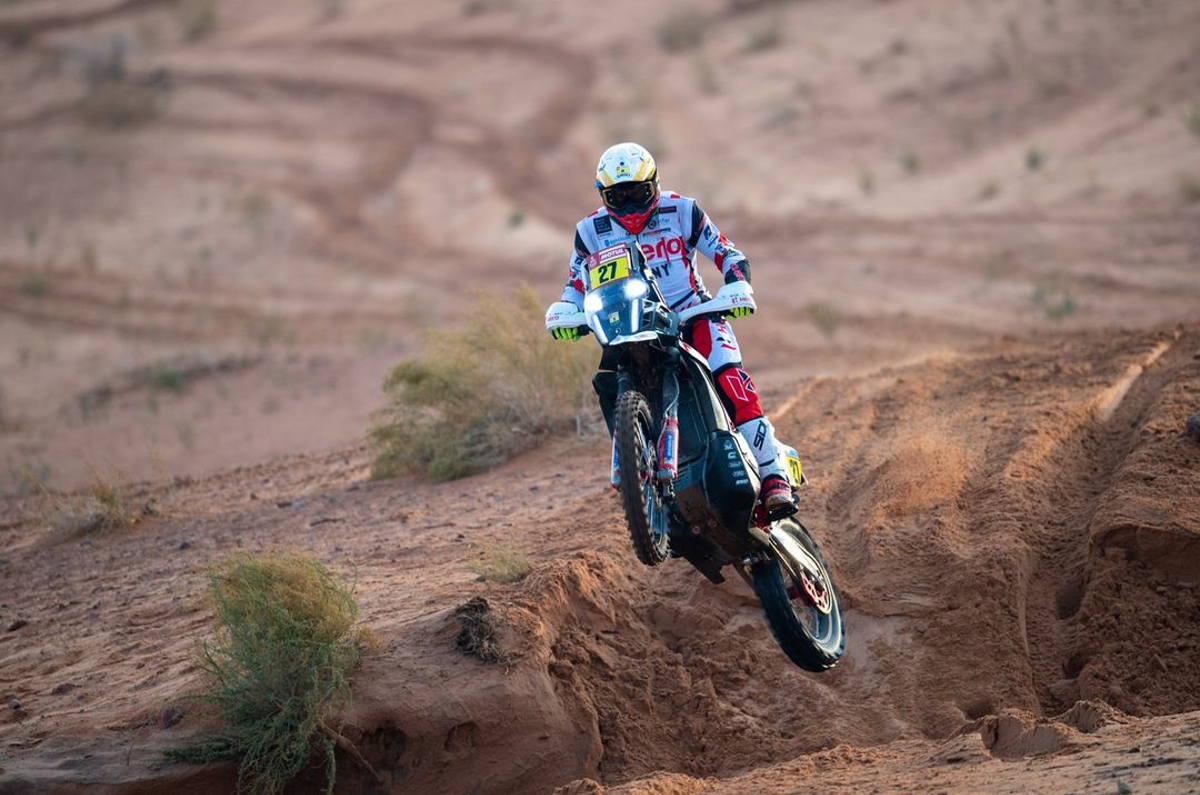 Stage 1 of the 2022 Dakar Rally has finished. The stage featured a 513km loop around Ha'il, with a 333km long special. As expected, navigation proved to be crucial.
Representing the Indian contingent is Hero MotoSports with two riders, Aaron Mare and Joaquim Rodrigues, while TVS-backed rider Harith Noah is the only Indian participating this year. Read on to find out how they fared in Stage 1.
Mare finishes Stage 1 in 11th place
Rodrigues and Noah face navigation trouble
Marè just outside top 10 for Hero
Hero MotoSports' newest recruit Aaron Mare got off to a strong start. He was drafted in at the last minute to replace an injured Franco Caimi and has been handed the tough task of getting to grips with an all-new bike. However, his vast experience racing on sand paid off and he eased to an 11th place finish.
Despite a strong start, Joaquim Rodrigues ran into some navigation issues. He lost almost an hour trying to find the waypoint at the 165km mark, dropping down to 30th place as a result. But this is just the start of the Dakar, and with 11 more stages to go, there's plenty of time to regain lost ground.
Dakar 2022 also kicks off the newly formed FIA and FIM World Rally-raid Championships for cross-country rallying. The competitors in the motorcycle category are divided into multiple classes, and Hero MotoSports are competing in the premier Rally GP class. Caimi and Rodrigues are currently placed 10th and 19th respectively in the class.
Harith Noah finishes 34th
By his own admission, it was a difficult opening stage for Harith Noah. He suffered a crash in the stage and this was further compounded by navigation and technical issues. He ended up finishing the stage 34th overall.
Last year's edition saw Noah make history by becoming the first Indian rider to finish in the Dakar top 20. Speaking with Autocar India ahead of his Dakar 2022 outing, he shed light on the pressures of living up to that record, but stressed that rather than looking at the final goal, he's simply going to take it "kilometre-by-kilometre". Click here to read the full interview.
Sanders and Al-Attiyah take the lead
GasGas rider Daniel Sanders has taken an early lead after winning Stage 1 in the bikes category. Nasser Al-Attiyah, driving a T1+ Toyota Hilux, won the stage in the cars category.
Reigning champion Stephane Peterhansel is on the back foot after his Audi RS Q e-tron suffered some heavy damage. Competing in the new T1 Ultimate class, Audi's radical new race car features three electric motors, with a DTM-sourced petrol engine serving as a power source to charge the batteries.
Who do you think will win Dakar 2022? Tell us in the comments.
https://ift.tt/3mPmEwe