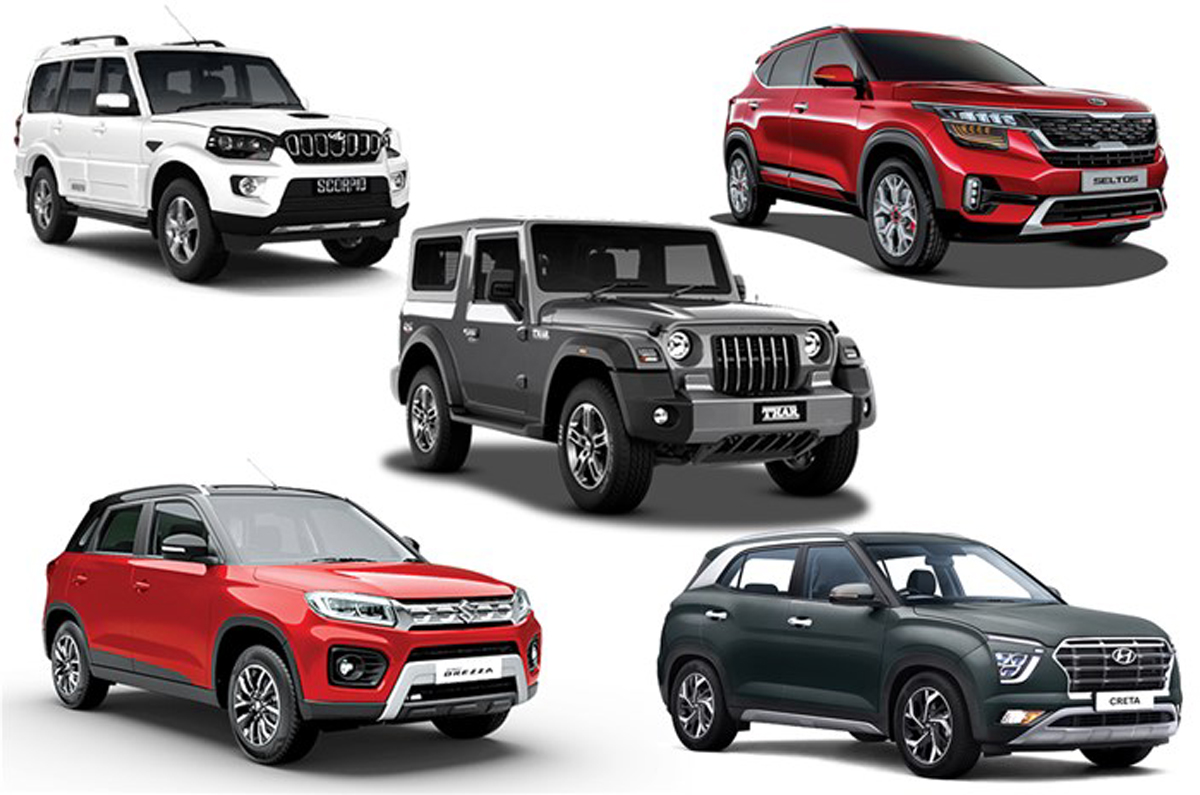 If there is one vehicle category which has made the auto industry, in India and globally, stand up and take notice, it is the Utility Vehicle (UV) or Sports UV (SUV) segment. Even the pandemic has had far less of an impact on this segment as it did on others.
The reason is not difficult to fathom. In line with the global trend, the past few years have seen a surging wave of demand for UVs, particularly compact SUVs. Therefore, it is not surprising that most passenger vehicle (PV) OEMs have recognised this huge potential, and are rushing to introduce new products or strengthen their SUV portfolio.
UV market share has grown from 16 percent in FY2007 to 39 percent in FY2021
Maruti Suzuki and Hyundai have been the two largest contributors in this segment
Almost every second PV currently sold in India is an UV
Number-crunching UVs since FY2007
In FY2021 (April 2020-March 2021), UV sales in India crossed a million, or 10 lakh units, in a single year for the first time. The 10,60,750 units sold were a 12 percent year on year (YoY) growth over the previous financial year (FY2020's) 9,41,461 units. The million-unit sales mark will easily be breached this year too as the cumulative April-November 2021 total was 8,70,894 units – just 1,29,106 units shy of the million mark – which could have been crossed in December itself.
Number crunching 16 years of India UV market sales reveals interesting highlights. From 2,20,306 units in FY2007, where UVs accounted for 16 percent of total PV sales, demand grew hugely to 10,60,750 units in FY2021, accounting for 39 percent of PV sales (27,11,457), up from 34 percent in FY2020.
Utility vehicle sales in India over 16 years
Fiscal Year
Utility Vehicles
Year-on-Year Growth %
2006-07
2,20,306
2007-08
2,43,589
10.57
2008-09
2,25,800
-7.30
2009-10
2,72,740
20.79
2010-11
3,24,212
18.87
2011-12
3,67,012
13.20
2012-13
5,53,660
50.86
2013-14
5,25,942
-5.01
2014-15
5,53,699
5.28
2015-16
5,86,664
5.95
2016-17
7,61,998
29.89
2017-18
9,22,322
21.04
2018-19
9,41,461
2.08
2019-20
9,46,010
0.48
2020-21
10,60,750
0.12
2021-22*
8,70,894
Total
9,30,77,859
*April-November 2021
Our sister publication, Autocar Professional's 16-year UV sales data analysis reveals that from FY2007 to FY2022 (April-November 2021), a total of 9,30,77,859 units, or 9.3 million UVs, have been sold in India. A closer look at the statistic-laden table reveals that while the first four million units took 10 years, the next four million units halved that to five years. What helped, of course, is the shift in consumer preferences and demand, and the fact that from 25 UV models in FY2007, there are over 80 UV models in FY2022, and counting.
SUVs: the cars for all reasons and seasons
The all-encompassing appeal of the SUV is not difficult to fathom. Bigger and taller than regular cars, they give the driver a better view of the road ahead – important in a country like India. And the raised ground clearance is always helpful when it comes to driving over rugged terrain.
Furthermore, being larger than hatchbacks and some sedans, they also pack ample storage space. But, big can also be small, because with the advent of the sub-4-metre compact SUV category in India, these SUVs can easily manoeuvre through dense traffic and also fit into tight spots, armed as they are with driving aids these days.
Tanking up is also not a hugely expensive affair as it used to be with SUVs in the past. Cars, and engine development in particular, have made huge advances over the years, which is why SUVs in recent years are both, fuel-efficient and more eco-friendly.
When it comes to ride and handling, SUVs are the vehicle you'd like to have when you are driving in bad weather conditions or unknown roads. Sizeable weight, bigger and wider wheels and robust nature ensure they deliver improved grip and stability. Safety is paramount, and today most SUVs come with ABS, EBD, ESP and even hill-hold and hill-descent control in some cases.
Utility Vehicle sales in India
Carmaker
Apr-Nov 2021 (units)
Apr-Nov 2020 (units)
Change
Market Share Apr-Nov 2021 (%)
Market Share Apr-Nov 2020 (%)
Change
Maruti Suzuki
1,86,734
1,26,455
60,279
21.44
22.75
-0.06
Hyundai
1,62,031
1,19,619
42,412
18.61
21.52
-0.14
Mahindra
1,31,434
86,959
44,475
15.09
15.65
-0.04
Kia
1,18,928
89,010
29,918
13.66
16.02
-0.15
Tata
74,120
24,424
49,696
8.51
4.39
0.94
Toyota
63,617
31,269
32,348
7.30
5.63
0.30
Renault
39,390
26,211
13,179
4.52
4.72
-0.04
MG
24,264
18,128
6,136
2.79
3.26
-0.15
Nissan
23,689
1,099
22,590
2.72
0.20
12.75
Ford
13,812
20,419
-6,607
1.59
3.67
-0.57
Skoda
11,195
995
10,200
1.29
0.18
6.18
FCA
7,879
3,295
4,584
0.90
0.59
0.53
Volkswagen
7,861
1,594
6,267
0.90
0.29
2.15
Honda
4,767
5,532
-765
0.55
1.00
-0.45
PCA
600
0
600
0.07
0
NA
Isuzu
451
0
451
0.05
0
NA
Force
122
737
-615
0.01
0.13
-0.89
Total
8.70,894
5,55,746
3,15,148
100
100
NA
How the OEMs stack up, market share-wise
In a vehicle segment where sales are booming, rivalry can only be intense, which is amply seen in the UV market's share in the April-November 2021 period (see detailed table above).
While Maruti Suzuki, the UV market leader with 1,86,734 units has a 21.44 percent market share, a hard-charging Hyundai Motor India with 1,62,031 units is close behind with an 18.61 percent share. Mahindra & Mahindra is back at No. 3 position with 1,31,434 units and 15.09 percent.
Kia Motors India, with 1,18,928 units and a 13.66 percent market share, is in fourth position – a remarkable achievement having launched its first product, the Seltos, barely 29 months ago. A resurgent Tata Motors, with 72,120 units is at ranked fifth with a UV market share of 8.51 percent, having doubled it from 4.39 percent a year ago. However, since Tata Motors does not send in its monthly sales numbers, this tally could be revised.
Things turn interesting when Hyundai and Kia's sales and market share are clubbed together. With a total of 2,80,959 units sold, the two Korean OEMs have the majority UV market share of 32.26 percent.
The big contributors
The UV growth story, which has accelerated in the past decade, has its top performers. A speedy check at some of the top contributors to these sales figures in the past 16 years reveals the star performers. These Top 20 (see data table below), in the period under review, are led by sturdy workhorse Mahindra Bolero, which has, since January 2009, sold over a million units (10,73,598). Add FY2007 and FY2008 sales and the Bolero's count will be a lot more.
Top-selling UVs in India
Model
Units sold
Mahindra Bolero*
10,73,598
Toyota Innova*
7,73,806
Maruti Suzuki Ertiga
7,07,967
Maruti Suzuki Vitara Brezza
6,98,770
Hyundai Creta
6,74,756
Mahindra Scorpio
5,86,891
Ford Ecosport
3,57,859
Mahindra XUV500
2,61,275
Hyundai Venue
2,50,518
Tata Nexon
2,40,395
Kia Seltos
2,36,333
Renault Duster
1,99,816
Toyota Fortuner
1,88,973
Tata Sumo*
1,73,667
Maruti S-Cross
1,56,492
Mahindra XUV300
1,15,872
Kia Sonet
1,14,074
Honda WR-V
1,11,097
Mahindra TUV300
1,05,792
Renault Triber
92,913
Total
71,20,864
*From Jan 2009-November 2021
It's a similar case with the Toyota Innova, now with the Crysta suffix, which has sold 7,73,806 units, but what's remarkable, is that the popular Innova MPV is one of the costliest vehicles in the Indian market, whose pricetag has never dipped.
Maruti Suzuki and Hyundai Motor India, the current UV market leaders, not surprisingly have some of the top contributors to the 9.3 million sales figure. These include the Maruti Ertiga and Vitara Brezza and the Hyundai Venue and Creta.
Growth outlook: things can only get better
In line with global trends, the SUV wave will also continue in India as consumers look for a set of wheels that can do-it-all. Being less vulnerable to traffic in the city due to their muscular build, and having the inherent capability to wander anywhere over the weekends, SUVs are increasingly being preferred for their added benefits on Indian roads compared to hatchbacks or sedans.
At present, virtually every second passenger vehicle (47 percent) sold in India is a UV, which is why carmakers are doing all they can to ride the continuously growing wave of demand. The overall sales numbers would have been more had it not been for the semiconductor crisis, which turned into a sales speedbreaker for all vehicle manufacturers.
Now, in CY2022 (January-December, 2022), carmakers will go all out to bring in new SUVs, ranging from the Maruti Suzuki Jimny, new Mahindra Scorpio and the facelifted Hyundai Creta, to the luxurious Audi Q3 and Maserati Grecale. Get set to usher in even more exciting times as this booming, but ultra-competitive segment will continue to see the SUV-vival of the fittest.
What are your thoughts on the growing SUV trend here in India and the world over? Let us know in the comments below.
Also See:
Year in review: Key highlights from the Indian auto industry
https://ift.tt/3pN9h1m