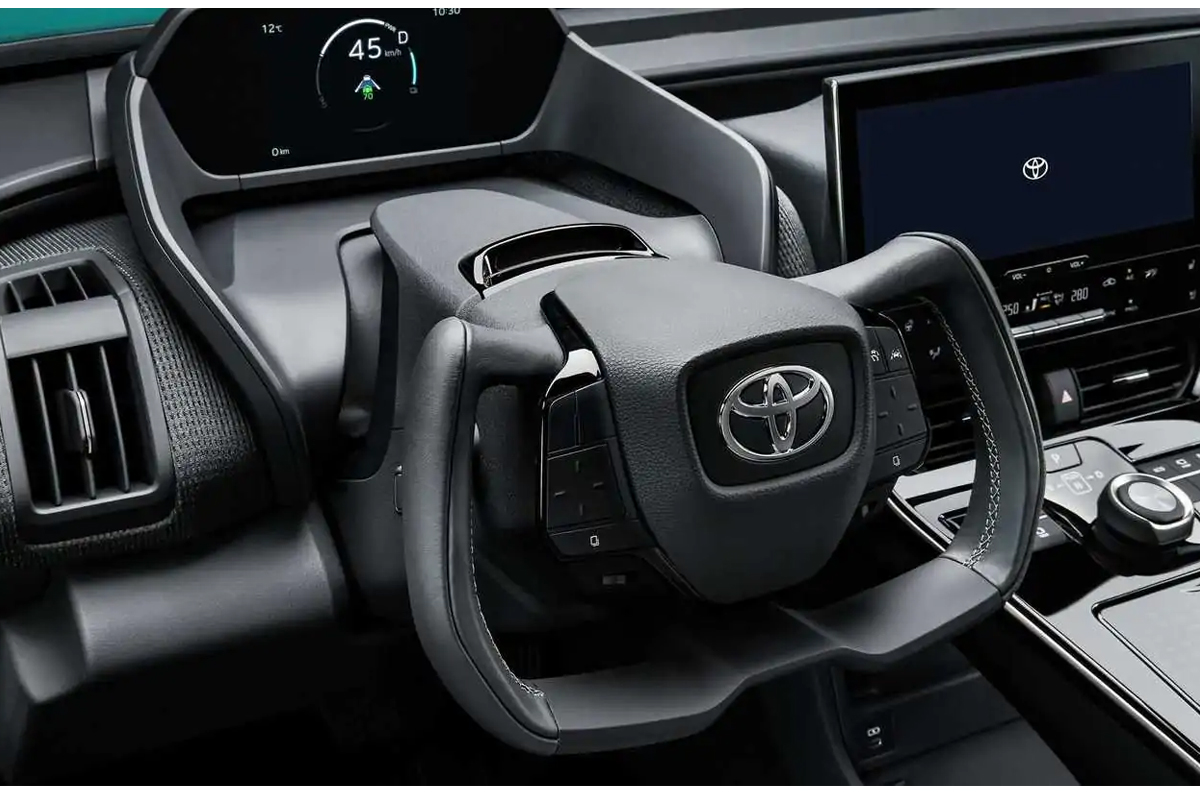 Toyota is on track to put its steer-by-wire technology into production by the end of 2024 after making a significant upgrade to the system. The bZ4X EV SUV and its Lexus counterpart the RZ will be the first models to get this tech in series production.
Steer-by-wire tech is claimed to give smoother, more natural feel
Lexus and Toyota's all-electric cars to feature this technology
Toyota also working on moving accelerator and brake controls onto the steering wheel
Toyota's steer by wire tech: what's different?
The key change to the steer-by-wire system – there is no mechanical link between the steering wheel and the wheels – is a new 200-degree steering ratio instead of a 150-degree ratio, which is said to give the steering a smoother and more natural feel.
Toyota engineers working on the system, which is also known as One Motion Grip, said the new ratio gave the system an "easier, more familiar feel" for customers. The Japanese company has had "hundreds" of people from inside and outside the company test the system to ensure it is as intuitive as possible to drive.
Steer-by-wire is initially set to be offered on Toyota electric cars, including the Toyota bZ4X and the Lexus RZ. The technology has been developed to meet the world's strictest legislation around by-wire steering systems, which had been Europe, but has recently been surpassed by China.
Europe has created its own certification programme for by-wire steering systems, removing the need for a mechanical link between the steering wheel and the wheels as had previously been law. The system is already legal in Japan, while in the US, no such legislation exists. The UK would most likely follow the EU legislation, but this is not yet known.
Over-the-air software updates would be possible for the steering system. However, such remote updates are not currently allowed by legislation.
Engineers confirmed that the steer-by-wire system is also earmarked for the new modular architecture that will underpin Toyota and Lexus electric cars from 2026, starting with a new Lexus sedan inspired by the LF-ZC concept at the Japan Mobility Show.
Toyota is also working on a further development of the steer-by-wire system called Neo Steer, which moves the accelerator and brake controls onto the steering wheel. This is in early stages of development, with no production date set, and the idea behind it is to provide 'mobility for all'; for drivers who cannot use foot controls.

As far as India goes, Toyota did showcase the bZ4x at this year's Auto Expo. However, the brand will introduce its first born-EV in India by 2025, and this model will be based on the Maruti eVX SUV.
Also see:
Toyota Land Cruiser 300 review: Above all else
Toyota Hiace EV concept debuts at Tokyo Motor Show
Toyota builds special Land Cruiser for the United Nations