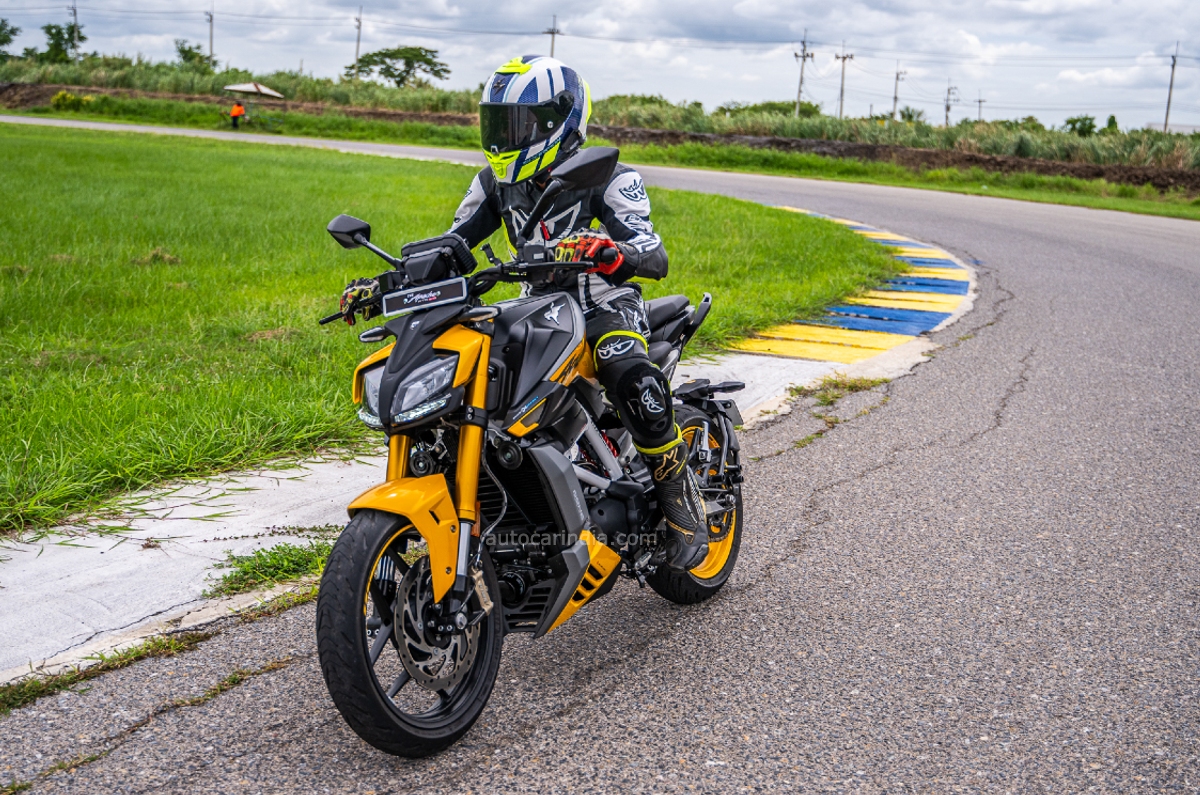 It has already been an extremely exciting year in the 300-400cc space, with the likes of the Triumph Speed 400 and Harley-Davidson X440 joining the neo-retro ranks. And now, it's the turn of more cutting-edge motorcycles. The all-new KTM 390 Duke will be here very shortly, and to prepare itself for that Austrian charge, TVS has rolled out its new Apache RTR 310. Essentially, this is the naked sibling to the Apache RR310 sportbike, but TVS has gone far beyond just taking off the fairing and replacing the handlebar.
TVS Apache RTR 310 design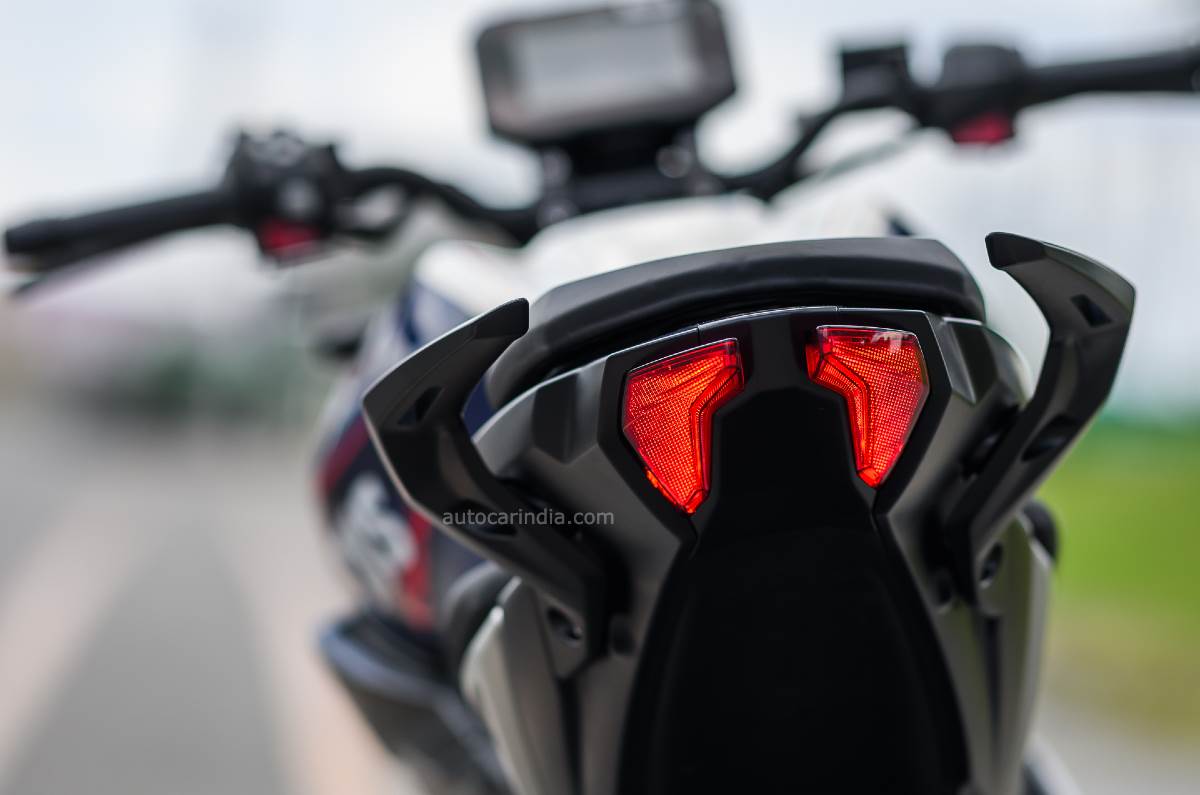 One obviously big area of change is the design. You've got a very handsome streetfighter look with a hunkered down stance and sharp, clean lines all across. The LED headlight is placed low on the golden upside-down fork, the handlebar is tall and wide, and the tank extensions are just big enough. The bike is chunky up front, especially with that rather large headlight pod, and then flows towards a tail section that's rather clean, thanks to the number plate and indicators being mounted on the rear tyre hugger. Neat as this design is, there is a distinct resemblance in the overall silhouette and stance to the Ducati Streetfighter V4, and you see very close similarities even in areas like the radiator shrouds and lower cowl.
TVS Apache RTR 310 features
One area where TVS has very much gone down its own path is features, with a lot of innovation and groundbreaking technology on this motorcycle. The twin LED headlights (which seem to be extremely bright) not only turn on and off automatically, but they also adjust their brightness in two stages with the speed of the bike. Our time was spent aboard a bike kitted out with both the BTO customisation packs that TVS is offering for the RTR, which means a whole host of IMU-assisted rider aids, including cornering ABS, cornering traction control and even cornering cruise control. You've also got a bi-directional quickshifter, and all this is controlled via a new 5-inch TFT screen that uses Bluetooth to hook up to your phone, your helmet communicator and even a GoPro.
Even without the BTO packs, you still get basic traction control, cruise control and ABS, without the cornering functions, and the quickshifter is standard on all versions except the base variant. One unique and very impressive feature here is the climatic control seat (part of the Dynamic Pro kit, along with the IMU-assisted aids), which offers heating as well as cooling functions, making this the first motorcycle in the world to have a seat with a cooling function. We found this seat to be pretty effective, and you feel it most when you first activate it and the temperature change takes place. Once it's been on for some time, you get used to it and it fades to the back of your mind, but it does its job well. However, you should know that if you are a shorter rider or you prefer sitting up against the fuel tank, you will end up sitting on the hard Peltier element that's responsible for the temperature change, and this can be rather uncomfortable for your backside.
That aside, seating comfort on this new RTR is quite good – the footpegs have been placed nice and sporty but without making your legs feel cramped, and there's just enough of a lean forward to the handlebars to make you feel engaged and connected, without ever becoming uncomfortable. The seat itself is reasonably spacious but not the most roomy unit around, and if you sit all the way back then the hard backrest at the front of the pillion perch can become a source of discomfort. This holds especially true on track when you're fully tucked in.
TVS Apache RTR 310 ride and handling
With the Dynamic kit also fitted to our bike, we got to try out the RTR 310 on adjustable suspension at both ends (this kit also gives you a TPMS and a brass-coated chain). Thailand's largely excellent roads mean we'll reserve a final verdict on ride quality until later. Nevertheless, the bike did a decent job of tackling the little rough stuff we managed to put it over, retaining composure but also showing a hint of underlying firmness – the ride felt a little fidgety and busy on a stretch of uneven concrete road. On the upside, there is a great deal of adjustability here, with a fully adjustable fork and a monoshock tuneable for preload and rebound damping, so you should be able to find a setup that works for you.
On the handling front, this new RTR is typically TVS – light, natural, predictable and easy. It makes for a great road sport bike, and will feel comfortably at home attacking some twisties on the weekends. We also had a chance to try it out on track, and while it was a reasonably fun machine here as well, it's not the sort of bike that likes being pushed very hard. The Michelin Road 5 tyres are super grippy, but you will soon run out of cornering clearance, and taller riders will also find space to be at a premium once they start clambering around on the bike.
Experienced riders are better off leaving traction control off on track, because we found it to be very conservative and overly intrusive, even in Track mode. On the road, though, it works wonderfully well, intervening with a soft touch when required, and never coming across as overbearing. Even on loose gravel surfaces, it never abruptly cut power and always worked smoothly. Cruise control worked exactly as advertised on the road, though the cornering function, which reduces your speed as you lean into a corner, has limited usability as it will depend on the radius of the corner and the speed at which you are travelling.
TVS Apache RTR 310 engine
There is very little to fault when it comes to chassis and features on this motorcycle. But at its heart sits the same 312cc liquid-cooled, single-cylinder engine from the Apache RR310, and that has its pros and cons. Though peppy and flexible, this engine has built a reputation for being a rather buzzy and vibey unit, despite TVS' continued efforts over the years to fix this. Sadly, the buzzy nature continues with this new RTR as well, and here, it's made worse by the fact that TVS has dramatically shortened the gearing compared to the RR – 4 teeth up on the rear sprocket. 5,000rpm to 7,000rpm is where the vibrations are at their strongest, and on this RTR, that begins by about 85kph in 6th gear. A 100kph cruise is not a very pleasant affair, with the engine feeling like it's revving rather high, and lots of buzziness in the handlebar, seat and footpegs.
The motor actually smoothens out significantly past 8,000rpm, and also pulls quite nicely all the way past 10,000rpm, so the top end is quite enjoyable – you've actually got far less vibrations at 135kph than you do at 100kph. But in the rev bands and speeds where you're going to be spending most of your time, engine refinement is an issue. Beyond that, we also faced a bit of an issue with a trailing throttle – there was a small delay between the throttle being closed and the power getting cut off. This happened to varying degrees on two of the bikes we rode, and was more pronounced in urban and rain modes where you get the lower power setting from the engine. There was also a small glitch where the quickshifter on both bikes would sometimes turn itself off when you turn the key off and back on. When it was on, it worked brilliantly, offering smooth and seamless shifts even at low RPMs and at part throttle. Out on track, too, it worked well when pushing hard.
As for the performance itself, the motor has a good spread of power – tractable at the bottom, then growing into a nice mid-range, and managing to pull well all the way to the top. The shorter gearing makes it feel light on its feet in the city, and power and torque are both slightly up, courtesy of TVS making tweaks to the mapping, intake and exhaust. The latter has also resulted in a deeper, nicer, less thrashy exhaust sound than the RR310. Brakes are typically Apache, with a soft initial bite, but more than adequate stopping power once you give the lever a proper pull.
TVS Apache RTR 310 pricing
There are many ways to go about buying the Apache RTR 310, and they all give you slightly different motorcycles. The base variant comes in at Rs 2.43 lakh and misses out on the quickshifter, but still gives you many of the goodies here, including the TFT screen, the dynamic LED headlight and non-cornering ABS, traction control and cruise control. If you want the quickshifter, that's a Rs 15,000 jump up to Rs 2.58 lakh, while the yellow colour scheme you see here pushes things up to Rs 2.64 lakh. And then for the truly fancy features, you'll have to shell out Rs 18,000 for the Dynamic kit (adjustable suspension, TPMS and a brass-coated chain), and Rs 22,000 for the Dynamic Pro kit (climatic control seat and IMU-assisted rider aids), by which point you've crossed the Rs 3 lakh mark. That makes a fully loaded RTR 310 more expensive than the current KTM 390 Duke, and splashing on the Sepang Blue colour scheme makes it a properly expensive proposition, adding another Rs 10,000 to the price.
At the lower end of its price spectrum, the RTR 310 makes for a reasonably good value package. For Rs 10,000 more than the Triumph Speed 400, you're getting a more feature-rich and tech-laden motorcycle. With all the boxes ticked, though, this Apache is competing in a very different company, and the 390 Duke makes for a very capable motorcycle, with the next-gen bike sure to take things even further.
TVS Apache RTR 310 verdict
With the Apache RTR 310, TVS is presenting a less niche, more versatile offering on its 310cc platform. It brings in many aspects we like about the RR310 and throws in a great deal more features, but also inherits its intrinsic flaws. Seven years in, it feels like TVS and BMW need to move on from this motor as it is being left behind by the competition, both in terms of power and refinement.
If you were eyeing this bike as your next long-distance, do-it-all machine, it has shortcomings in this regard. But if you're looking for a handsome, exciting city bike that's loaded with features and also good fun on a winding road, the RTR can do that for you while throwing in some unique goodies and bragging rights. It will be very interesting to see if TVS can counter that incoming Austrian charge after all.
source
https://www.autocarindia.com/bike-reviews/tvs-apache-rtr-310-review-the-heart-of-the-matter-429269#utm_source=feed&utm_medium=rss&utm_campaign=Autocar+India+All+Articles+feed