In an e-scooter market that's becoming increasingly populated with machines offering very similar performance, features and design philosophies, the River Indie sets itself apart right from the first impression. A minion is the first thing that comes to my mind when I see that front fascia, with its bespectacled pair of eyes. It may look like something else to you, but what's guaranteed is that you will turn and look. The Indie may not have the prettiest design out there, but it's certainly a striking look, and I've grown to find it rather cheerful and quirky.
The sense of style that this scooter is able to pull off is especially pleasing when you consider its rather utilitarian design philosophy. The company's co-founder and CEO Aravind Mani calls it the 'SUV of scooters', and it's got some goods to back that up. It can't offer the off-road ability that a proper SUV might – you've only got 160mm of ground clearance, and average suspension travel. But how many SUVs actually end up going off-road anyway? The real reason they set sales charts alight is because they're roomy, rugged and comfortable. And all those are words that you can associate with the Indie.
River Indie comfort and practicality
One thing you notice at first encounter is that it feels like quite a substantial machine – it's a long scooter with a spacious seat and a roomy floorboard. This helps it accommodate even taller riders and the handlebars are placed high enough to not foul with your knees when taking U-turns (6'1" Rishaad fit on it just fine). At the same time, the very accessible 770mm seat height also meant that our 5'2" videographer Roshni was able to flat-foot with both feet – the seat is long, and being able to slide to the narrower front section helped here.
Once on the move, the seating position continues to be comfortable, with your arms in a nice, relaxed position, and the large floorboard and long seat giving you some flexibility to find a comfortable position. But while the floorboard height is a great deal better than a lot of other EVs, it is still ever so slightly on the higher side. Fortunately, River has thrown in a pair of unique rider foot pegs on either side of the floorboard. They not just give your feet a place to rest when the floorboard is packed with items but also allow you to stretch your legs and get comfortable over longer durations.
The theme of space extends to storage as well, with the Indie offering a massive 43-litre underseat boot, as well as a 12-litre glovebox on the back of the apron. Long, wide and deep, the boot will swallow an ECE-approved full-face helmet, which is already impressive enough, but it also leaves considerable room to spare. And if that isn't quite enough, the accessories list also includes a pair of hard panniers totalling 40-litres, and a top box measuring 25-litres. Other optional extras include a windscreen, a phone mount and floorboard cages to hold goods in place.
River Indie ride and handling
As far as the rugged aspect is concerned, there's a nice heft to the way the scooter feels, handles and rides. At very low speeds, the handlebar has a slight heaviness to it, but once you pick up the pace, the Indie feels sure-footed and confident – the grippy MRF Nylogrip Zapper tyres also help here. There is a lot of potential in the chassis and a good amount of grip from the rubber, but what cuts the fun short is the rather limited cornering clearance, which will see you scraping parts when leaning over, even if you aren't pushing at a very high pace. But for most users, this is unlikely to be a frequent concern.
One of the highlights here is ride quality. Suspension is an area that River put a lot of work into, employing gas charged units at both ends and using triple-rate springs for the rear shocks. There is an underlying firmness to the suspension setup that you feel at very low speeds, but once you pick up speed, it comes into its own, delivering a wonderfully plush ride that's almost completely devoid of sharp impacts, thuds or crashes. Rutted roads and level changes are brushed off with ease, and the Indie manages to dull even the sharpest bumps, very nicely rounding them off and softening the blow. We even jumped it over some peaky speed breakers, and it landed with impressive composure, although you do feel the weight.
River Indie quality and features
For the most part, the Indie also feels very solidly put together. Important areas like the pannier mounts, handlebar and grab rails have a chunky, sturdy construction and feel very firmly bolted in place. Finish levels are also tidy, with most body panels fitting neatly, and tight, consistent panel gaps in most areas. There are a couple of small exceptions to this: the flap covering the charging port feels quite flimsy and flexes a little too much, and the plastic panel surrounding the headlights has a bit of flex and play. Switches could also improve a little. Some, like the kill switch, work well and feel good, but the indicator switch feels a little clicky to operate, the ride mode selector is devoid of feel and tactility, and some switches had slightly larger gaps surrounding them than we'd like.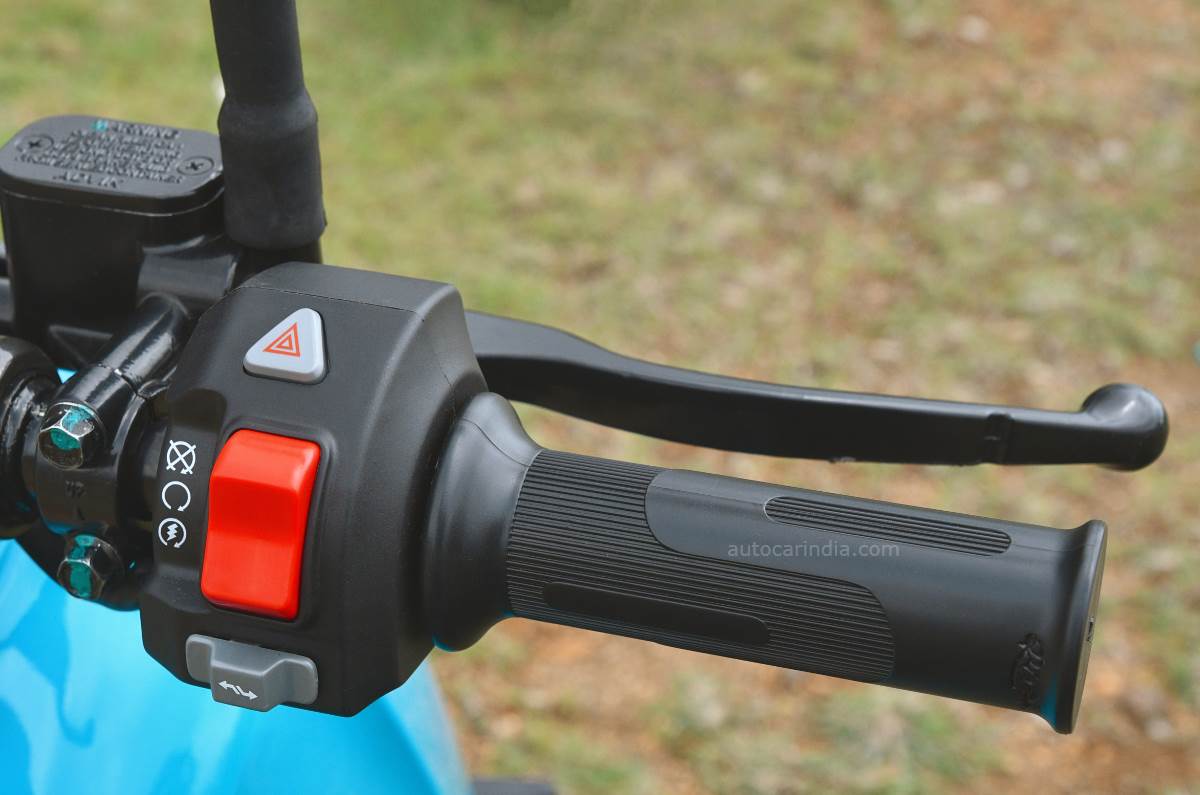 While most e-scooters seem to be in an endless race to one-up each other with rather gimmicky features, the Indie sticks to the fundamentals. You've got LED headlights and indicators, a fully digital LCD display, and two USB charging ports – one in the glovebox and one under the handlebar. It would have been nice to see a combination key slot here – currently, there are three different keyslots for the ignition, the glove box and the underseat boot. There's no Bluetooth on offer, but the Indie does feature a built-in eSIM, using which it can communicate with the River app on your phone. However, these features weren't in place at the time of us riding the scooter, so there are still some finishing touches that River has to take care of before it begins delivering the scooter to customers in a few weeks' time.
River Indie motor and performance
River's no-frills approach on the features front carries over to the powertrain department as well. There are no ground-breaking claims here, but the Indie does have solid fundamentals. A 6.7kW (4.5kW continuous) mid-mounted motor gives you 0-40kph in 3.9 seconds and a top speed of 90kph, and this performance is more than adequate for this sort of machine. Beyond the performance itself, the accelerator calibration and the regen tuning feel very natural and intuitive, with the Indie delivering a very familiar, almost engine braking-like sensation when off-throttle. In its quickest Rush mode, it feels alive and can be quite entertaining to ride. The middle Ride mode is just about useful for most everyday situations short of highway riding, and Eco mode is best ventured into if you really need to eke out every last mile.
Speaking of which, the IDC range here is 161km, which River says translates into a real world range of 120km, though the more relevant claim is the 90km range in Ride mode. Admittedly, this isn't a huge number, especially when you place it against the large 4kWh battery pack here. But River has built the Indie solidly, and that means a slightly portly kerb weight of 140kg, and when it comes to range, kilograms are the enemy of kilometres. That said, River says it has put a lot of work into recovering as much energy from regen as possible to try and maximise range, and though we couldn't run it dry, the Indie did seem to be on course to match the company's claims. And in that case, the 90km in Ride mode should still be adequate for most people's daily needs.
River Indie charging time
There are a few options when it comes to charging. What's included with the scooter is an 800-watt portable charger which promises 0-80 percent in 5 hours, with 100 percent requiring a further 1.5 hours. River is also working on an optional extra fast charger that will have an output in the ballpark of 3kW, which should translate into a full charge in about 1hr 20m. There's also a more affordable portable charger with an output lower than the standard 800-watts, which buyers can purchase as a second charger to place elsewhere (perhaps a workplace or a second residence).
River Indie verdict
So far, the story is quite good. And for those in Bengaluru who have already booked the Indie, that should continue to be the case. Because for them, River will honour its original ex-showroom price of Rs 1.25 lakh, even though the FAME-2 subsidy has subsequently been cut.
For the rest of us, prices will go up, but this is something that we have already seen across the board, and it is not exclusive to River. Though it hasn't officially announced the price hike yet, the company estimates that the Indie will end up at around the Rs 1.45 lakh mark. This places it higher than the likes of the Ola S1 Air, Ather 450S and TVS iQube S, which offer similar performance and range numbers.
For that premium, the Indie is offering a great deal of practicality, comfort, convenience and uniqueness. If you're not stuck up on having the absolute zippiest performance and flashiest features out there, this makes for a great thinking man's scooter, focused on delivering the fundamentals. River still needs to prove itself from a sales and service standpoint, but it has put together a solid product that should offer early adopters a good experience.
Also see:
source
https://www.autocarindia.com/bike-reviews/river-indie-review-going-against-the-flow-429277#utm_source=feed&utm_medium=rss&utm_campaign=Autocar+India+All+Articles+feed