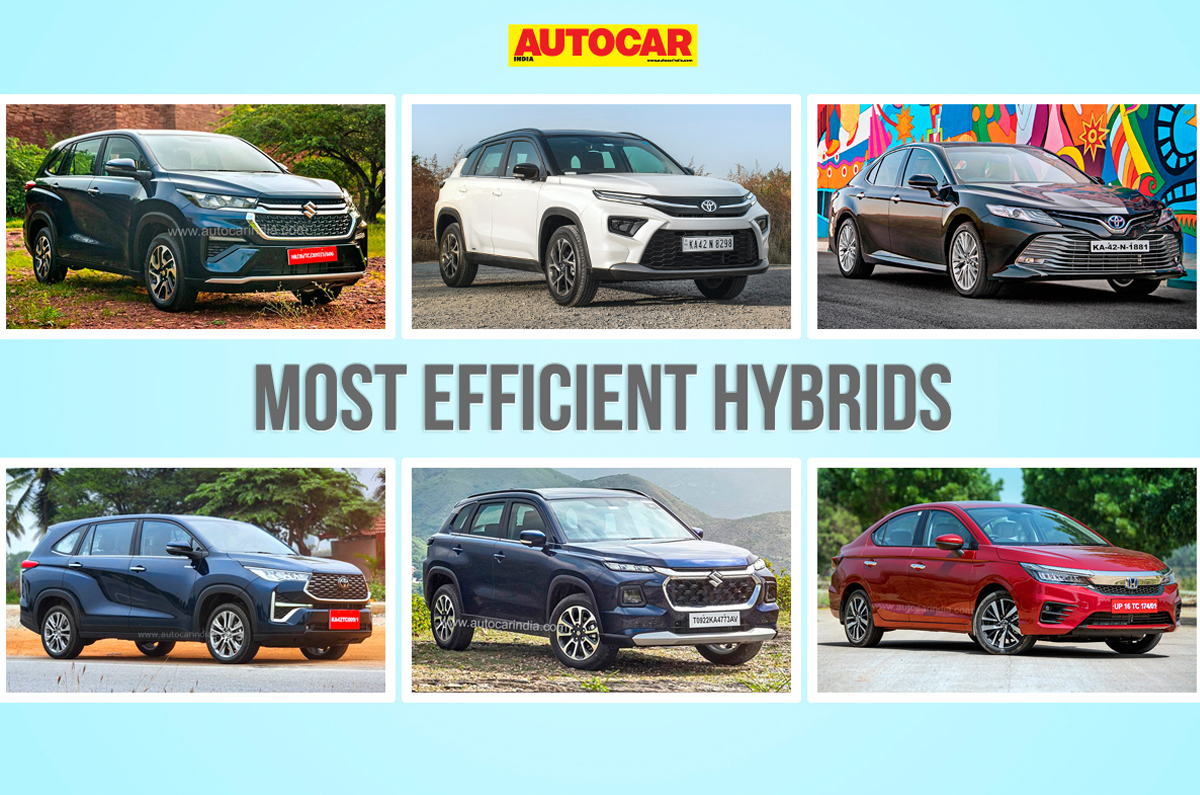 With diesels fading away from most car segments, strong hybrids have emerged as the next best powertrain option for people who are not only looking for economical running costs but also are unwilling to compromise on performance. While CNG powertrains do provide the former, it often leaves people wanting more in the performance aspect. Moreover, strong hybrids also have the added benefit of lower tailpipe emissions due to their inherent fuel-efficient nature.
Here, we have listed the most efficient strong-hybrid cars and SUVs currently on sale in the country under Rs 50 lakh, although do note that the list is based on ARAI efficiency figures claimed by manufacturers, and real-world figures could be different depending on driving style, road conditions and more.
6. Toyota Innova Hycross
Claimed efficiency - 23.24kpl
The third-generation Innova skipped its famed diesel engine for the new Hycross and made a fundamental switch to being a petrol-hybrid MPV. The strong-hybrid powertrain is a 2.0-litre, four-cylinder, Atkinson cycle unit, which produces a combined output of 184hp and comes mated to an e-Drive transmission. Toyota claims a fuel efficiency figure of 23.24kpl for the hybrid, and you can even manually choose to drive in pure EV mode when the battery is sufficiently charged. Performance is pleasant with a steady supply of power, but the engine gets strained under heavy acceleration.
5. Maruti Suzuki Invicto
Claimed efficiency - 23.24kpl
The Maruti Invicto is essentially a badge-engineered sibling of the Innova Hycross, and is also the brand's most expensive model yet. It's only available with Toyota's 2.0-litre petrol-hybrid powertrain (the Innova Hycross additionally gets a regular 2.0-litre petrol engine), and has an identical claimed efficiency figure of 23.24kpl. Like its sibling, the Invicto can also be started in electric mode, and in light driving conditions, you can continue to be in full EV mode. The Invicto, apart from being styled slightly differently, also misses out on a few features such as ADAS, ottoman seats and larger 18-inch alloys that's exclusive to the Toyota.
4. Toyota Camry
Claimed efficiency – 23.27kpl
Several segments above all the other models in this list, the Camry is the oldest strong-hybrid model here, and also the most expensive. Under the hood, the sedan features a 178hp, 2.5-litre petrol engine that's paired to a 120hp permanent magnet synchronous motor, with a combined system output of 218hp. The powertrain comes mated to an eCVT automatic gearbox, and has a claimed fuel economy of 23.27kpl. Like the other Toyotas here, the Camry can run in pure EV mode, and additionally gets three driving modes – Eco, Normal and Sport. Eco mode goes well with this car's calm and relaxed persona while Sport mode makes it feel a lot brisker. The powertrain is extremely smooth and refined, although the gearbox does exhibit a rubber-band effect under hard acceleration.
3. Honda City Hybrid
Claimed efficiency: 26.5kpl
The City e:HEV, which was the first car that brought hybrid tech to the masses, gets a unique Atkinson Cycle 1.5-litre, four-cylinder engine mated to two electric motors. With the first motor acting as an electric generator and the other as a means of propulsion, the City hybrid boasts a claimed fuel economy figure of 26.5kpl. The powertrain is mated to an eCVT transmission, and combined, produces 126hp and 253Nm of torque. It even automatically shuffles between full EV, hybrid and engine modes. Performance is brisk with this powertrain, and as with the regular City, you get a dynamically sound car with very comfortable interiors.
2. Toyota Urban Cruiser Hyryder
Claimed efficiency: 27.97kpl
The Urban Cruiser Hyryder was the first strong-hybrid model by the duo of Maruti Suzuki and Toyota in India. The midsize SUV is powered by a 1.5-litre, four-cylinder Atkinson Cycle engine that makes 92hp and 122Nm of torque, and is paired to an eCVT gearbox. The engine is mated to an electric motor that makes 79hp and 141Nm of torque, and combined, they produce 114hp. The strong hybrid system gets a 177.6V lithium-ion battery, and has a claimed fuel efficiency of 27.97kpl. The hybrid powertrain is smooth, refined, and can be run in pure EV mode with sufficient charge in the battery. It does not quite have a sporty bent of mind, but that's not the intent either.
1. Maruti Suzuki Grand Vitara
Claimed efficiency: 27.97kpl
The Grand Vitara, being the Hyryder's sibling, shares its powertrains and underpinnings which means this too returns upwards of 20kpl in both the city and highway, and a claimed combined efficiency of 27.97kpl. Like the Hycross and Invicto duo, the difference between the Grand Vitara and Hyryder just comes down to their styling, trim-wise equipment division and branding. The Grand Vitara is quite an all-rounder with a smooth and refined powertrain, spacious and feature-equipped cabin, although like in the Hyryder, you'll have to make do with limited boot space due to the placement of the battery pack.
Also See:
Top 5 most affordable diesel cars, SUVs
Every automatic SUV under Rs 10 lakh
source
https://www.autocarindia.com/auto-features/here-are-most-efficient-hybrid-suvs-cars-on-sale-under-rs-50-lakh-429402#utm_source=feed&utm_medium=rss&utm_campaign=Autocar+India+All+Articles+feed