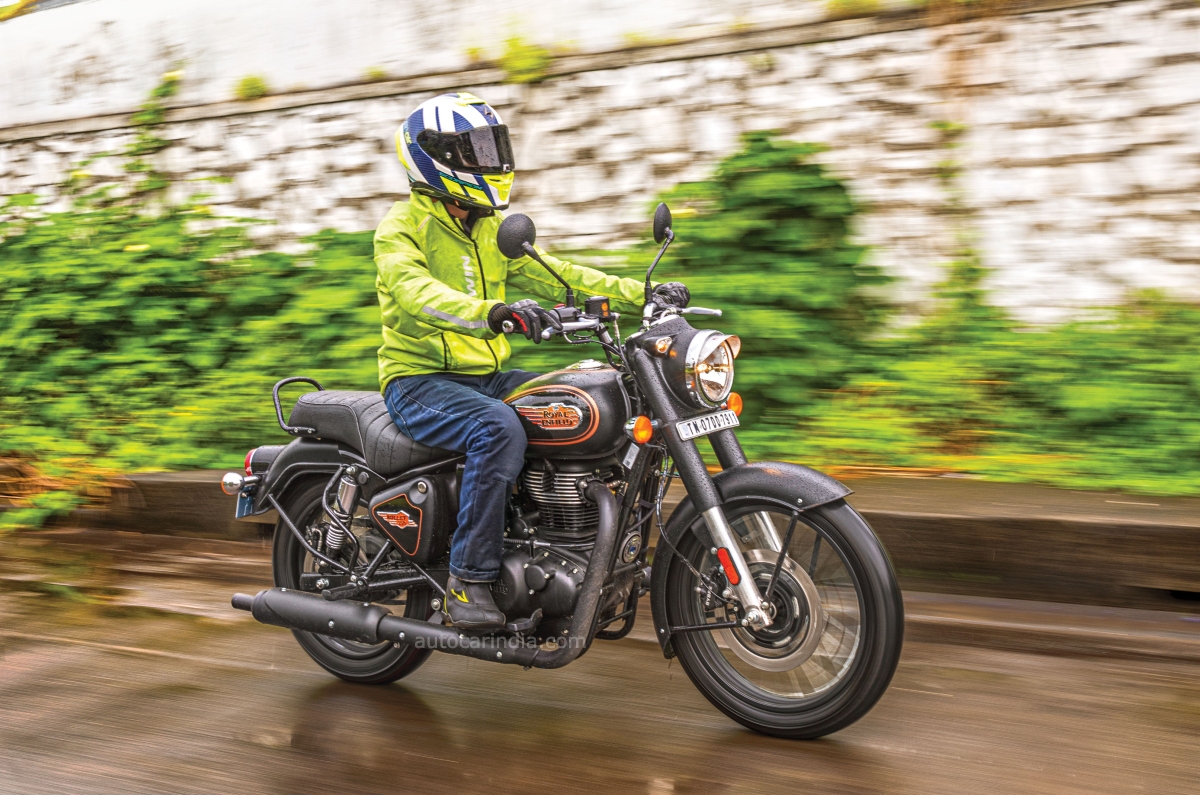 When you're riding a Royal Enfield motorcycle in India, irrespective of what model it may be, to most people, you're on a Bullet. And it's not hard to see why. When you've had a model in continuous production for nearly a century, that model tends to become synonymous with the company itself. And now, Royal Enfield has an all-new Bullet 350.
And even though it's no longer one of RE's bestselling models, this is still a very important motorcycle for the company. MD Siddhartha Lal even called it Royal Enfield's "North Star" – the company may go in many new exciting directions with its products, but with the Bullet, it will retain its core essence.
2023 RE Bullet 350: design
Even in the previous generation, the Bullet and the Classic 350 had quite a lot in common. But this time around, the new Bullet is nearly identical to the current-gen Classic, and you can probably tell this just by looking at these pictures of it. In this range-topping Black Gold scheme especially, with the blacked-out engine, exhaust and wheel rims, it looks very much like its cousin – perhaps a little too close. Personally, I would have liked to see a little more differentiation here, at least a different tail-lamp, like we saw with the previous generation. The lower variants of this new Bullet actually do a better job of bringing in a more unique visual identity, with single-tone paint schemes, more chrome and no hood over the headlight.
2023 RE Bullet 350: comfort
Other changes compared to the Classic include a handlebar that's been tweaked to offer a more upright riding position, a single-piece seat, a more squared-off rear fender with a new tail-lamp housing and rectangular side boxes as opposed to the oval units on the Classic. The first two of these are the ones that make the biggest difference when on-board.
The new handlebar for the Bullet is 20mm higher than the Classic's, but it also seems to have resulted in what feels like a greater reach forward to the bars. I'm 5'8" tall and I found a slight strain in my shoulders from this forward reach, and I don't remember this being the case aboard the Classic. As for the seat, it's got more padding than you'd get on the Classic and this seems to have made it a comfier saddle. My backside remained comfortable even after cross-city commutes, while the Classic's split seats do tend to make you sore a little sooner.
2023 RE Bullet 350: engine
As far as the riding experience goes, there's very little new to talk about here. This new Bullet is now built on the same J-platform architecture that underpins the current Classic 350, so you've got the same engine, housed in the same frame, sprung on the same suspension and stopped by the same brakes. RE hasn't even tweaked the state-of-tune this time around (the Meteor, Classic and Hunter get slightly different tunes), so it's the exact same 20.2hp and 27Nm as the Classic. Now, this isn't necessarily bad news – if you aren't intent on living life in the fast lane, then this is about as good as engines get at this price point. Torquey, easygoing, smooth, brimming with character and churning out a great exhaust note.
That laidback character is backed up by the chassis too, which offers great ride quality and does a top job of keeping you well isolated from the mess underneath. And while this is definitely no corner carver, like the Classic, it is pretty tolerant and obliging if you decide to hustle through some bends.
As with most areas of the Bullet, quality and finish levels are in a different league compared to what they used to be. Like with the new-age Classic, there is a very pleasing level of attention to detail here, and a distinct sense of quality all across the motorcycle. It's light on features, with no LED lighting or TFT screens anywhere, but that isn't what this bike is supposed to be about anyway. If you like, you can equip it with RE's Tripper navigation pod and a host of other accessories (many of the Classic's are compatible) using the company's MiY configurator.
2023 RE Bullet 350: verdict
As is hopefully evident by now, today, the Bullet is more like the Classic than it ever has been before. And that has its positives – you've got the same very pleasant, lovely, laid-back riding experience here too. But it feels like it's lacking identity a little. And the similarities to the Classic also mean that the pricing has shot up quite a bit, to the point where the dual-channel Bullet is pretty much on par with the dual-channel Classic. This is by no means a poor motorcycle, it's actually a very nice one. But I do wish this new Bullet was a little more unique. On the upside, if you're looking at a single-channel bike, the single-channel Bullet gives you essentially everything the single-channel Classic does, but for about Rs 20,000 less.
source
https://www.autocarindia.com/bike-reviews/2023-re-bullet-350-review-subtle-differences-429424#utm_source=feed&utm_medium=rss&utm_campaign=Autocar+India+All+Articles+feed