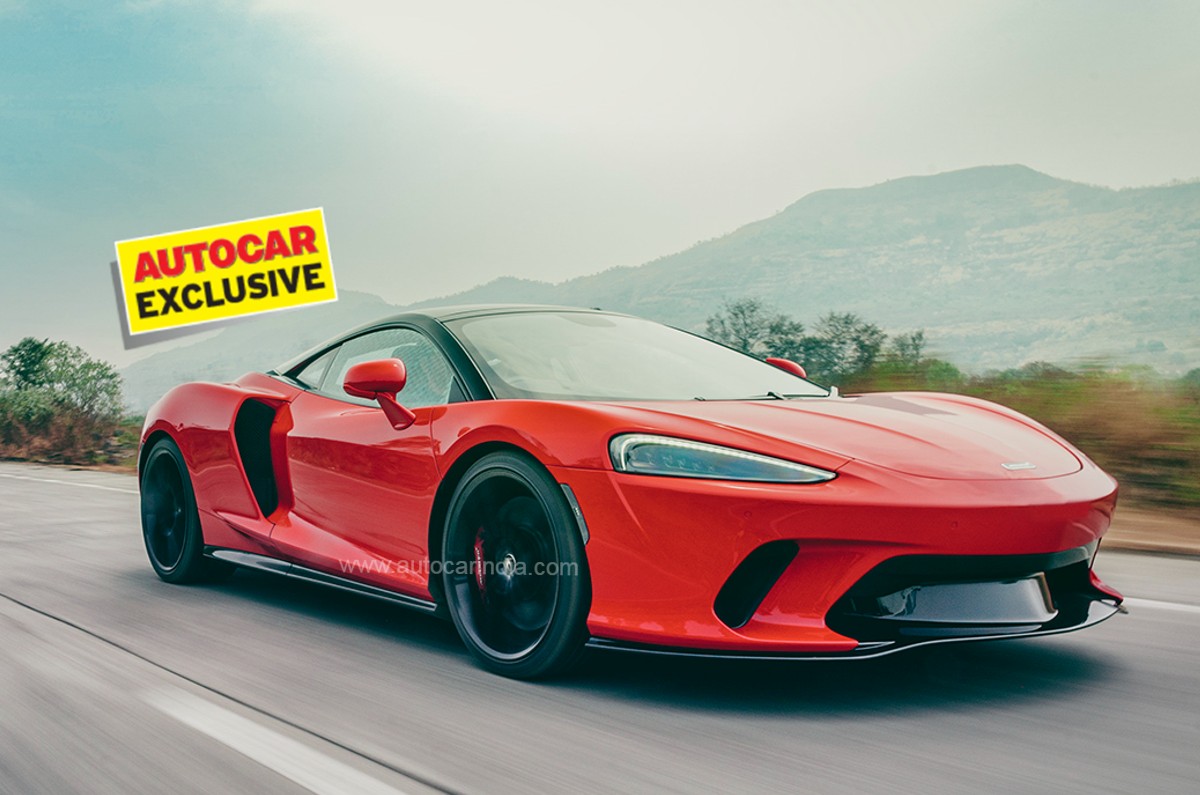 The day started bright and sunny but the weather has changed. It's become overcast, and heavy clouds from the distance seem headed our way. But right here and right now, the thunder and lightning is courtesy of a very red and very fast McLaren. Meet the McLaren GT.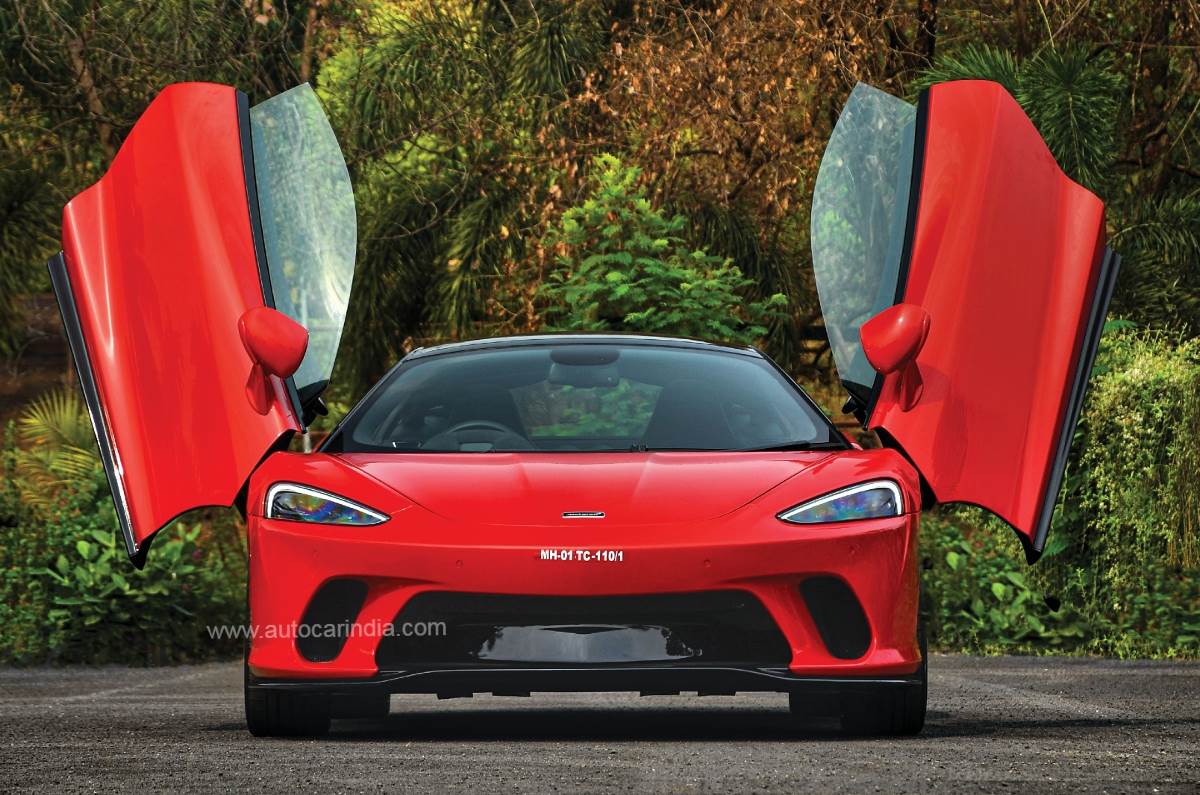 The GT's mid-engined layout dictates the way it looks and the way it drives.
The one-line intro to the McLaren GT is that it's different. Both as a McLaren and as 'GT'. It's supposed to be the most chilled-out McLaren you can buy. Ahem, a 0-100kph time of 3.2 seconds and 326kph top speed notwithstanding. It's also a break from the grand tourer or GT template. Where GTs from Bentley, Aston Martin and Ferrari have their engines up front, the McLaren GT positions its 4.0-litre twin-turbo V8 behind the passenger cell. This mid-engined layout dictates the way the GT looks and the way it drives. There'll be plenty of time to ogle when the heavens open up. While it's dry, it's action time.
McLaren GT driving position
The ice-breaking session is shorter than I'd anticipated. McLarens are known to put drivers at immediate ease and I can see where that reputation's coming from. Finding a comfy driving position is really easy. The pedals line up where you expect (not offset as in so many other high-performance cars), the seat and steering offer loads of adjustment and frontal visibility is excellent. And no need to memorise which button does what on the steering wheel because there aren't any! There's a dedicated stalk for common functions behind the wheel just as you'd find in the cars that led up to your McLaren purchase.
Comfy driving position and great visibility are part of McLaren DNA.
McLaren GT ride and ground clearance
The GT rumbles to life with a bassy note and it's gruff at idle but not loud. At least in Comfort mode, which is my starting point to the GT experience. There's a nice weight to the pedals and steering (hydraulically assisted, by the way) and among the first points of note is ride comfort. It's more supple and absorbent than the wafer-thin 20-inch front and 21-inch rear Pirelli P-Zeros would lead you to believe. You aren't cut off from the happenings beneath, but I suspect you won't need to check into a spa after a day's driving either. What I am mindful of is ground clearance. The 110mm figure is etched in my head though our watchful camera crew in the support car don't wave frantically as I approach the small potholes that lead to the main driving road. I do make precautionary use of the 20mm extra that the suspension lift function (standard for India) adds in on a speedbreaker. In a low-slung car with a nose longer than Pinocchio's, every extra millimetre counts.
Standard clearance is 110mm. Suspension lift adds crucial 20mm.
McLaren GT performance
What I also find is that it's easy to get into a flow with the GT. The engine and gearbox are actually quite easygoing when you want them to be and even the noise levels mean you can fit in... in a McLaren. Mind you, exploratory prods on the accelerator are not taken lightly. There's a quick downshift or three, that bring with it a very quick change of character. The build of speed is serious, even in Comfort mode.
I dial things up by toggling to Sport mode (there's a more hardcore Track Mode too), and it's now that the McLaren GT truly comes into its element. Twin exhaust valves open to blast out a blare (dialled up to 11 thanks to this car's optional sport exhaust), and everything becomes more responsive. The engine's 620hp and 630Nm are at your ready service, helped by a 7-speed dual-clutch gearbox that's only too happy to oblige the orders of your right foot. There's explosive power in the mid-range and it doesn't tail off after that either. 6,000… 7,000… 8,000rpm! I slam in a shift via the delicious paddleshifters and repeat the exercise. Over and over again. It's not the long-legged performance that you'd get in a Bentley Continental GT or an Aston Martin DB11. This is all about instant bursts of power. If this is the most relaxed McLaren, what would the thoroughbreds be like? I can't help but wonder.
Control centre between seats is home to gear and drive selectors.
McLaren GT handling
Where the McLaren is also very, very different to the front-engined British GTs is in handling. You wouldn't call the dynamics stately here. No, sir. This is a supercar trying to be a gentleman's express. Through the corners, the McLaren feels reactive and agile, and the sense of connection is only enhanced by a very feelsome steering. The lively handling is not just down to the centralised weight distribution, but the weight itself. At 1,530kg, the McLaren is a good few hundred kilos lighter than its aforementioned rivals. A carbon-fibre tub ala other McLarens is key to the weight saving.
What also counts for a lot is the poise with which the GT does all that it does. It isn't unsettled on choppy patches of the otherwise smooth road I'm on and that means big confidence to carry big speeds. Stopping power is ample with the standard-fit carbon ceramic disc brakes as effective as you'd expect but also surprisingly easy to modulate.
McLaren GT design
Word of an Instagram-friendly subject seems to have spread in the vicinity so time for one last blast. I hope the mobile phone-toting bikers behind captured the McLaren's sound if not the visuals.
Our stop for lunch is at the very charming Saltt Restaurant and Bar in Karjat. The low-slung McLaren makes quite the entry and upping the showmanship when I come to a stop are the doors that open upwards. What's nice is that the sills are not all that wide so getting out is actually not much harder than from a rival GT with conventional doors. I join the small crowd of patrons who've abandoned their lunch to admire the GT.
At supercar meets or in the countryside, the GT draws eyeballs.
Sure, this very one's scarlet red means it's wrongly identified as a Ferrari, but if you know your cars, the blunt nose, complex tail and mid-engined silhouette are unmistakably McLaren. Identifying this as the GT within the McLaren universe needs a keener eye, though. Phone used for quick reference, I deduce that the GT's longer front and rear overhangs give it a more flowing stance than its siblings and it's also relatively subtle in its styling and detailing. No 720-like OTT aero openings at the headlights here and even the exhaust pipes are at a bumper level rather than by the tail lights. It's an altogether cleaner form that works for this type of car.
McLaren GT interior
You won't be alone if you peer into the rear glass of a GT hoping to get a view of the engine. Thing is, the engine bay is covered and the space above is actually meant to host soft bags or a golf set. There's another bay under the bonnet for cabin baggage. It's not generous in luggage space, but then you'll ever only be packing for two. That's because unlike all its GT rivals that are 2+2s, the McLaren is a strict two-seater; there's an engine where the rear seats should be, remember?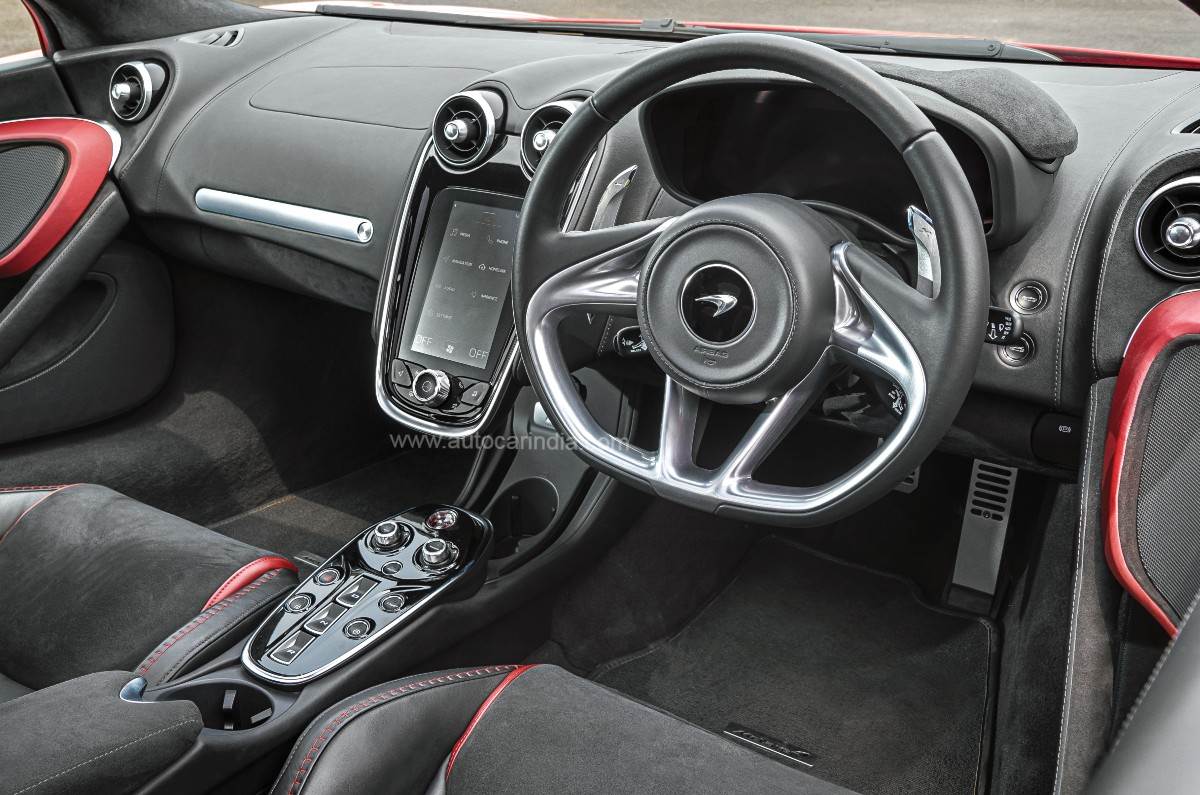 Purposeful interior looks snugger than it is in reality. Note, no steering buttons.
The cabin correspondingly feels snugger than rivals', though actually, there's no shortage of space for occupants. The shapely seats hold you well and material quality, on the whole, is really good too with our test car specced generously in leather and alcantara. That said, you wouldn't describe the cabin as opulent or warm as you would a Bentley's. It looks clinical... a place for serious business. The climate control settings' pictogram of a driver in a helmet is a subtle hint to this end.
Of the other things, a sufficient number of cubbyholes have been worked in to stow odds and ends, the portrait-oriented 7-inch touchscreen is responsive and the 12.3-inch digital dials are info-rich. Just wish that the reversing camera's display wasn't at the instruments – half lock obscures the screen completely.
McLaren GT price and verdict
So how much would a McLaren GT set you back by? You might want to sit down for this. It starts at Rs 4.59 crore (ex-showroom). Mind you, the GT is the entry point to the McLaren range. It's pricey even in the stratospheric world it operates in, but for what it's worth, a lot of features offered as options on its rivals are standard fit for the Indian market GTs. Still, be prepared to spend big(ger) if you want to personalise your GT in exterior colour, cabin materials and trim elements. An electrochromic glass roof that goes from opaque to transparent at the touch of a button would be tempting.
Doors are big on show value. Ingress-egress is acceptable.
A low, over-endowed, two-seater is not the right car for India. But it's safe to assume that buyers with the financial firepower to spend for one already have a high-end SUV as a daily driver. The GT is an extravagance and should be judged as one. What's heartening is that the opening of new expressways means the GT could be used for its intended purpose – crushing big distances. The McLaren offers a very different take on the grand tourer, one that trades some practicality for driver involvement. Think of the McLaren GT as a supercar that also does comfort well and you'll see it in the right light. I don't hear anyone complaining.
Also see:
McLaren to ramp up India operations; Artura hybrid launch in early 2023
McLaren to make official India entry in October with Mumbai dealership
from Autocar India - All Car Reviews https://ift.tt/AuLVvoG
https://ift.tt/6VgYOPm