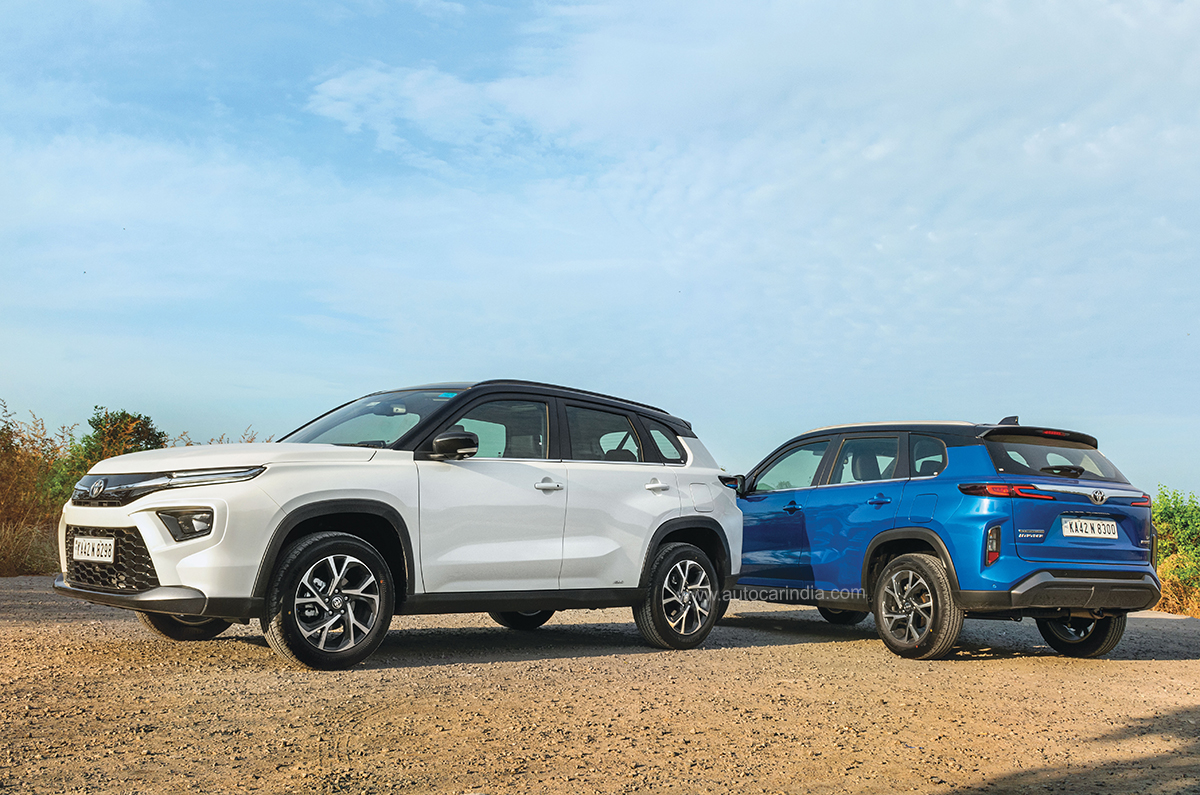 The Toyota Urban Cruiser Hyryder and Maruti Grand Vitara are byproducts of Toyota's and Suzuki's global alliance to share technology and models. Co-developed by Toyota, a pioneer in hybrid tech, and Maruti, the master of frugal engineering, these midsize SUVs rival the likes of the Hyundai Creta, Kia Seltos, Volkswagen Taigun, Skoda Kushaq and MG Astor.
The focus of this story is the Urban Cruiser Hyryder and its talking point is its hybrid powertrain, which buyers are taking a liking to, particularly for its tall fuel efficiency number. In addition, it also gets a mild-hybrid engine with manual and automatic transmissions, as well as an all-wheel drive variant to appeal to a wider audience. When we drove it back in September last year, it impressed us with its well-roundedness. We now evaluate it with a fine-tooth comb to see whether this Toyota has what it takes to become a segment leader.
The Hyryder is the longest car in its class, measuring 4,365mm, whereas its width and height are comparable to a Hyundai Creta and Kia Seltos. Designers have adopted a snazzy and futuristic approach to give the Hyryder an identity that imbibes some traditional Toyota family design traits, while appearing different from the Maruti Grand Vitara. It sports a flat, raised bonnet for that ever-important SUV appearance and attractive twin LED DRLs (which double-up as turn indicators).
It also gets a tasteful chrome treatment, an enclosed grille panel, and an oversized hexagonal air dam underlined by a grey chin. Interestingly, the mild-hybrid version's grille panel and even the headlamp housings are black, whereas the hybrid features a carbon-fibre-like design on the panel and chrome around the headlamps.
LED headlamps light up the road nicely. DRLs double up as indicators.
There's little that distinguishes the Hyryder from its Maruti cousin from the side. In profile, it just has one prominent waistline, which extends from the headlamp to the tail-lamps. Squared out wheel arches house stylish 17-inch alloys and rather meaty rubber. However, there's an ungainly gap due to the vehicle's raised ride height, which liberates a class-best 210mm ground clearance.
In sync with its front styling, it features a split tail-lamp set-up with twin C-shaped LED elements in the brake lamps – the reversing light and indicators are placed lower down, in a separate vertical housing. The rear bumper gets a gray faux skid plate on the plastic cladding. And, as is the case at the front, the hybrid gets a chrome boot applique, while the mild-hybrid gets a silver and black panel.
The Maruti Suzuki Grand Vitara and Toyota Urban Cruiser Hyryder are based on Suzuki's Global C platform, which also underpins the Brezza (new and old). Weighing 1,155-1,295 kg, it is a touch lighter than the Hyundai Creta petrol, which tips the scales at 1,180-1,323kg, but what's reassuring is that the Brezza secured a solid 4-stars in GNCAP crash tests, a while ago.
The Hyryder and Grand Vitara are built at Toyota's Bidadi plant (in Karnataka), however, it has been a bumpy road for Toyota, a brand otherwise known for its immaculate 'Just-In-Time' production. A few months after its launch, production had taken a beating for over 30 days to resolve a seat belt anomaly, which left buyers waiting endlessly for delivery, and further inflating waiting periods to six months for some variants. Toyota has also issued a few recalls relating to seat belts and one for a plausible defective airbag controller.
The interior ambience of the Hyryder will seem familiar to a Maruti Brezza or even a Baleno, because Toyota has picked up several bits from Maruti's parts bin like the dashboard, gear lever, steering, window switches etc, some for the good, others not quite. Toyota, however, has done well to lift its appeal by dressing up the cabin with leatherette and padded areas that feature silver trims and contrasting double stitching.
Only the strong hybrid versions get a brown and black interior colour scheme.
Having brown and black interiors, the hybrid's cabin looks more appealing than the mild-hybrid's all-black cabin. But the common link in both is the massive panoramic sunroof, which takes its premium quotient up a notch. Something unique to the Hyryder, however, is that both panes of the panoramic sunroof slide open, liberating a large opening area.
Seats are nicely contoured. Thigh support for tall drivers is in short supply.
Toyota has got the seat cushioning spot on and the seats are broad, however, thigh support is in short supply. Adding to the comfort is the seat ventilation for the front passengers (in the hybrid version only), which is a boon in a tropical climate like ours, and thankfully, it has become a norm in this segment. The driving position is upright and commanding, just what is expected in an SUV.
360-degree parking camera is handy. Dynamic guidelines aid navigation in/out of parking slots.
What's nice is that to aid visibility while parking, the Toyota gets a handy 360-degree parking camera. The hybrid version gets a 7-inch instrument cluster, which is large, informative and very easy on the eyes, and it's particularly satisfying to watch the power flow animation on the MID. The driver also gets a heads-up display, which shows a digital speedo along with some other data. The mild-hybrid gets analogue dials, which look pretty classy too.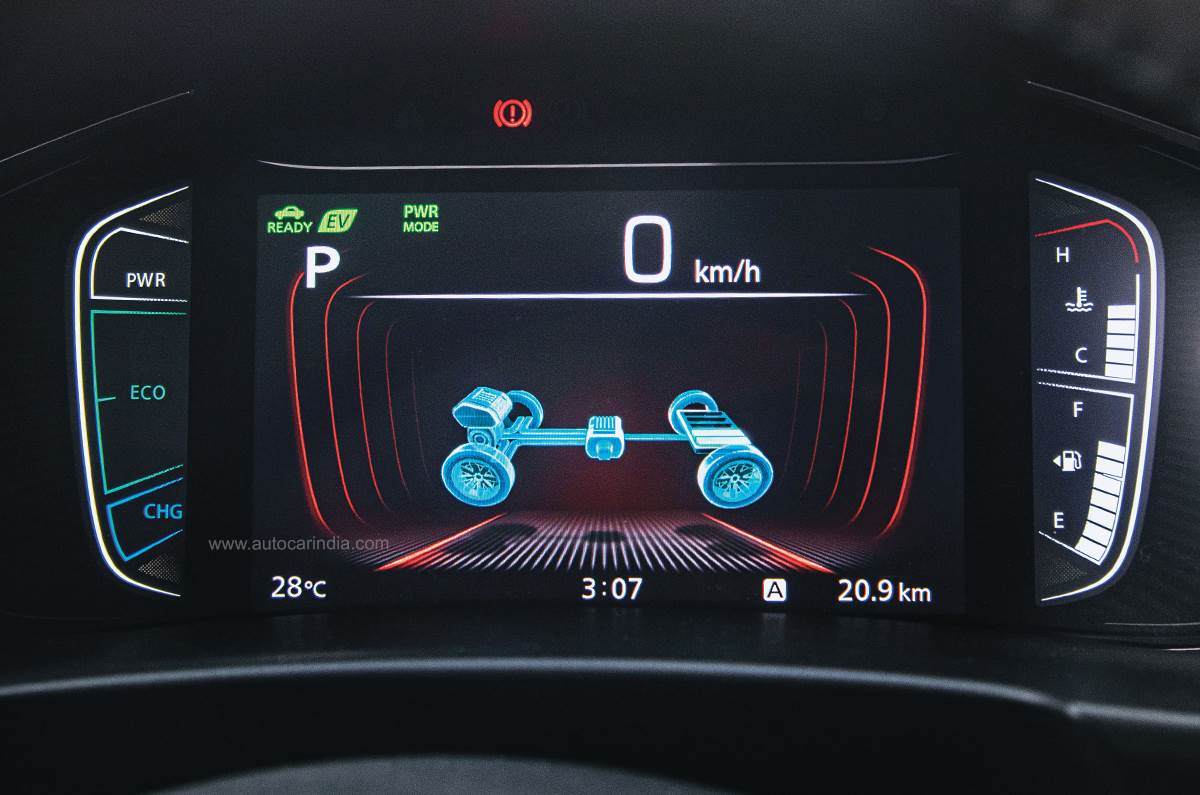 Hybrid's digital instrument cluster looks neat and packs in a host of useful information.
The Hyryder's rear seat experience, however, is a mixed bag. You're seated quite high in almost a theatre-like position as the bench is placed at a higher level than the front. There's the adequate knee room and ample space to tuck your feet under the front seat, and the backrest also reclines to get more comfortable.
Headroom is tight for six-footers; three adults abreast will be a squeeze.
Headroom is adequate for all except those around six feet tall, who will find their heads brushing against the roof. A welcome addition is the inclusion of three individual adjustable neck restraints as well as three-point seatbelts for all passengers, although space for three adults abreast is much tighter than rivals, and the tall central hump certainly intrudes into foot room too.
Mild-hybrid's secondary battery located beneath front seat.
Boot space in the hybrid is compromised due to the placement of the 0.76kWh lithium-ion battery pack, which results in a raised boot floor, limiting cargo space to 255 litres – 100 litres less than the mild-hybrid version (where the secondary battery is placed beneath the front passenger seat).
A full-size spare tyre is located below the body.
There is a nifty additional storage area beneath the boot floor as well as smaller storage areas on either side of the rectangular boot to stow smaller items. The full-sized steel spare tyre is tucked on the outside, under the boot, like in the Innova and Fortuner.
In line with segment trends, the Hyryder features pretty much all the kit expected at this price such as LED lights, 17-inch alloys, a panoramic sunroof, ventilated seats (hybrid only), wireless charging (hybrid only) as well as a touchscreen with wireless Android Auto and Apple CarPlay.
Three-point seatbelts, adjustable headrests for all five occupants.
Safety features haven't been skimped either, and the top variants feature six airbags, ESP, hill-start assist and three-point seatbelts and adjustable head restraints for all five occupants. Some rivals also offer more premium speakers, rain-sensing wipers, electric driver's seat adjustment and electric parking brake with auto hold function.
Infotainment
Maruti's 9-inch touchscreen is feature-packed with wireless Android Auto and Apple CarPlay as well as connected car tech. But the system isn't devoid of glitches and the voice assistant erratically activates without any user input. In addition, while using wireless smartphone integration, phone call connection is weak, although it's seamless when using only Bluetooth.
What's also interesting is that the Arkamys system in the V variant sounds noticeably superior than the speakers on the lower G variants. The system integrates a tyre pressure monitoring system, but displays units in 'kpa' rather than the widely accepted 'psi', which could be bothersome.
Toyota's hybrid powertrain consists of a 1,490cc, three-cylinder petrol engine, an electric motor and an e-CVT gearbox. It runs an Atkinson cycle where the intake valves remain partially open during the compression stroke, in the interest of efficiency. As a result, despite being larger in volume than the other petrol engine (1,462cc), its power output is lesser than the latter; it produces 92hp/122Nm by itself (while the other petrol engine makes 11hp/15Nm more).
The electric motor draws energy from a 0.76kWh lithium-ion battery pack. What's interesting is that not only can the electric motor solely power the vehicle for a short while, the vehicle by default, starts in EV mode. Besides powering the vehicle, the motor also acts like a generator and recharges the battery when the vehicle is free-rolling or when the petrol motor is running. Transmission duties are carried by an e-CVT, which isn't a conventional belt and pulley set-up, but a sun and planetary gearbox that channels power to the front wheels.
So long as you are gentle on the accelerator, it'll roll purely on battery power. In fact, in peak hour traffic, you'll find the vehicle in EV mode for the most part. When the battery's charge drops below a certain threshold or when you demand quicker performance, the petrol engine fires up to provide that added surge. The transition from electric to petrol is supremely smooth, however, the three-cylinder engine breaks the calm and silence inside the cabin, and it even emits mild vibrations, so refinement isn't its strong suit.
What owners will appreciate is its zippy nature, and the petrol engine with instant electric torque assists makes light work of quick overtakes and nipping in and out of traffic gaps. With your foot pinned to the floor, the engine does get audible, and while there isn't a strong turbo-petrol-like surge, the hybrid powertrain is brisk in its own way. So while drivability is surprisingly good, outright performance isn't very exciting with a 0-100kph acceleration time of under 12 seconds; and its turbo-petrol rivals offer stronger performance and are appreciably much faster.
Hybrid is more responsive than the mild-hybrid and performs effortlessly.
The other engine in the line-up is Maruti's K15C 1.5-litre petrol engine, shared with the Grand Vitara and Brezza. Not to be confused with the hybrid, dubbed as 'Neo drive', this is a mild-hybrid unit, which features automatic engine stop-start, torque assist as well as brake energy recuperation, to aid fuel efficiency. This one is offered with three drivetrain options – a 5-speed manual with either a front-wheel or an all-wheel drive layout and a 6-speed torque converter (automatic) with front-wheel drive only.
Making a strong first impression is this four-cylinder engine's refinement, which is noticeably better than the hybrid version. It is dead silent at idle and only gets vocal when the tachometer needle swings closer to the redline. Throttle responses are pretty sharp too, and the flow of performance is smooth and linear with no sudden spikes or flat spots across the rev band. It certainly feels adequate to keep up with the flow of traffic, and purely as a point A to B commuter, it does the job.
Electronically controlled all-wheel drive system gets four modes.
Get to an open road, however, and you'll be yearning for more power. Overtaking long trailers on two-lane roads will require careful planning and you will need to work the gears along the way too. Thankfully, the 5-speed manual transmission is slick and very easy to operate, and so is the effort-free clutch. Talking numbers, this iteration hits 100kph from a standstill in 14.01 seconds, which is slow by segment standards, and even in-gear acceleration times are among the slowest in class.
We sampled the AWD version that features Suzuki's All Grip Select, which is essentially an electronic coupling-based all-wheel drive system. The 'Select' in its name stands for the switchable drive modes – Auto, Snow, Sport and Lock. In 'Auto', the system is predominantly front-wheel driven, and when the plethora of sensors detect wheel slippage, the system sends power to the rear wheels, thus improving traction. In 'Lock' mode, it sends 50 percent of the power to the rear wheels and with the help of ESP and electronic wizardry, it is capable of tackling some sticky situations. Those who regularly drive in snowy or slushy conditions will find value in the AWD system.
The hybrid version's petrol engine runs an efficient Atkinson cycle, hence, as expected, the numbers are substantially taller than the standard version. In our instrumented tests, the hybrid returned a staggering 20.28kpl in the city and 22.85kpl on the highway. What's interesting is that the numbers are quite the opposite to what we achieved on the Maruti Grand Vitara hybrid with the exact same set-up (23.77kpl city and 20.39kpl highway). During our test of the Hyryder, the outside temperature was over 35 degrees and we noticed that the air-conditioning seemed to be working hard to maintain a cool cabin temperature. This forced the system to run in petrol-only mode more frequently than in EV mode, explaining the difference in efficiency over the Grand Vitara hybrid. On the highway, the hybrid system often switched to EV mode, while cruising between 90-100 kph, thus, boosting efficiency.
The mild-hybrid mated to a 5-speed manual transmission, with automatic engine stop-start, torque assist and brake energy recuperation, returned 10.83kpl and 15.67kpl in our city and highway tests. What's interesting is that while it has the same powertrain as the Brezza, the brake energy recuperation isn't as aggressive as the Maruti's. Even the throttle response isn't as dull, which is why the Hyryder feels a bit more effortless in comparison, and fares better in terms of efficiency than the Brezza (10.47kpl/15.89kpl). While cruising at 100kph on the open road, the Hyryder's engine spins at 3,100rpm in fifth gear. Having a sixth ratio would have certainly made it a more relaxed cruiser and improved fuel efficiency too.
Thanks to its sorted underpinnings and a truly well-judged suspension, the Hyryder inspires great confidence on pretty much every road. It exudes a sense of toughness in the way it smothers tiny undulations, and even absorbs the sharpest of road shocks in its stride. The Hyryder feels refreshingly rugged, which is a rarity in this segment where most of its rivals feel rather delicate. As you up the pace, this Toyota rides flat without any unnecessary body movements, and it remains glued to the road at all times.
While it gets full marks on ride comfort, its handling mannerisms will satiate the requirements of most owners. It changes directions and takes corners rather predictably with a good mechanical grip. Body roll is present, but it doesn't feel top-heavy or nervous, which is remarkable, particularly when you factor in its impressive 210mm ground clearance.
Drives with a sense of maturity. Suspension feels tougher than rivals.
The steering is light and with a 10.8m turning circle, parking and manoeuvering is convenient, however, it feels vague when in the mood for a spirited drive, so engaging or fun-to-drive like a VW Taigun or Skoda Kushaq it isn't.
The brake pedal feel in the hybrid version is a bit unnatural due to the regenerative braking function, so initially, when you tap the pedal, there isn't a corresponding effect. This is followed by a rather abrupt, sharp bite, which is a character you need to get used to. The mild-hybrid version's brakes feel far more natural. Braking performance in both iterations is par for the course, with disc brakes at each corner.
The fresh and futuristic-looking Hyryder comes across as a well-packaged midsize SUV. Sure, it's not as well-rounded as the Hyundai Creta and what could be a downer for some is the Toyota's cabin and boot space, which isn't as good as rivals. The mild-hybrid's performance is adequate, at best. But its smartly dressed interior ups its appeal as does its generous equipment list. The rugged chassis exudes a sense of toughness, it balances ride comfort and handling well, and its tall ground clearance instils confidence while tackling bad roads.
And then, the ace up its sleeve is its hybrid powertrain. It delivers staggering fuel efficiency – more than standard internal combustion engines – and its electric-like instantaneous responses make it a good performer. Buyers will have to cough up a rather steep premium of Rs 1.90 lakh over the mild-hybrid (auto) version, placing it above its turbo-petrol Korean rivals. So expensive, yes, but when has that stopped a Toyota from finding plenty of takers. And with Toyota's reputation for reliability, the Hyryder has pretty much all it needs to grab a sizable share of the midsize segment pie.
from Autocar Indiahttps://cdni.autocarindia.com/ExtraImages/20230201112446__BE06349.jpg