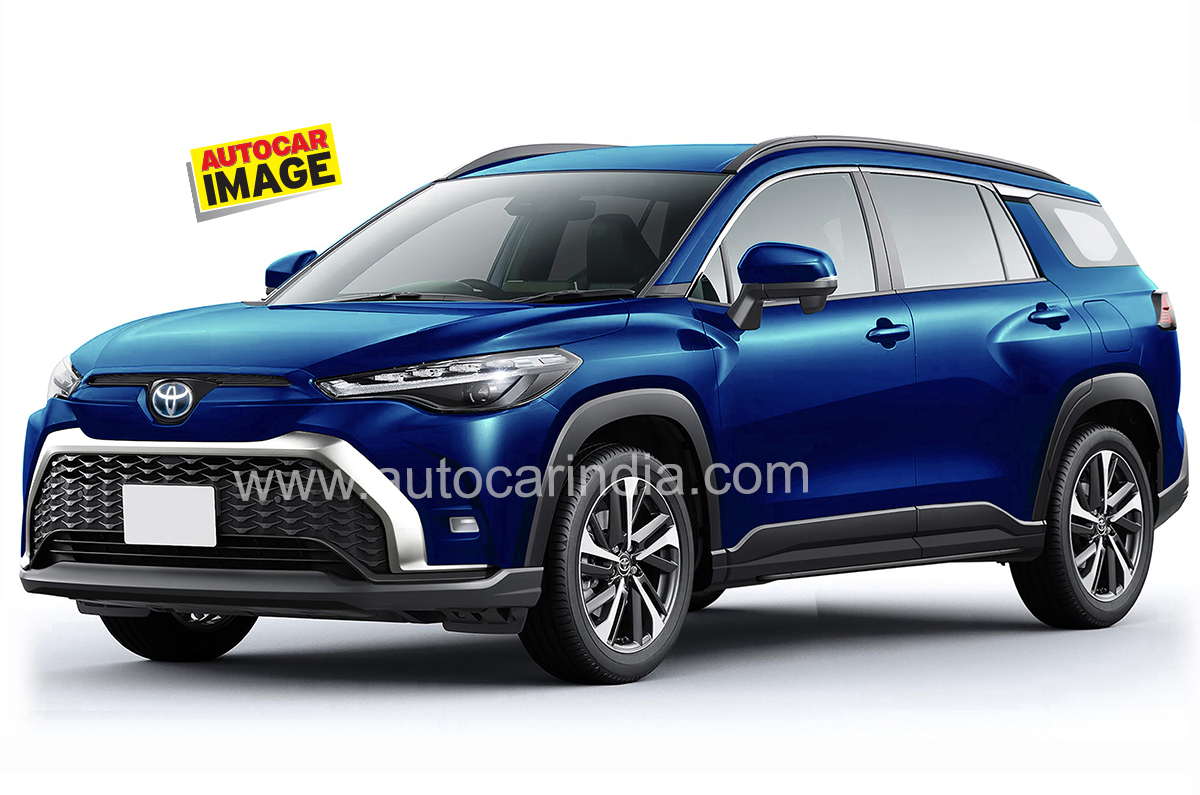 Toyota is looking at expanding its SUV range in India. Currently in the process of evaluating a larger SUV based on the Corolla Cross to take on the likes of the Hyundai Alcazar and probably the Hyundai Tucson and Jeep Meridian, as well as attract the Hyundai Creta buyers looking for an upgrade, the Japanese giant finally appears to be putting its shoulder to the wheel when it comes to India.
Corolla Cross-based SUV to share platform with the Innova Hycross
Likely to be powered by a 2.0-litre strong-hybrid powertrain
More C and D segment Toyota vehicles India-bound
But why does Toyota need a larger Corolla Cross? The answer has something to do with the size. The Corolla Cross sold abroad is around the same size as the Hyryder or the Creta. It's not just overall length; the Corolla Cross's wheelbase of 2,640mm is also in line with these models. And it will have to compete with SUVs a class above.
Toyota Corolla Cross India: dimension and platform details
What makes a Corolla Cross-based SUV a viable option is that it shares its platform with the Innova Hycross, which means it can share components and powertrains, and be built on the same line. The platform, of course, is Toyota's middle-of-the-road TNGA-C (or GA-C). Toyota can't use the Hycross's wheelbase; it's clearly too long, at 2,850mm, and too much of a stretch from that of the Corolla Cross, at 2,640mm. However, there clearly is plenty of room for expansion. Expect an increase of around 150mm in the wheelbase, similar to the difference between, say, the Creta and Alcazar. This should give Toyota enough to add a third row and an extra pair of seats. Toyota currently has no three-row SUV of this size.
Rear seats likely to slide back and forward for more room.
For added flexibility, Toyota is likely to use seats that fold flat into the floor, just as on the Hycross, and the lengthened Corolla Cross is also likely to have an electrically operated tailgate. The new SUV, of course, will need longer rear doors to allow easy access to the third row. Along with the new rear doors, there are also likely to be changes made to the 'C' and 'D' pillars of the SUV. An 'open' layout for the rear, with plenty of glass and a slimmer 'D' pillar, should help visibility on the third row.
More upmarket colours and textures will be used for India car.
Toyota's GA-C platform in addition is well suited to the task. The GA-C platform is famous for having a highly rigid underbody, one that uses advanced techniques to strengthen joints in important areas of the monocoque. Apart from making the long-wheelbase car stiff, this is also likely to save weight, as additional strengthening material is not needed. The TNGA-C platform will even allow Toyota to choose either a more affordable torsion beam suspension or an all-independent multi-link one; low-friction dampers add to comfort levels.
The rear is likely to be altered to give it a more grown-up look.
On the outside, Toyota could also choose to differentiate the SUV with a new nose and new 'soft parts', including a plastic bumper, grille and headlights. There are already many permutations and combinations for this SUV and Toyota could choose to go with the Japan-only or JDM (Japan Domestic Market) version of the Corolla Cross known as the Z.
Toyota Corolla Cross India: powertrain options
While the Corolla Cross is normally sold with a 1.8-litre petrol engine, expect this larger and heavier version to come powered by the same set of engines on the Innova Hycross. Expect the 2.0-litre M20A-FKS petrol, and especially the 2.0-litre M20A-FXS strong hybrid with 184hp and a healthy 206Nm of electric boost. The strong hybrid system, in fact, is what should give this SUV an efficiency advantage over its rivals, diesels included. Diesel fans, however, are likely to still miss the punchy midrange a modern direct injection turbo petrol delivers.
Toyota's SUVs have always been well-received in India. The brand's strong presence in this space and reputation for making some of the most capable SUVs have always held it in good stead. And then there's Toyota's bulletproof reliability and the glacial manner in which its SUVs age. Yes, a Corolla Cross-based SUV will be expensive and probably a fair step above rivals, but expect it to have a tremendous pull.
Also see:

Analysis: Carbon neutrality, the big fight

Toyota Hyryder real world fuel economy tested, explained

from Autocar Indiahttps://cdni.autocarindia.com/ExtraImages/20230207025712_corolla_cross_image_watermark.jpg