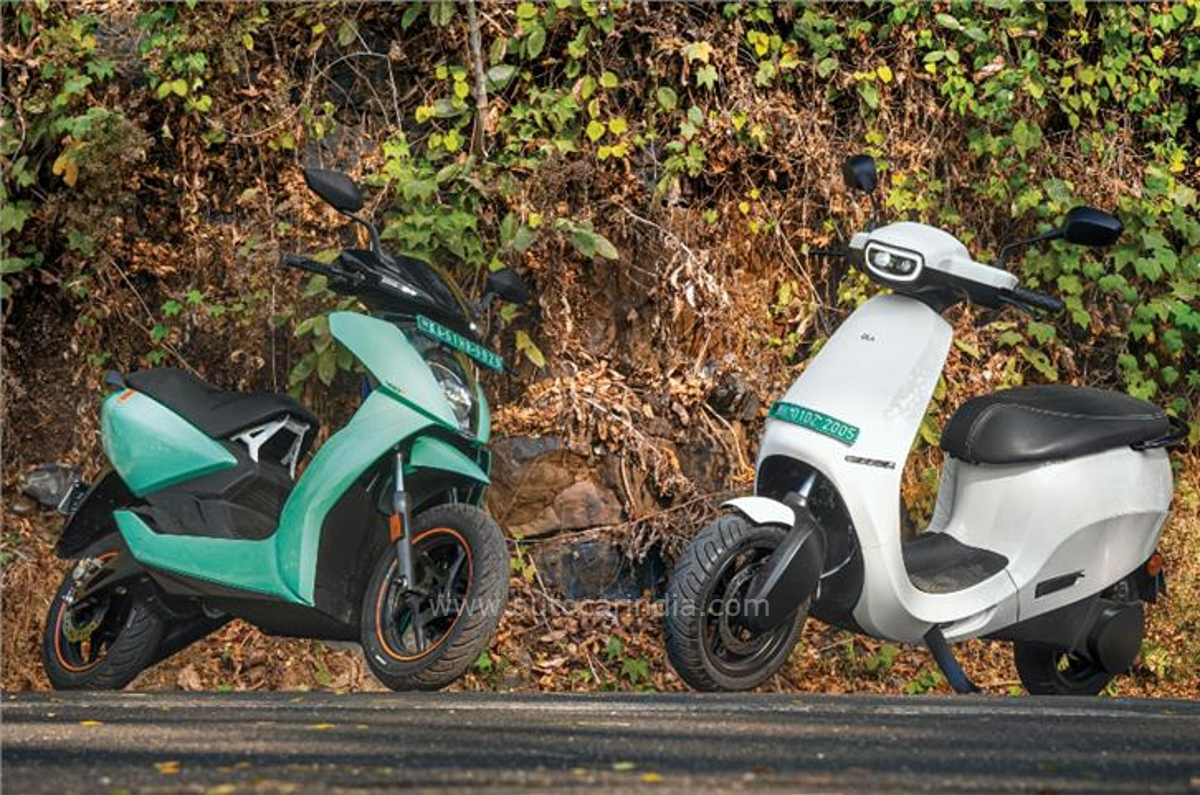 We take a look at how the major players in the electric two-wheeler market have performed in the first month of the new year.
All sales numbers are from the government's VAHAN portal as of February 8, 2023.
Ola Electric: 18,245 units
With every passing month, Bengaluru-based start-up Ola Electric is reporting higher sales numbers for its electric scooters. In January 2023, Ola recorded 18,245 registrations, which is one of the highest numbers it has recorded to date. The entry-level Ola S1 Air is scheduled to go on sale next month and it should help the brand further strengthen its foothold in the market.
While Ola Electric continues to record higher sales numbers in the market, there have been a disproportionate number of S1 and S1 Pro e-scooter owners that have reported cases of the front suspension breaking under high-impact scenarios. To read more about this, click here.
TVS: 10,404 units
With sales of 10,404 units, the TVS iQube is steadily increasing its foothold in the market and it now makes up for 10 percent of all scooter sales for TVS.
TVS recently overhauled its iQube e-scooter, which is now available in three variants (the top ST variant is set to go on sale soon). Recently, we also learned that the Hosur-based marque is working on a series of new electric bikes and scooters, which will be launched in the next months.
Ather Energy: 9,139 units
While Ather reported sales of 12,149 units for the month of January 2023, the government's VAHAN portal shows 9,139 registrations, which is likely down to the fact that the portal doesn't include a few states in its purview. Even so, the numbers for January 2023 are a big jump over December 2022, when it reported registrations of 7,652 units.
Ather recently rolled out its 1,00,000th e-scooter, and just a few weeks ago, it also gave a few noteworthy updates to its 450X e-scooter and you can read about it here.
Hero Electric: 6,393 units
Among the market leaders in the e-scooter space just a few months ago, Hero Electric only recorded 6,393 registrations in January 2023. This is a big step down from its over 8,000 units-strong December 2022 numbers and is a far cry from the five-digit sales it used to average a few months ago.
Since October, Hero Electric's FAME-II subsidy has been halted due to the fact that the source of origin of its components isn't local, as mandated by the subsidy.
Okinawa Autotech: 4,404 units
Speaking of manufacturers whose subsidy has been halted, Okinawa Autotech is the other one who is under scrutiny. Much like Hero Electric, Okinawa's sales numbers have plummeted sharply since the FAME-II subsidy has been revoked.
Ampere Vehicles: 4,366 units
Ampere could manage only 4,366 new registrations, which is slightly down from its December 2022 numbers. At Auto Expo 2023, Ampere unveiled the new Primus e-scooter alongside the NXG and NXU E-scooter concepts.
Chetak Technologies Limited: 2,615 units
The other legacy manufacturer in the EV market (like TVS with a single EV), Bajaj sold a total of 2,615 units of its Chetak electric scooter in January 2023, down from its December figure of 2,888 units. Sales of the Chetak have been restricted due to fewer retail outlets compared to the competition, and, in some markets like Mumbai, the e-scooter is displayed and sold from KTM showrooms. However, that's about to change in the near future with the Chetak EV only being sold and serviced via a network of exclusive Chetak showrooms across India.
Also See:
Ather 450X vs Ola S1 Pro vs TVS iQube S vs Bajaj Chetak EV scooter comparison
Ather 450X vs Ola S1 Pro vs TVS iQube S vs Bajaj Chetak EV comparison video
from Autocar Indiahttps://cdni.autocarindia.com/ExtraImages/20230207043052_Jan%202023%20ev%20sales.jpg