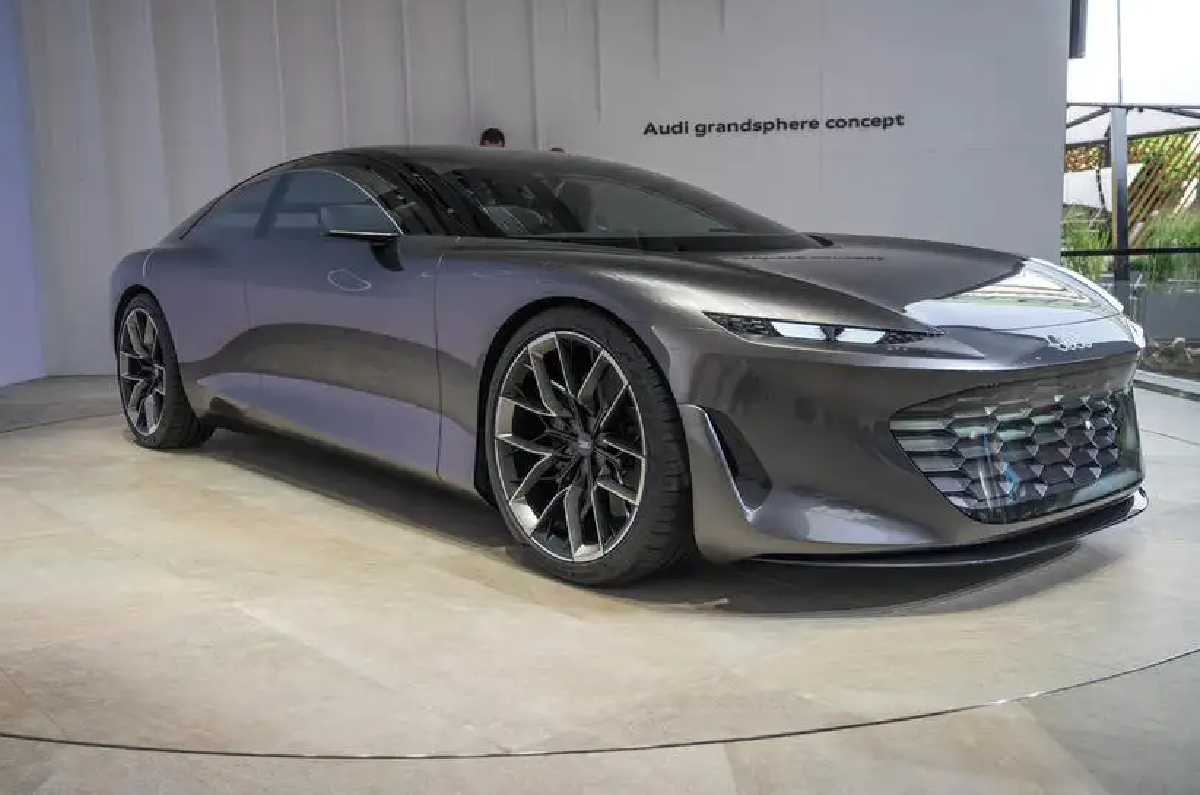 The next-generation Audi A8 will serve as the flagship for a wave of boldly designed bespoke EVs atop Audi's new PPE electric car platform, co-developed with Porsche. The first will be the Audi Q6 e-tron, due to be revealed later this year, followed by electric versions of the Audi A4 and Audi A6.
The upcoming A8 will have a high-performance EV powertrain and a radical new look that's heavily based on the 2021 Grandsphere concept.
Will be called the A8 e-tron
To rival Mercedes EQS, BMW i7
The A8 e-tron, as the rakish new saloon is expected to be called, will be revealed next year, and Audi will only make light changes to the radical Grandsphere concept for production. When launched, it will go up against the Mercedes-Benz EQS and BMW i7.
New Audi Grandsphere concept self-driving tech
Speaking to our sister publication Autocar UK, on the sidelines of the recent Audi Activesphere concept's debut, the firm's design chief, Marc Lichte, said: "The Grandsphere is a very concrete teaser. It's not far away from what will become production. It's not 1:1, but very close."
The Grandsphere is described as a "private jet for the road" and, like the Activesphere, Skysphere and Urbansphere, it is designed primarily around its capacity for level four autonomous driving. Audi says this is the closest of the four Sphere concepts to becoming a future production model.
In keeping with its self-driving billing, the Grandsphere has been designed "from the inside out" to provide a lounge-style environment where no human input is needed to drive. The steering wheel and pedals retract into the bulkhead, for example. The rear doors open backwards and there is no B-pillar to maximise cabin space and airiness. Passengers are welcomed aboard with "individually staged displays and ambient light" and the climate control and seats are automatically adjusted to the occupant's preferences as soon as they sit down.
Audi Grandsphere interior and features
The Grandsphere's infotainment system is programmed to resume content that was playing on occupants' portable devices prior to entering the vehicle.
"First class has now shifted to the front row," Audi said, as control of the car is now no longer expressly the preserve of the 'driver'. The front seats are, thus, designed for maximum comfort, with the ability to fold back by up to 60 degrees, although the expansive interior allows for a near-equally lavish set-up in the rear, where occupants sit on a sofa-style bench with a central armrest. This being a luxury-oriented concept, the air is filtered, temperature controlled and even scented, if required, and each passenger gets a set of speakers that are "inaudible to other passengers". Between the front seats is a cooler with two glasses and a specially designed drinks bottle.
Notably, and unusually, there are no visible screens, dials or physical controls upon entry into the Grandsphere's cabin, where designers have striven to achieve a "digital detox". On start-up, projections throughout the interior show relevant data and displays to each passenger, while a sensor bar underneath the main front display allows for instant switching between tabs. A rotary-style MMI touch button can be used by the driver to cycle through menus. Eye movements and gestures can be used for the same functions in fully autonomous mode, and because the Grandsphere learns its users' preferences, it can eventually "give personal proposals" to each user.
Audi Grandsphere concept dimensions
At 5,350mm long, 2,000mm wide and with a wheelbase of 3,190mm, the Grandsphere is a good deal larger than even the long-wheelbase version of today's A8, but Audi emphasises that it is more a four-door GT car than a traditional saloon, with a sleek silhouette that comes "straight from the wind tunnel". As such, it features a long bonnet, despite its electric underpinnings, and the rear is heavily streamlined for optimal aerodynamic efficiency. It's unclear how closely related the eventual production car will be, but it will almost certainly lose the outlandish 23-inch wheels.
Audi Grandsphere concept performance
The concept uses the PPE platform, developed in partnership with Porsche, who will use it for the new Macan EV coming next year. It has a 120kWh battery capable of charging at speeds of up to 270kW. This battery offers a range of over 750km, and is paired to a twin-motor four-wheel-drive powertrain producing 721hp and 960Nm. Theoretically, it will do 0-100kph in just over 4.0sec, but has a governed top speed to preserve energy.
Audi admits that "the drive system and the handling are no longer at the top of the design specifications in this new generation of cars". However, when Autocar UK asked if autonomous-capable cars will hold appeal for keen drivers, strategy boss Philipp Gündert said: "We are very focused on giving our passengers and drivers the freedom to choose. This car is focused on autonomous driving, but, of course, we still want to keep that feeling and that close connection."
He highlighted the "monocoque feeling" provided by the steering wheel and seat layout and said an occupant can decide if they want to "enjoy being driven" or still drive themselves. The Grandsphere has rear-axle steering, adaptive dampers and camera-controlled active air suspension, all in the name of conserving some dynamic agility, despite its size.
Although the Grandsphere majors on premium technology and providing a luxurious experience, its technology will trickle down to smaller cars in the new-era product line-up, potentially with an eye on ride-hailing services and shared mobility solutions.
"That's definitely what we're trying to do," Gündert told Autocar UK. "We'll figure out what's possible, what we and our customers want and how we envisage the future, and then, of course, bring it to smaller cars, for sure, but also for future solutions that go beyond possessing a car. We can also see that our target customers' understanding of progressive luxury doesn't necessarily mean to own a car any more."
Also see:
Audi RS6, RS7 Performance with 630hp revealed
India bound Q8 e-Tron SUV to get new Audi logo
from Autocar Indiahttps://cdni.autocarindia.com/ExtraImages/20230131124324_Audi_grandsphere_concept.jpg