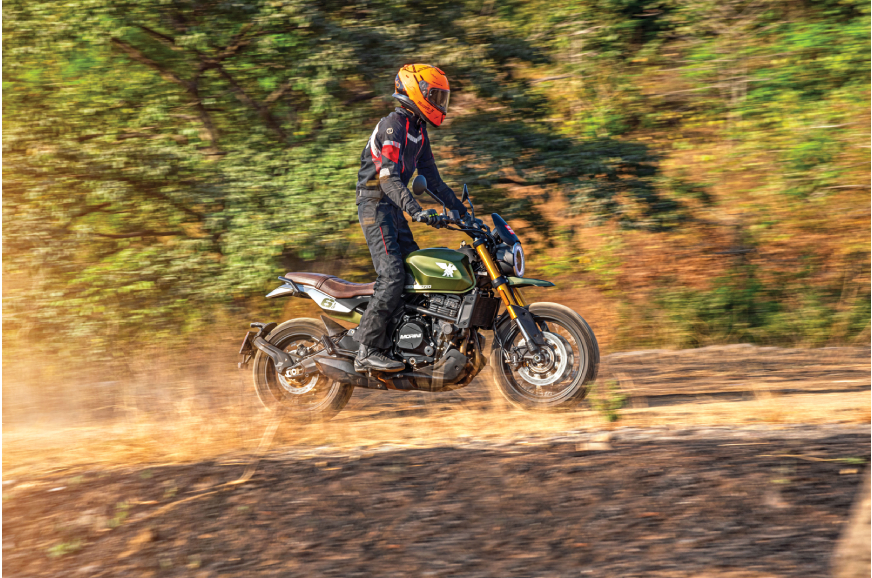 The Moto Morini Seiemmezzo (pronounced See-eh-mezzo) 6 ½ is the latest retro-styled middleweight naked on sale in our market. We check out its Scrambler iteration (it's also available in a more street-focused Retro Street version).
Moto Morini Seiemmezzo scrambler review: design
This variant is immediately identifiable with its wire-spoke wheels, golden fork, beak-like front fender and small flyscreen, none of which feature on the Retro Street. The overall design draws attention for sure, with its sculpted tank with rubber tank pads, large round headlight and a slim tail section with a neatly integrated tail-lamp. The tyre hugger has a number plate holder and turn signals. Our test bike's Matte Green paint too goes well with its rugged appearance.
Moto Morini Seiemmezzo scrambler review: ride and handling
Hop on and you'll notice that the ergonomics are comfy. You're sat upright and there isn't a long reach to the handlebar; the footpegs are also in a neutral position. The handlebar is wide, though, and you have to be mindful of this in traffic. While it does provide better leverage, the turning radius isn't great, which makes it a little tough to filter through traffic. Standing-up ergos are decent too, but there is a bit of a bend down to the handlebar compared to Moto Morini's X-Cape ADV. And even though the brown seat looks nice, its shape and cushioning don't offer comfort over long periods.
On the move, the suspension feels a little stiff at slow speeds and can feel slightly jarring over large and sharp bumps. However, the ride quality improves as you pick up the pace. What's nice is that it's adjustable at both ends, but the window of adjustability is quite small. As for handling, the Seiemmezzo feels planted around corners and it doesn't take much effort to lean in, despite the 215kg kerb weight.
Moto Morini Seiemmezzo scrambler review: engine and underpinnings
The Scrambler is powered by the same 649cc parallel-twin engine that does the duty in the X-Cape ADV, but here, it puts out 5hp less, at 55hp; torque is the same 54Nm. This motor is built by CFMoto and bears more than a passing resemblance to the Kawasaki 650cc parallel twin. It's a refined unit with a strong mid-range and pulls strongly till its 8,000rpm redline. Engine heat is very much present, but it's better managed and not as bad as the X-Cape. Despite being down on power, the Seiemmezzo feels quicker than the 18kg heavier X-Cape, and it is. In our performance tests, it did the 0-100kph run in 4.71sec, compared to the X-Cape's 5.97sec. The Scrambler's in-gear acceleration is also quicker.
The clutch lever is a bit on the heavier side but it's not painful, even in traffic. And while the 6-speed gearbox is slick enough, a quickshifter would've been welcome at this price. As for the brakes, they have more than enough stopping power, but the ABS can be over-intrusive in some situations. This leaves you with a hard lever, which robs you of some confidence.
The Scrambler runs on semi-knobby Pirelli MT60RS tyres, which we know from experience with the Ducati Scrambler will last for only a few thousand kilometres. The Pirelli Angel GT tyres on the Seiemmezzo street version will easily last 4-5 times longer, but then the wire-spoke rims with tubeless tyres are a unique feature on the Scrambler.
Speaking of features, the Scrambler gets all LED lights, backlit switchgear, a TFT display with Bluetooth, two display modes and adjustable levers. It's better equipped than the Kawasaki Z650RS, which doesn't get a TFT display or Bluetooth.
Moto Morini Seiemmezzo scrambler review: verdict
Aside from the bike itself, the reliability and aftersales service remain a big question mark. Furthermore, our test bike had only 300km on the odo and there were already some fit/finish issues. During our tests, the rear brake pedal came loose and there was a noise from the front-end every time you hit a bump at speed. Although, it must be said that the front-end issue could be down to the fact that this bike had been dropped off-road before we got it.
Priced between Rs 6.99 lakh-7.10 lakh, the Seiemmezzo Scrambler's nearest rival is the Benelli Leoncino, though that's a pukka road bike with a smaller 500cc engine. Overall, the Seiemmezzo Scrambler is a likeable motorcycle, which will appeal to those who want to stand out. But, at this price point, it is slightly more expensive than the pretty Kawasaki and that does the Morini no favours.
from Autocar Indiahttps://cdni.autocarindia.com/ExtraImages/20230202053302_New%20Project%20_2_.jpg