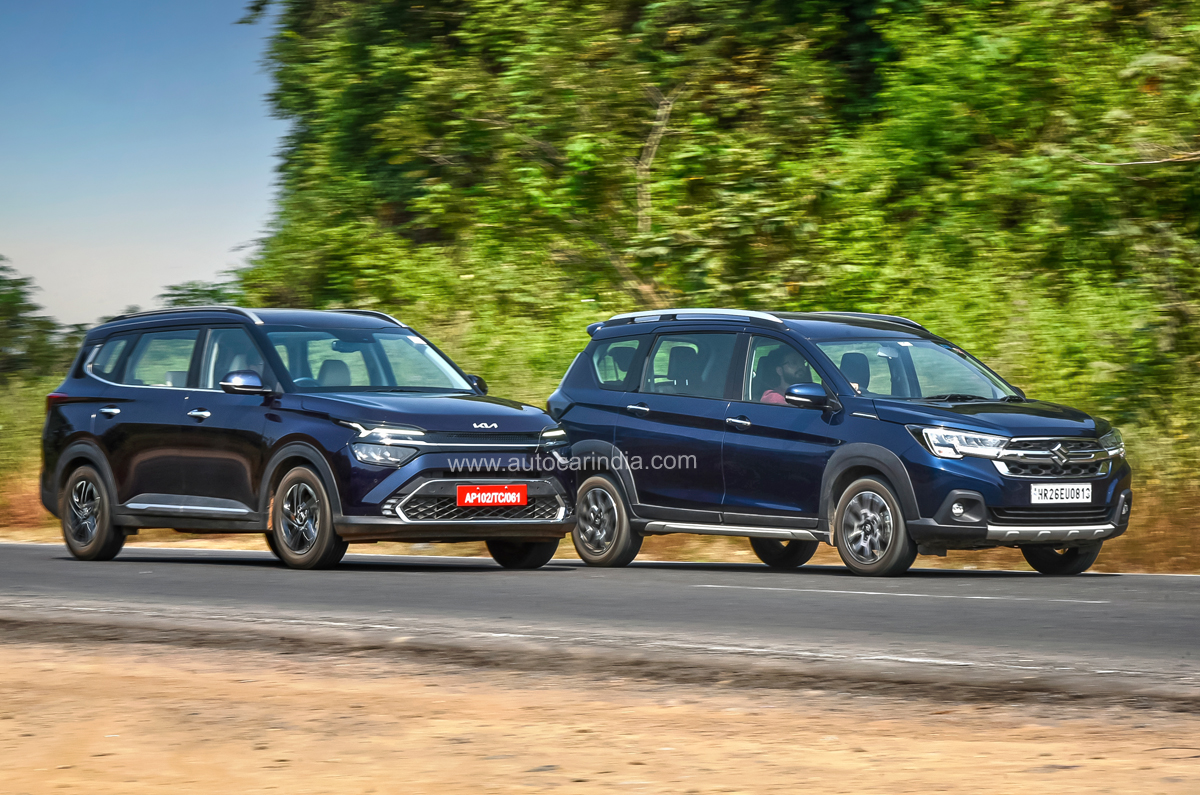 The Maruti Suzuki Ertiga revolutionised the MPV segment with its car-like driving manners, relatively compact dimensions, clever packaging and sensible pricing. Its flexibility to ferry seven adults made it hugely appealing, and it even caught the fancy of a few sedan, compact SUV and hatchback buyers. As a result, Ertiga sales have been strong till date.
But MPV buyers are now demanding more and looking for a more upmarket experience with new-age features. And for these buyers, the Maruti XL6 and Kia Carens should be on the shortlist.
The Maruti Suzuki XL6 is offered with a 103hp, 1.5-litre petrol engine that's available with either a 5-speed manual or a 6-speed automatic; there's also a CNG-manual. The XL6 range is priced from Rs 11.29 lakh-14.39 lakh (ex-showroom). Kia offers the Carens with multiple powertrains – 115hp, 1.5-litre petrol engine with a 6-speed manual; 140hp, 1.4-litre turbo-petrol with either a 6-speed manual or 7-speed dual-clutch automatic; and a 115hp, 1.5-litre diesel with a 6-speed manual or automatic. These are priced between Rs 9.99 lakh-18 lakh.
We compare their 6-seater petrol-automatic iterations to find out which is the better urbane people-mover. Our test Maruti Suzuki XL6 Alpha+ is priced at Rs 14.39 lakh while the Kia Carens Luxury+ retails for Rs 17.65 lakh, making the Kia over Rs 3 lakh pricier. With such a huge price gap, has the Carens already lost the battle, or can it redeem itself in other areas and pip the XL6?
Maruti Suzuki XL6 vs Kia Carens: design
With the XL6 facelift, Maruti Suzuki has infused a higher degree of desirability by simply upping its wheel-size to 16 inches (from 15 inches), which makes it look more proportional to its body than before. Of course, it gets minor styling tweaks too, such as a new front grille, newer LED headlamps and smoked LED tail-lamps. But credit goes to its clean-cut styling, distinct body lines and pronounced plastic cladding, because of which it comes across as a muscular MPV that could appease SUV-loving buyers too.
The Kia Carens gets split-headlamps and chrome embellishments; XL6 rugged design will appeal to SUV lovers.
The Kia's styling, on the other hand, with its front-end in particular, is an amalgamation of multiple elements like the snazzy split-headlamps, the black knurled panel with a chrome bar and an oversized air-dam outlined by chrome featuring Kia's signature 'tiger nose' design. All these add a lot of flash to the Carens' styling. Its side profile is relatively cleaner, and its tail-end is pretty neat too, with triangular LED tail-lamps joined together by a light bar running the width of the boot. Dollops of chrome on its rear bumper add more bling to its styling.
When viewed side by side, the Carens appears larger than the XL6 – which it is. The Kia is a significant 95mm longer, 25mm wider and has a 40mm longer wheelbase.
Maruti Suzuki XL6 vs Kia Carens: interior
The XL6's upright stance makes ingress and egress a breeze. Once you're snuggled into the seats, you'll appreciate just how comfortable they are. They are broad, supportive and Maruti Suzuki has got the cushioning spot on. What's also nice is that the front seats are ventilated, which further enhances seat comfort. The all-black cabin with matte silver highlights and faux wood panelling look nice. However, neither the design nor the quality of materials feel special, and everything feels hard to touch and rather plasticky.
Captain's chairs in the XL6 feel plush and are as comfortable as the front seats.
The Kia's cabin is quite the opposite. Right from the moment you step in, it bowls you over with its design, beige and dark blue colour scheme and with the selection of materials used. Sure, even the Carens' interior largely has hard plastics, but quality and fit-finish seem to be a few notches better than the Maruti Suzuki. What also gives the cabin a real sense of occasion is the ambient lighting, which has been very tastefully executed. The seats are quite comfortable too, and like the XL6, these get ventilation. However, the Maruti's have an edge here, both in terms of support as well as the effectiveness of the seat coolers.
Window shades, tray table, USB slot elevate the second row experience in the Kia Carens.
Both cars tested here have captain's chairs for the middle passengers, thus serving up a 2+2+2 seating layout. The captain's chairs in both cars slide fore-aft, have adjustable backrests and get armrests as well. Once again, as is the case with the front seats, the XL6's middle seats are very comfortable. However, it is the Kia that pampers middle-row occupants with nifty bits like an aircraft-style tray table, USB charging port (XL6 gets 12V socket) as well as sunshades for the windows, which you will miss in the Maruti on a hot day. Curiously, the air purifier attached behind the driver's seat is quite bulky and intrusive and looks very much like an afterthought.
To access the Maruti's third row, you need to slide the middle seat forward, which opens up a large enough area to haul yourself in. Once seated, comfort is acceptable even for adults, and the backrest reclines to a comfy angle too. In its most reclined position, however, taller adults will find their heads touching the roof.
XL6's roof ledge eats into headroom for tall third-row passengers.
Getting into the Kia's third row is much easier thanks to an electric release that tumbles the middle seat forward. Unlike the first two rows, where the XL6 has an edge, in the third row, it is the Kia Carens that feels more comfortable with even taller folk being able to sit here for long journeys without feeling worse for wear.
Kia Carens has a more comfortable third row with better headroom compared to the XL6.
The boot space in both, with all three rows up, is a little over 200-litres, however, there's more space than the number suggests. They also have additional storage areas beneath the floor, which you can open up to accommodate tall suitcases without folding down the last row. And while on the topic of storage and practicality, the Kia Carens offers several well-designed storage areas across the cabin, much more than the Maruti Suzuki.
Maruti Suzuki XL6 vs Kia Carens: equipment
Maruti Suzuki XL6 vs Kia Carens: Models Tested
Model
Maruti Suzuki XL6 Alpha+ AT
Kia Carens Luxury+
Auto LED headlamps
Available
Available
Automatic climate control
Available
Available
Rear view camera
360-degree
Available
Ventilated front seats
Available
Available
Wireless charging
Not available
Available
Touchscreen
7.0-inch
10.25-inch
Speakers
6
8
Digital instrument cluster
Not available
Available
Sunroof
Not available
Available
Air purifier
Not available
Available
Airbags
4
6
ESP
Available
Available
The top-spec models tested here get common kit like auto LED headlamps, 16-inch alloys, ventilated front seats, climate control, cruise control, paddle shifters, four airbags, ESP, hill-start assist, rear-view camera and tyre pressure monitoring system. The XL6 gets a smaller 7.0-inch touchscreen, while the Carens gets a larger 10.25-inch unit. Unique to the Carens are curtain airbags, all-wheel disc brakes, ambient lighting, digital instrument cluster, wireless charger, sunroof, electric tumble function for middle-row seat and premium Bose speakers, to justify the price premium.
Maruti Suzuki XL6 vs Kia Carens: performance
Maruti Suzuki has deployed the new-age K15C 103hp, 1.5-litre petrol engine to power the XL6. And along with the mill, it also gets a new 6-speed torque converter automatic that replaces the older 4-speeder.
Maruti Suzuki XL6 vs Kia Carens: performance
Model
Maruti Suzuki XL6 Alpha+
Kia Carens Luxury+
0-20kph
1.40sec
1.50sec
0-40kph
3.27sec
2.79sec
0-60kph
5.93sec
4.62sec
0-80kph
9.56sec
6.99sec
0-100kph
14.31sec
9.67sec
0-120kph
19.88sec
13.52sec
0-140kph
29.17sec
18.39sec
Tipping the scales at 1,225kg, the XL6's power figures seem just about adequate for its weight and size. Throttle responses, however, are rather aggressive, particularly in the first two gears, which somewhat compensate for the engine's lack of punch later on. With your foot pinned to the floor, it'll even scoot to 60kph with a sense of urgency, but from thereon, power delivery significantly blunts, and it is on those occasions where you'll feel the lack of punch from this non-turbo petrol engine. A hill-climb with a full house also reveals this engine's weak mid-range, and the gearbox will often keep downshifting to keep the engine on the boil to maintain momentum.
Being a mild-hybrid, this unit gets some torque assistance from a secondary battery pack for better performance. However, you'll be hard-pressed to notice any difference, and you'll need to glance at the animation on the instrument cluster to spot this tech in action.
The XL6 rides in a flat and composed manner and feels more confident.
With 140hp and 242Nm of torque, the Carens' 1.4-litre turbo-petrol engine has an edge over the Maruti's in terms of performance, with a 37hp and 105Nm advantage. And even though the Carens is 171kg heavier, tipping the scales at 1,396kg, its turbo-petrol unit hauls this 6-seater far more effortlessly than the XL6.
Kia has tuned this engine for linearity, so unlike the Seltos, which uses the same unit, it feels sportier. The Carens delivers its performance in an extremely smooth manner, with no sudden spikes or overly sharp throttle responses. Even the 7-speed dual-clutch automatic transmission shifts have been dulled down compared to the Seltos, which goes well with this people-mover's character.
Despite all the added performance, the Carens' efficiency isn't much lower than the XL6.

Performance is brisk, be it flat-out or part-throttle. It accelerates from 0-100kph in a quick 9.67sec, making it a significant 4.64sec quicker than the XL6. It'll also decimate the Maruti in a rolling race from 20-80kph or 40-100kph. To keep the driver entertained, Kia has included paddle shifters and driving modes like 'Sport' and 'Eco', in addition to 'Normal'. The new driving modes change throttle responsiveness and alter gearshift points, with 'Sport' being the most aggressive, and 'Eco' being the dullest.
Maruti Suzuki XL6 vs Kia Carens: fuel efficiency
Besides the mild-hybrid technology that includes automatic engine stop-start, brake energy recuperation and torque assist, Maruti's new K15C engine also gets dual injectors, dual variable valve timing and a higher compression ratio (than before), all in the interest of improving fuel efficiency. Its 6-speed automatic also gives it longer legs, making it a relaxed cruiser. All these combined result in an efficiency of 9.20kpl and 17.01kpl in the city and on the highway, respectively.
Maruti Suzuki XL6 vs Kia Carens: Fuel economy
Model
Maruti Suzuki XL6 Alpha+
Kia Carens Luxury+
City
9.20kpl
8.90kpl
Highway
17.01kpl
15.76kpl
The Kia Carens' 1.4-litre turbocharged mill with the DCT returns 8.90kpl and 15.76kpl in the city and highway, respectively. What's interesting is that, despite being a turbo-petrol and being significantly quicker, the Kia's efficiency numbers aren't much farther behind the XL6.
Like other turbo-petrols though, the Kia's unit is sensitive to driving conditions, so during prolonged idling periods or with an enthusiastic driver behind the wheel, you'll notice this figure drop very rapidly.
Maruti Suzuki XL6 vs Kia Carens: ride and handling
The XL6 is built on Maruti's Heartect architecture, like its sister car, the Ertiga, and other siblings like the Swift and Baleno. And like its platform mates, the XL6 is light, which is a result of Maruti's clever weight saving. However, the XL6 feels pretty solid from behind the wheel and its suspension is extremely well calibrated to take on our Indian road conditions.
The XL6 offers a composed ride quality that's well suited for Indian conditions.
It rides with a sense of confidence at all speeds, remains flat and composed, with minimal road shocks filtering through, and has no unnecessary body movements. Even its steering feels far better than other Marutis built on the same platform, so it weighs up consistently and returns to centre very naturally too.
Kia too has done a fine job tuning the Carens for our roads. It rides quite comfortably, although you will hear the suspension working in the background when the Bose speakers aren't entertaining you. Also, compared to the XL6, you will feel more road shocks as well as some more vertical movement, although these are only relative to the Maruti and at no point feel excessive.
The Caren's ride quality is a little less refined, but that's only relative to the Maruti
The Kia's steering feels a touch lighter and easier to operate, and its brakes are more confidence-inspiring. What also needs a mention is the sheer stopping power of its anchors; with all four disc brakes, the Carens comes to a complete halt from 80 kph, one full metre shorter than the much lighter XL6.
Maruti Suzuki XL6 vs Kia Carens: verdict
The Maruti XL6 is based on the Ertiga, so it carries forward all its strengths like clever packaging, comfortable seats and a supple ride quality. It does its duties with a degree of sophistication, and packs some modern bells and whistles too. So, if you love the Ertiga for all its merits but want something that's a bit more upmarket, and is backed by Maruti's widespread support network, the XL6 is for you.
Kia, on the other hand, takes the MPV experience to the next level with the Carens, and it feels like it belongs to a segment above. Sure, the petrol auto being offered with only the turbo engine is pricier and the top-spec variant is Rs 3 lakh more expensive than the XL6, but it more than proves the adage 'you get what you pay for'. The Kia's interior feels more plush, with high-quality materials, excellent fit-finish, and a plethora of desirable features like a sunroof, ambient lighting, Bose speakers, wireless charging and a much larger touchscreen, all of which significantly elevate its premium quotient and add tangible value. Its turbo-petrol performance is superior to the XL6's, and its fuel efficiency isn't far behind the Maruti either. Also, with loads of storage areas, a marginally larger boot, and a comfier third row, the Kia noses ahead on the practicality front.
MODELS TESTED
Model
Maruti Suzuki XL6 Alpha+
Kia Carens Luxury+ (Our Choice)
Price
Rs 14.39 lakh (ex-showroom, India)
Rs 17.65 lakh (ex-showroom, India)
0-100kph
14.31sec
9.67sec
Top speed
170kph
170kph
Fuel economy (overall)
13.11kpl
12.11kpl
For
Value for money; Comfortable seats
High quality, classy interior; Wide choice of powertrains
Against
Lacklustre performance; Interior doesn't feel very special
Expensive higher variants
So, in conclusion, the Carens does deliver excellence on both fronts – being a people mover and providing a luxurious experience. Thus, in this test, it takes the top spot.
Also see:
Citroen C3 vs Tata Punch comparison: Tiny but tough
Grand Vitara hybrid vs Creta petrol vs Seltos diesel comparison: Fuel for thought
from Autocar Indiahttps://cdni.autocarindia.com/ExtraImages/20230203063827_Carens%20XL6%202.jpg