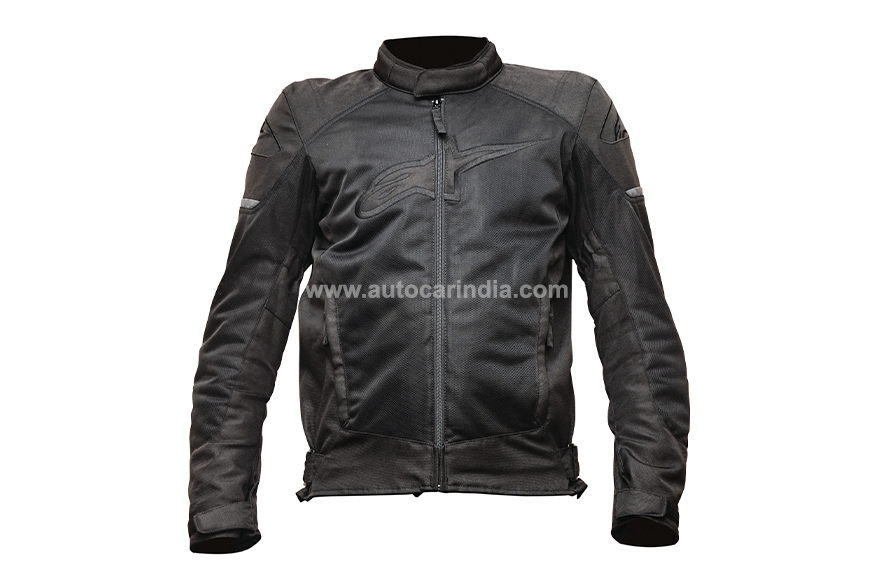 The T SP X Superair might have a mouthful of a name, but it is Alpinestars' most affordable jacket in their current line-up. This is a mostly mesh jacket that works brilliantly in a hot environment and it has turned out to be a stylish, comfortable partner for urban motorcycling.
As the name suggests, the focus is on ventilation and the Superair has massive ventilation panels that run up the entire chest and back areas as well as on a significant portion of the arms. Mesh isn't a great material from an abrasion resistance and safety standpoint, so the jacket uses 600D polyester in key impact areas like the shoulders and outer arms. There's some stretch material sewed in behind the elbows for a comfortable fit, but not behind the shoulders where you'd also usually expect to find it. The arm cuffs and collars both have Velcro closures and the two pockets have pull tabs on the zippers that make them easy to find with gloves on.
The style element is brought in via embroidered Alpinestars logos on the chest, shoulders and lower back. There are many colour options available, including a bright red and blue, but I went for the most subtle black on black. The back section also gets a black reflective strip that runs down the centre, but it has started to show small signs of wear after about 10 washes.
The fit is longer and more generous than I was expecting and this isn't a very sporty cut jacket. What's nice is that this jacket has been designed to be compatible with the Alpinestars Tech Air 5 airbag vest. The inner mesh liner has a slight stretchability to it and it feels comfy against the skin. However, just like I found with the Ramjet Air pants we reviewed a couple of months back, the liner feels a size too large and your hands can get snagged while putting the jacket on or taking it off.
Safety comes in the form of Alpinestars Nucleon Flex Plus armour in the shoulder and elbows. This armour is slim and low profile, which is nice, but it is only CE Level 1. As for the back armour, that's something you need to purchase separately and unfortunately, this jacket doesn't have pockets for optional chest armour. This is one area where gear from reputed Indian manufacturers thoroughly outdoes the international stuff as they ship with CE Level 2 armour for far less money.
The Superair jacket is not yet available in India but expect a price tag of around Rs 17,000 when it comes here.
As is the usual case with imported gear, especially the Italian stuff, this is a purchase you make for the style and brand value on offer.
Where: www.alpinestars.com
Price: Rs 17,000 approx
from Autocar Indiahttps://cdni.autocarindia.com/ExtraImages/20230206020215_500_4223%20copy%20_1_.jpg