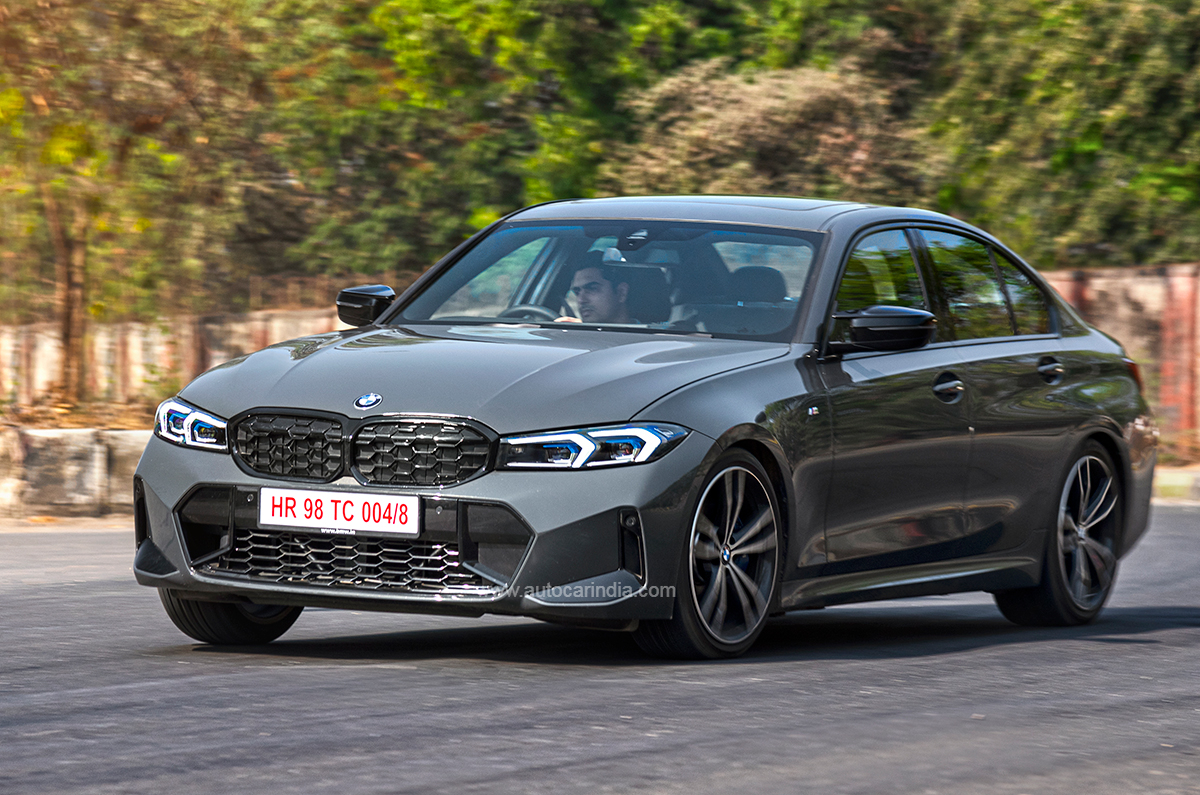 The reason for the BMW M340i's success in India is that it beautifully bridges the gap between the 3-series long-wheelbase family sedan and the hardcore, performance-oriented M4 Competition (currently on sale), with its price being closer to the 'regular' 3-series, and its performance appreciably closer to the full-blown M car. And for its mid-life update, termed as 'LCI' or 'Life Cycle Impulse', the M340i's winning formula has been further enhanced by a makeover and newer technology.
BMW M340i LCI: exterior design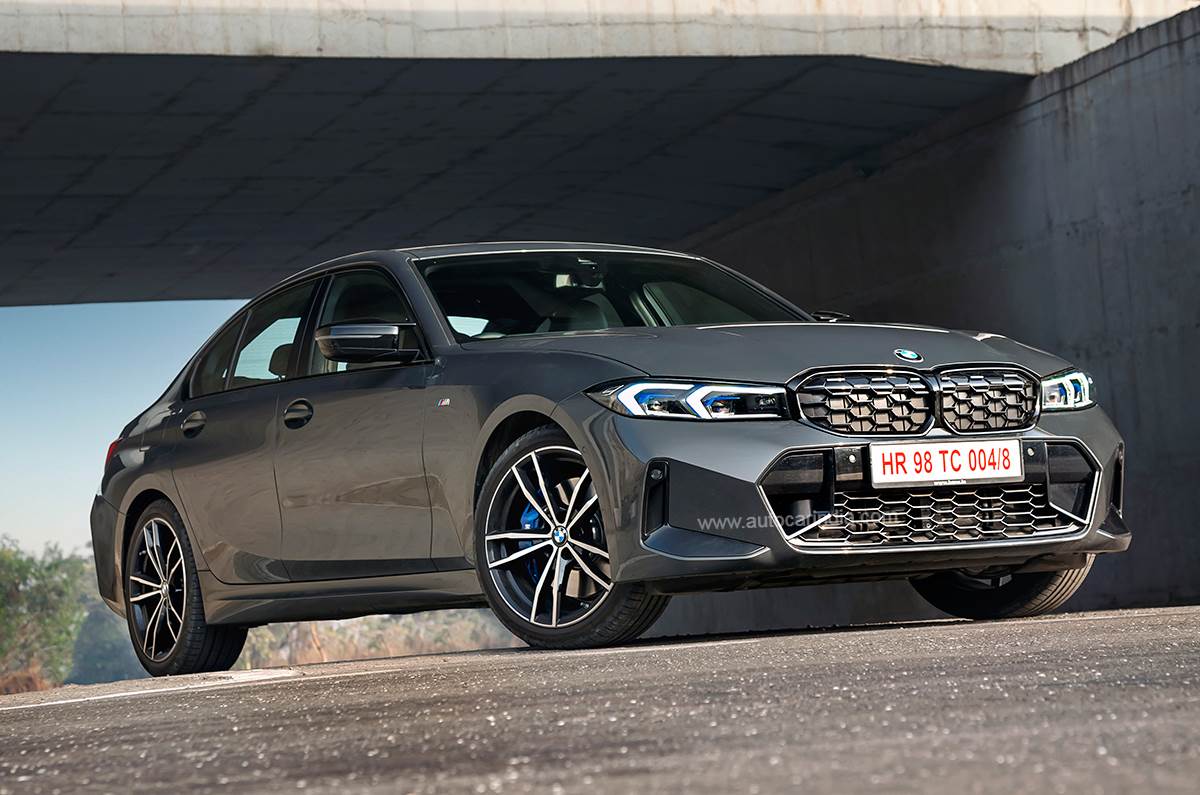 Twin-inverted L-shaped DRLs and LED headlamps, new grille elements and a sculpted bumper exude an aggressive first impression.
The M340i LCI gets redesigned LED headlamps with twin-inverted L-shaped DRLs, new honeycomb elements inside the front grille and a front bumper that's sculpted to exude an aggressive first impression. Particularly attractive are the new 19-inch alloys and uniquely these feature floating BMW hub caps, akin to those on a Rolls Royce, which remain in their standard position even when the car is in motion.
Stunning 19-inch wheels with unique floating hub caps akin to those on a Rolls Royce; callipers are painted in M signature blue.
Further upping its sportiness is the generous 'M' treatment, which includes signature light blue brake calipers, 'M' badges on the front fender and its mirror casings finished in gloss black resemble the M-version's carbon fibre units. The rear bumper sports larger twin exhaust housings (finished in black) and a beefier diffuser. The 'xDrive' badge has been omitted this time around.
BMW M340i LCI: interior
The new twin screen (infotainment and instrument cluster) curved set-up single-handedly infuses a greater degree of desirability and modernity to the interior. And it isn't merely form; the display is crisp, responses are slick and what ups the user experience are wireless Android Auto and Apple Carplay, in-built navigation as well as BMW voice assistant.
Curved twin-screen setup singlehandedly lifts the cabin's appeal and desirability quotient.
In line with the modern trend, the climate control buttons have been eliminated, however, temperature controls are permanently pinned on the touchscreen, which makes it pretty easy to access. The central air vents are slimmer and the row of touch-operable buttons has fewer functions like hazard lights, volume knob and defogger controls. The gear selector is now a stubby toggle switch, while the rest of the buttons on the gear console are unchanged.
New carbon fiber trims reeks a sportscar vibe; gear selector is a stubby toggle-like switch.
The new carbon fibre trims and Alcantara materials on the seats and roof liner exude a proper sportscar vibe. The front seats are sportier than the regular version with harder cushioning as well as electrically adjustable side bolstering to hold you in place while cornering.
Packs in a space saver tyre beneath the boot floor.
At the rear too, there's plenty of space, just like a short-wheelbase 3-series sedan that it is based on; compared to the long-wheelbase version, there's less space to stretch out. At 480 litres, the boot is large too. What's more, despite riding on run-flat tyres, the M340i also includes a space saver tyre tucked beneath the boot floor.
BMW M340i LCI: performance
BMW's renowned 3-litre inline, 6-cylinder, turbo-petrol engine has been updated and it now features a 48V mild-hybrid system. Interestingly, power figures have dropped by 13hp from 387hp to 374hp, however, torque remains identical at 500Nm. The good news is that performance is as explosive as before, responses feel equally sharp, it continues to rev to 7,000rpm and it still sounds glorious, and does the 0-100kph sprint in a claimed 4.4 seconds.
Finally gets launch control; claimed 0-100kph time is 4.4 seconds (same as before).
Transmitting power to the wheels is an incredibly quick-shifting 8-speed automatic transmission, which feels almost telepathic for the most part. The stiffer suspension, xDrive all-wheel drive system, M-sport rear differential, variable sport steering and upgraded brakes make it feel like a well-balanced sports car, far more agile than the long-wheelbase 3-series, enough to thrill most drivers.
Despite losing 13hp over the pre-facelift version, performance remains as strong as before.
A trade-off to its sporty handling is its firmer ride quality and the run-flat tyres only make it harsher; however, at no point does it feel jarring or unmanageable like some more hardcore sportscars. That said, its 125mm ground clearance will warrant utmost caution while tackling speed breakers.
BMW M340i LCI: verdict
So, the BMW M340i is a car that's almost as practical and usable as a 3-series, but is far more thrilling to drive. And now with a much-needed makeover and more tech, it has become even more appealing and desirable than it already was.
Equally aggressive is the rear bumper with larger exhaust housings and a beefier diffuser.
Being locally assembled, it is aggressively priced at Rs 69.20 lakh, and not only does it undercut its fully imported closest rival Audi S5 Sportback (which costs Rs 73.99 lakh), but the M340i is also more powerful and offers a more standard kit. The BMW M340i is so good, it is a rare car which delivers much more than its asking price.
from Autocar India - All Car Reviews https://ift.tt/CxwJu3g
https://ift.tt/U80YW5o