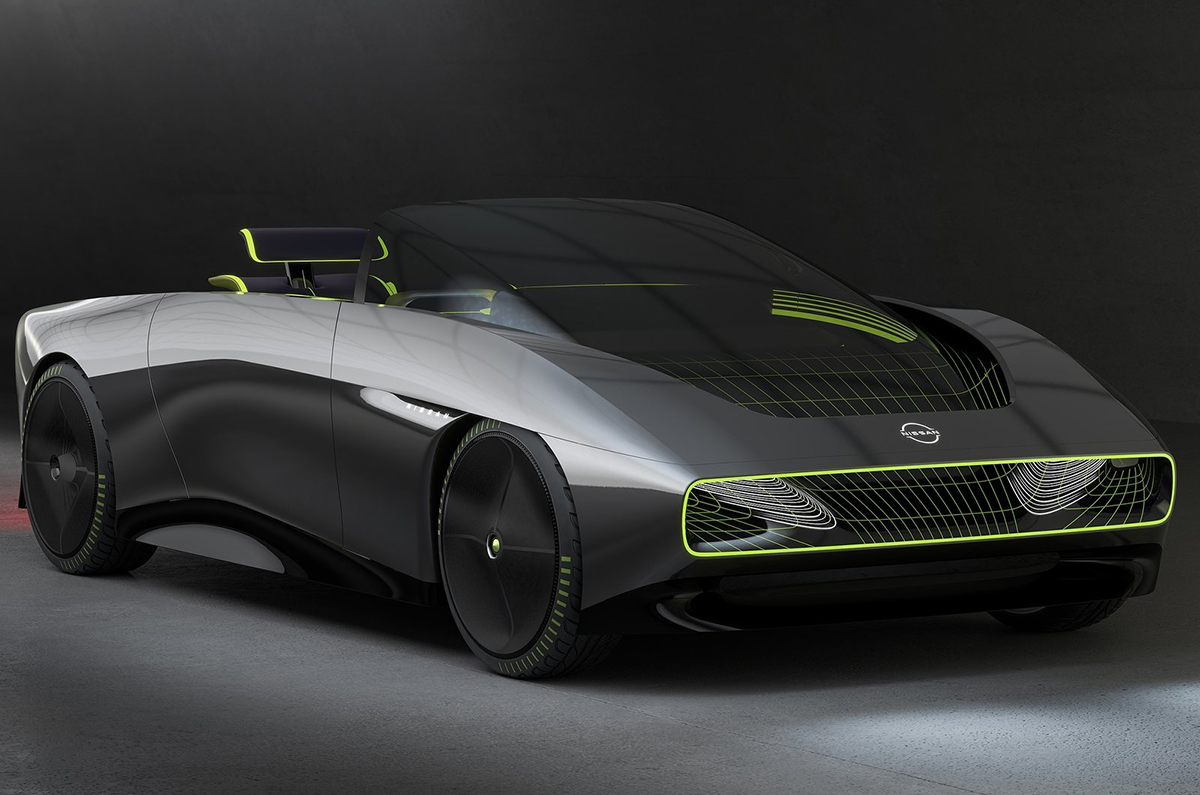 Nissan has announced that it will be showing a new sportscar concept on February 2. Expected to be the physical version of the Max-Out design study that was previewed in December 2021, the concept car will be electric, focussing on zero-emission mobility.
The sportscar concept will preview Nissan's next-gen EVs
Expected to use solid-state battery technology
Nissan electric sportscar concept: exterior, interior
Based on the preview of the broadcast on the firm's official YouTube channel, the concept's silhouette closely resembles the digital-only Max-Out concept. This implies that Nissan has built a physical version of the concept that was showcased in 2021. Producing a real-world model of the Max-Out signals the brand's renewed commitment to driver-focused sports cars amid the company's push to electrification.
The concert sportscar is likely to have the same interior as the Max-Out's, as previous images have revealed a bare-bones layout, featuring little more than a squared-off steering wheel and a display screen spanning the dashboard. The passenger seat can be folded into the floor to further boost room, said Nissan.
Nissan electric sportscar concept: expected powertrain
The Japanese firm previously commented that the forward-looking design study will offer a "new driving experience with its superlative stability and comfort", tight handling and limited body roll. The concept will showcase these characteristics courtesy of the solid-state battery technology, which – our sister publication Autocar UK recently reported – will be used in the company's electric cars from 2028.
David Moss, Nissan's senior vice-president for research and development in Europe, commented that "the solid-state batteries could accept triple the 130kW charge rate of the Nissan Ariya's lithium-ion pack." Therefore, such charger speeds could allow Nissan to reduce the size and weight of a car's battery pack – offering huge benefits to performance and dynamics – without compromising usability compared with current models.
Nissan's future plans
Nissan has committed €15.6 billion (Rs 1.38 lakh crore) towards the development of EVs over the next five years in addition to the €7.8 billion (Rs 69,000 crore) it has already spent. The Max-Out represents the sporting offering in a range of '-Out' cars that hint at the next generation of Nissan EVs. The rest of the range comprises of the Chill-Out crossover, the Surf-Out pick-up and the Hang-Out MPV.
Also see:
New Nissan X-Trail to be launched in India; Qashqai, Juke being evaluated
from Autocar Indiahttps://cdni.autocarindia.com/ExtraImages/20230130120243_2.jpg