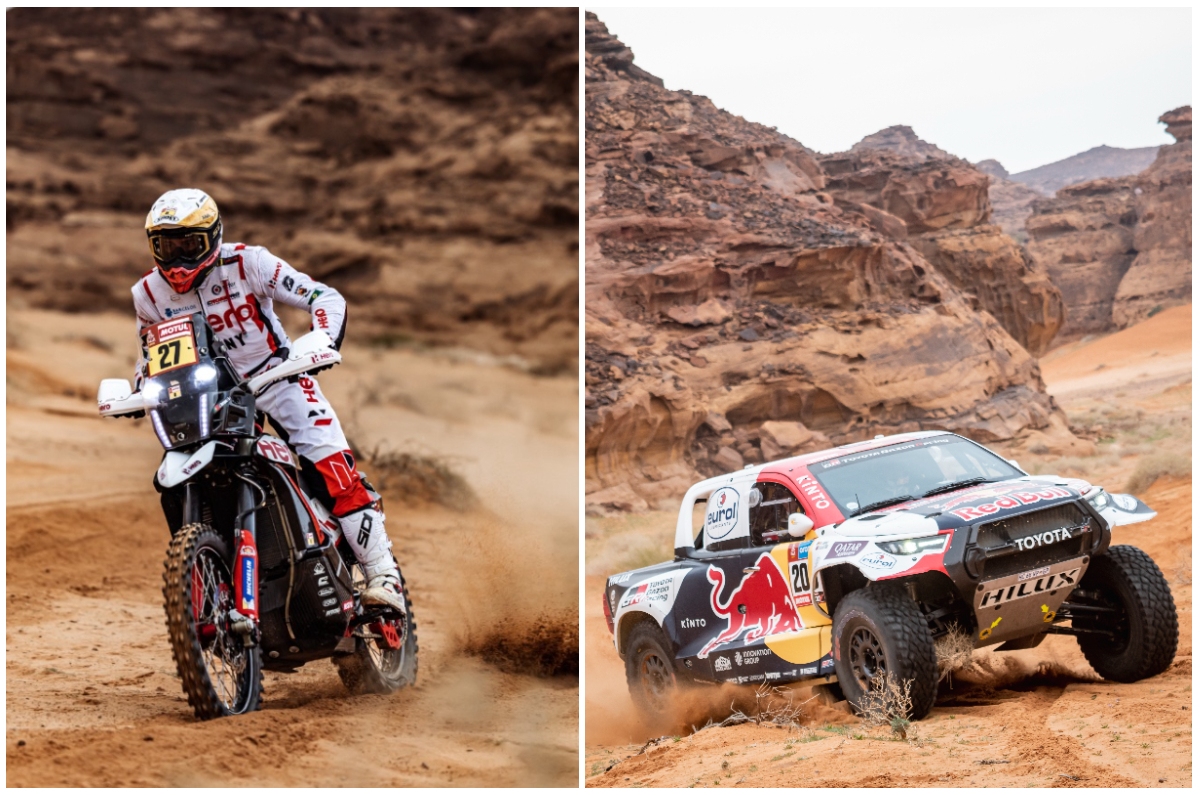 Stage 3 of the 2023 Dakar Rally, which was shortened to 377km due to the rain, saw some favourites like Ricky Brabec and Carlos Sainz take heavy losses. All four Hero MotoSports riders successfully completed the stage; Joaquim Rodrigues leading the way for the Indian squad with a top 10 finish.
Mechanical woes for Audi and Sainz
Al-Attiyah now over 30 mins ahead of Sainz
Ricky Brabec out of Dakar 2023
2020 Dakar winner Ricky Brabec has had to withdraw from the rally after a heavy fall in Stage 3. The Honda rider was suffering some neck pain and was transported by helicopter to a local hospital. Honda has since released a statement confirming he has no fractures or severe injuries, but will remain under observation for 24 hours.
With the early retirement of Sam Sunderland, two former winners of the Dakar Rally are now out of contention.
Rodrigues 10th for Hero MotoSports
Compared to the rocky Stage 2, Rodrigues enjoyed a much better run on the sand-packed Stage 3. Today's stage was really fast, sand-packed, and definitely a better day than yesterday. I enjoyed the sand, and for the entire day I was riding alone. I tried to push, but the terrain was quite dangerous. [Ricky] Brabec crashed today and he's out of the race. It affects us deeply when we see our friends on the ground. It took me a while to speed up again from there, but the rest of the stage was good for me," he said. A 10th place result in the stage takes him up to 16th place in the overall rankings.
Ross Branch also found the sandy terrain a lot more favourable and finished the stage 15th. With this, he's broken into the overall top 10 (in 10th place) as well.
Struggling with adapting to the updated Hero 450 Rally bike, Franco Caimi was 18th in the stage and stands 14th overall. Sebastian Buhler, who finished second in Stage 2, suffered a small crash just 50km before the finish line and lost a chunk of time as a result. He completed the stage 23rd, which drops him to 15th in the overall ranking.
Trouble free stage for Harith Noah
After a difficult and crash-strewn Stage 2, the next stage was a much easier run for Harith Noah, who is the only Indian rider competing in this year's Dakar Rally. He finished 33rd in the stage and is 32nd overall.
Sanders, Chicherit win Stage 3
Red Bull GasGas factory rider Daniel Sanders won Stage 3 to take the overall lead as well.
Over in the cars category, early leader Carlos Sainz was struck with mechanical woes, handing the lead to Nasser Al-Attiyah. Sainz' Audi RS Q e-tron R2 was forced to stop twice – the first time due to a broken ball joint and the second time due to a puncture. He lost nearly an hour, and has dropped to eighth place overall as a result.
GCK Motorsport's Guerlain Chicherit set the fastest time to win the stage, but a 13th place result was enough for Toyota's Al-Attiyah to take the overall lead. There's now over 30 minutes separating Al-Attiyah and Sainz in the standings.
Also see:
Dakar 2023: Hero MotoSports' Buhler second in Stage 2
Audi's 2023 Dakar Challenger is lighter, more efficient
from Autocar Indiahttps://cdni.autocarindia.com/ExtraImages/20230104015841_Dakar_2023_Stage_3.jpg