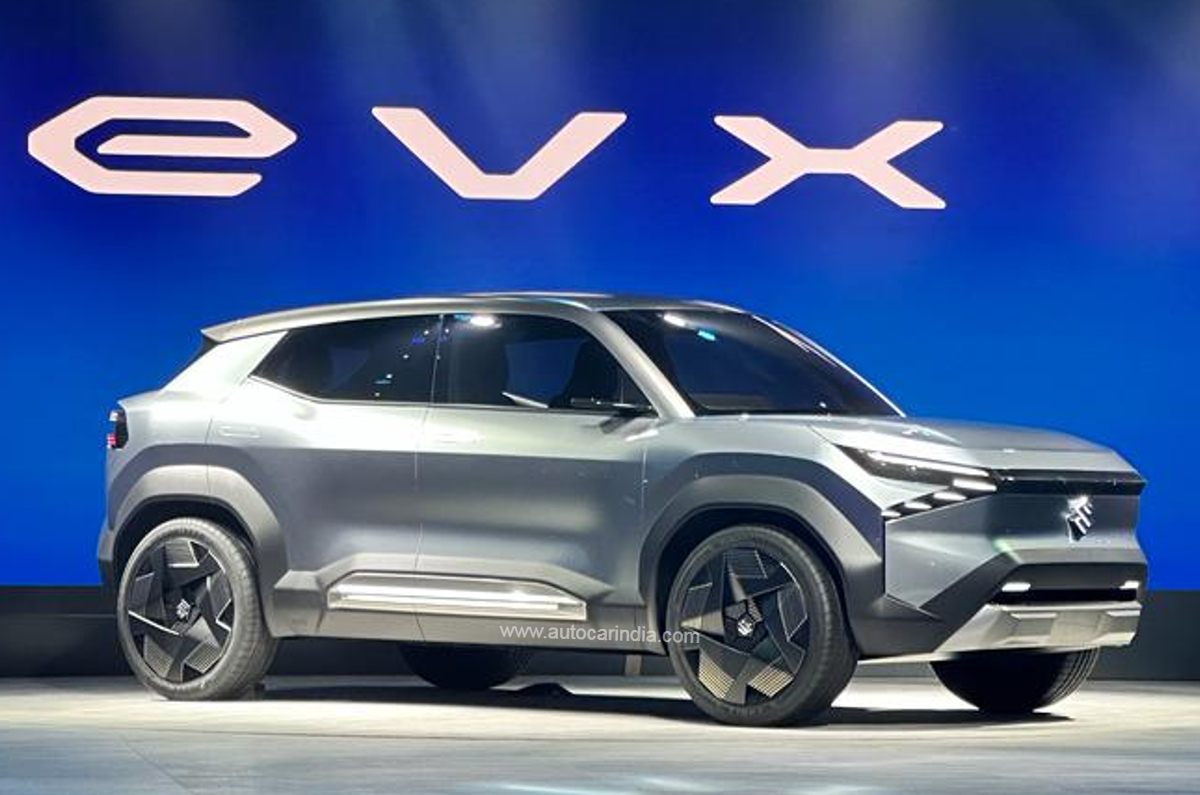 Maruti Suzuki has taken the wraps off the eVX SUV concept, the brand's showstopper at the Auto Expo 2023. The Maruti Suzuki eVX concept previews the brand's first born-EV SUV (Codename: YV8) that will go on sale in 2025 and will be the company's answer to the upcoming Creta EV, which is also expected to hit the market around the same time frame.
eVX SUV concept based on dedicated platform
Gets 60kWh battery; 550km range
4,300mm length is same as Creta
Maruti Suzuki eVX SUV: born EV platform, long wheelbase
The first set of details shared by Maruti Suzuki confirm that its new global electric SUV will be based on a dedicated EV architecture. This new born-EV platform will be jointly developed with Toyota and will also spawn its version. Maruti has announced that this new platform will give rise to a "range of future full-EV models" from the brand in the coming years. The production-spec Maruti YV8 SUV and its Toyota counterpart will be manufactured in Gujarat for India and will also be sold in some international markets.
As far as dimensions go, Maruti has said that this new SUV will be 4,300mm long, 1,800mm wide and 1,600mm high, which is almost the size of the current-gen Creta. We can confirm that this new SUV will have a 2,700mm wheelbase and thanks to the born-EV architecture, cabin space is expected to be revolutionary.
Maruti Suzuki eVX SUV: styling hints at new design language
The eVX concept shown at the Auto Expo sports a new design language that looks radically different from the styling of Maruti's current IC (internal combustion) engine range. Up front, the Maruti eVX concept has a flat nose and a tall bonnet with squarish looks, the V-shaped headlamps are slim and have a downward sloping daytime running lights that merge into the bumper.
The SUV concept has very short overhangs, high ground clearance, bulging wheel arches and a rugged cladding running across its sides, front and back. The sloping roofline neatly merges with the raked rear windscreen and the tailgate, giving it a coupe-SUV look. The alloy wheels resemble Tesla's aero-style wheel design and the low-profile tyres shod on the concept will most likely make way for more conventional ones in the production car.
Maruti Suzuki eVX SUV: powertrain and range
Maruti has announced that this new eVX SUV concept gets a 60kWh battery and will have a range of around 550km. As reported by us last year, the production version of this SUV is expected to have a similar capacity battery with a real world range of around 500km. There will be an entry-level version as well that will come with a smaller battery of around 48kWh and around 400km of real-world range. As far as battery production goes, Maruti has said that parent company Suzuki Motor Corporation has committed an investment of Rs 100 billion in India for production of battery electric vehicles.
Expect more details on Maruti's first born-EV SUV to trickle in as we get closer to its global debut in 2025.
Also see:
Maruti Suzuki eVX EV SUV concept image gallery
from Autocar Indiahttps://cdni.autocarindia.com/ExtraImages/20230111090228_MS.jpg