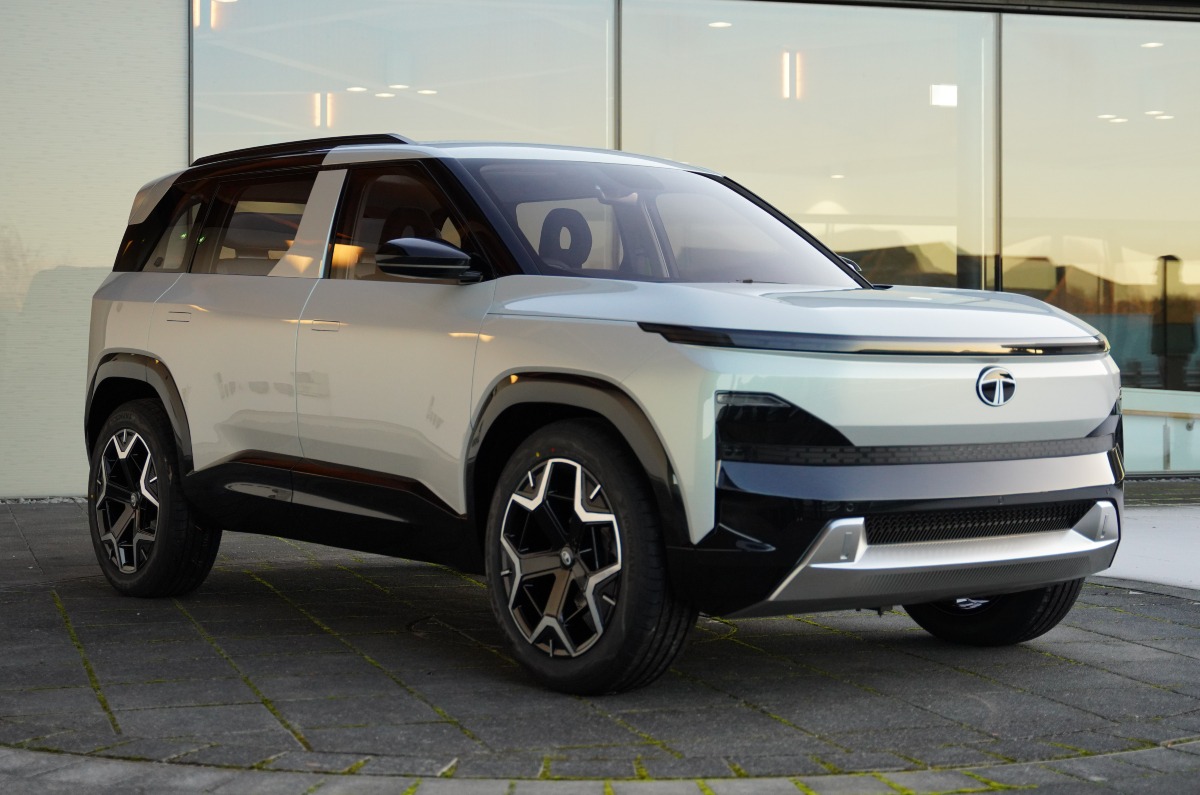 Tata Motors had a blockbuster showing at Auto Expo 2023, with several models on display in various states of production readiness. However, while Tata's announcement was quite scant on details, we've received a bit more information from company sources, specifically around when these cars will be launched. The products are an even mix of EV and ICE products, but while the latter includes petrol and CNG models, there has been no word on further diesel development, which means the present 1.5-litre engine in the Nexon, and the Fiat-sourced 2.0 in the Harrier and Safari, will soldier on for some time.
New Tata Sierra launch in 2025 with new 1.5 petrol engine
Undoubtedly the biggest star at the Tata Motors stall, the second iteration of the Sierra EV concept has inched ever closer to production-ready guise. Now with four doors and an interior with conventional controls and switchgear, it's clear this model is in its final stages of development. However, while the concept is an EV built on Tata's Gen 2 architecture – a heavily modified ALFA platform – what we now know is that it will also get a petrol engine. It will likely use Tata's new-gen 1.5-litre direct injection turbo-petrol engine announced at the Auto Expo, which will produce between 160 and 180 horsepower. This engine will also find its way into the Harrier, Safari and Curvv SUVs.
Tata Avinya Gen 3 EV launch in 2025
The Tata Avinya, shown to media in 2022 and to the public for the first time at Auto Expo, is the radical concept that previews the brand's first Gen 3 EV – built on a bespoke skateboard platform. It looks so futuristic, it would seem a launch would be a long while away, but it will, in fact, go on sale less than three years from now. Its range is touted to be more than 500km, which, at the rate battery tech is developing, doesn't seem too far-fetched for 2025. What will evolve and develop rapidly, however, is its interior, which in current guise, is minimalist and highly conceptual. Unlike the other cars on this list, the production version of the Avinya will not have an ICE counterpart.
Tata Harrier EV launch in 2024
The electric version of the Harrier was also a hugely welcome sight, as it brought with it some big revelations. For one, a visual refresh with some purely EV cues, like a blanked-off grille and aero-efficient alloy wheels, but also other elements that we could see on a facelift of the SUV that originally launched in 2019. The EV version, launching in 2024, will be a Gen 2 car, in that it will use a heavily modified version of the OMEGA platform. It will also get the option of two electric motors, making it the first time the Harrier is offered with 4WD. Expect the 1.5 turbo-petrol to join the range too, and an electric Safari (codename: Eturna) won't be far off either.
Tata Curvv India launch in 2024 with petrol and EV powertrains
The Curvv coupe SUV concept too made a return, this time in a bold red shade, with more production-ready elements, such as a grille and fog lamps, more road-ready wheels and tyres, and better-defined bodywork and interiors. And, much like the Sierra, it will get both EV and ICE powertrains. The petrol engines it will be powered by are the aforementioned 1.5 direct-injection turbo, as well as a new-generation 1.2-litre direct injection turbo, which could also find its way into the Nexon. This version, of course, will use a modified Nexon platform, albeit stretched to beyond 4m in length.
Tata Tiago EV Blitz launch in FY2024
On display at Auto Expo 2023, albeit with little fanfare, was a sporty variant of the Tata Tiago EV – a potential electric hot hatchback. Visually, the model can be told apart by its black alloy wheels, minor styling flourishes and a blue bolt motif next to the EV badge. Other than that, Tata didn't release any information on powertrain or chassis upgrades, but we now know it will be launched in FY2024, which means it could hit showrooms before the end of calendar year 2023. A spiritual successor to the short-lived Tiago JTP?
Tata Altroz and Punch CNG launch this year
While we still didn't get word on the long-awaited Tata Punch EV, what Tata did have on display were iCNG variants of the Punch and the Altroz hatchback, which we have learnt will be launching later this year. With the latter losing its diesel engine before April, the brand is looking to CNG to appeal to the cost conscious, and offering CNG in the Punch is similarly a no brainer. What's interesting is that Tata is on a mission to give CNG a more upmarket appeal and has been offering it in higher variants of the Tiago and Tigor. To this end, the Punch and Altroz iCNG also get a new 'twin-cylinder' tank arrangement, which is said to not impede boot space in the slightest.
New Tata Harrier and Safari Dark Edition launch this year
Tata already has #Dark editions for the Harrier and Safari, amongst other models, and in fact, even updated them in November 2022 to include the added features introduced with the Jet editions, like comfort rear headrests and all-round disc brakes. These newer Dark editions, then, are expected to bring even more updates, and will likely include the formal market introduction of the brand's new 10.25-inch touchscreen and new digital instrument cluster. We'll find out what else is new, when the pair is launched sometime this year.
Tata Altroz Racer launch still to be decided
Amidst the timeline of all the new Tata Motors launches, one exciting model on display seems to have an uncertain future. The Tata Altroz Racer is a hotter version of the Altroz iTurbo, with its 1.2 turbo-petrol engine turned up to Nexon spec. That means 120hp and 170Nm, which is a 10hp and 30Nm bump. There was no word on chassis upgrades, but the Altroz Racer does get a racy exterior and interior look. It also houses the aforementioned new infotainment and instrumentation screens, which are a huge improvement over the current Altroz's set-up. However, with the new-gen 1.2 direct-injection engine (not to mention RDE emissions norms) on the horizon, it's unlikely the old engine will be retuned just for this single model at this stage, and so, if the Altroz Racer is to come to life, it would only be at a much later stage.
Tata Model Launch timeline
Model
Launch timelines
Avinya EV
CY 2025
Harrier.EV
2024
Sierra.EV
CY 2025
Taigo.EV Blitz
FY 24
Curvv
CY 2024
Altroz Racer
TBD
Altroz iCNG
CY 2023
Punch iCNG
CY 2023
Harrier #Dark
2023
Safari #Dark
2023
Also see:
from Autocar Indiahttps://cdni.autocarindia.com/ExtraImages/20230112010313_Sierra%20EV.jpeg