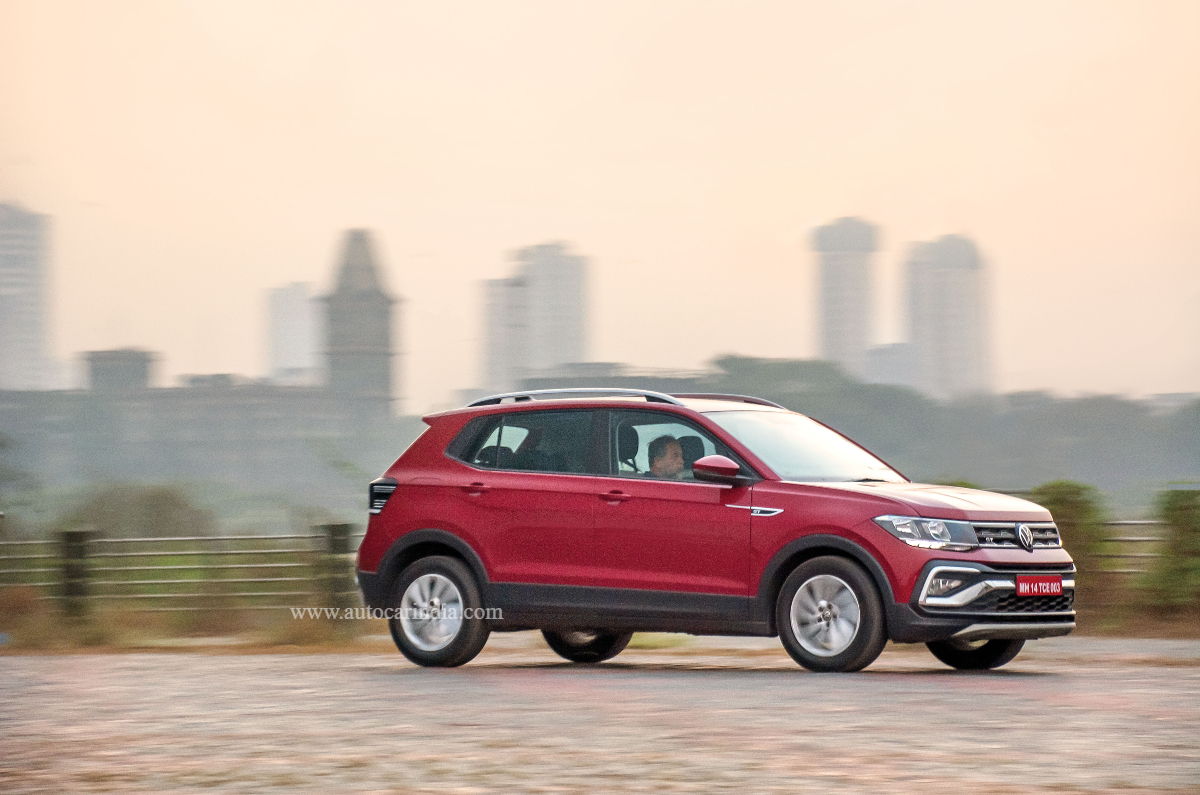 Sometimes it's easy to forget just how good a car or SUV 'feels' from behind the wheel. Case in point is the Taigun GT, an SUV that had me grinning, chuckling to myself and going wow, all over again.
Real dials look neat, are super legible and simply do the job better.
The Taigun, in fact, gets me on many levels. First up is the manner in which the door shuts with a 'THUNK'. The fit, the precision, the light and slick manner in which the door handles work, they all reek of sophistication. Very pleasing, very reassuring. Then there's the solid metallic 'CLACK' you get when you adjust the seat; it says a lot about the build. Also love the quality levels of the part faux leather and part textile seats, with the red double stitching adding the perfect accent. The seats are large and have generous bolstering that supports you well on long drives and I even get a kick out of all the rubber bits – stuff like the tray-like floor mats with their upturned edges that help keep the dirt in, and then there's the rubberised tray for your phone with the pair of collars that hold your phone perfectly and securely.
It feels special to hold, is effortless to use and is weighted just right.
En route to an early morning shoot, I also get a quick reminder of just how well this SUV drives. The controls just feel delicious. The oily smoothness of the steering wheel, the light but precise gear shift, the beautifully built tall gear lever and the damped manner in which the pedals function, it all feels perfectly curated and crafted. Then, of course, there's the heart of the matter, the 1.5 TSI engine, that pulls seamlessly from just 1,200rpm, ever rising in the manner it builds torque and power. The empty early morning freeway allows me to exercise my right foot, and then once out on the expressway, I enjoy the long pulls up the powerband even more. Yes, you can use every single one of those 150 horses.
Red trim on dash looks gaudy, detracts from classy cabin.
Our GT's mid-level spec is something I take time getting used to again. There's no keyless entry, and I need to use the key to start the car. Don't miss not having cooled seats, however, hardly ever use them, and a real instrument panel is just so much nicer than a screen that doesn't really give you any additional information. Wireless Apple CarPlay is essential and so is wireless charging, and this Taigun gets both. There's no sunroof, but do we really need a feature designed to warm up the cabin during cold European winters? No. Better to spend your money on something you can use: the effortless performance of the 1.5 TSI engine.
One-touch driver's side power window often baulks.
Also see:
Volkswagen Taigun 1.5 TSI GT long term review, 7,300km report
Volkswagen Taigun 1.5 TSI GT long term review, 10,000km report
from Autocar India - All Car Reviews https://ift.tt/4LPa2HD
https://ift.tt/3nmCe6i