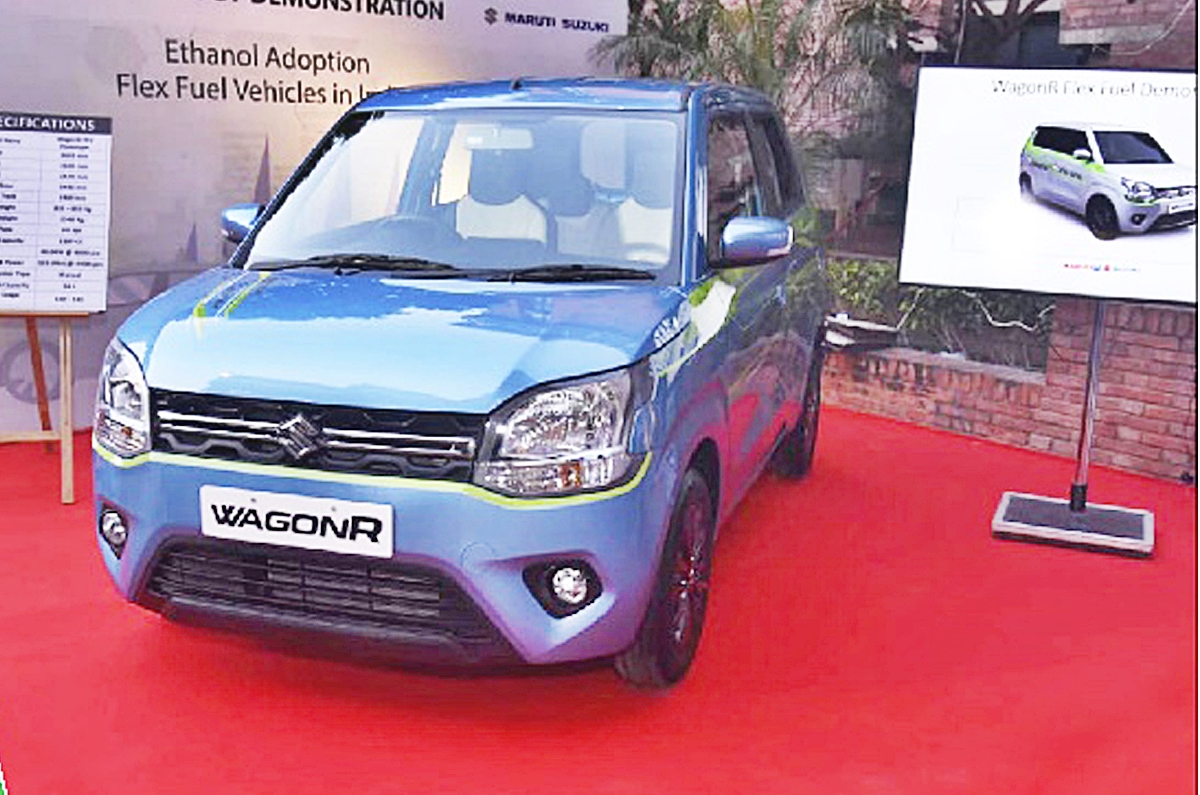 Maruti Suzuki has unveiled a Wagon R prototype in New Delhi that runs on flex fuel as part of its ongoing evaluation of flex fuel technology for the Indian market. The Wagon R prototype has been designed to run on any ethanol-petrol blend between 20 percent (E20) and 85 percent (E85).
Maruti claims it has been designed and developed completely locally with support from Suzuki Motor Corporation, Japan. The prototype was unveiled in the presence of Union Minister for Road Transport and Highways Nitin Gadkari.
Wagon R prototype sees various modifications to engine to suit flex fuel
Claimed to reduce tailpipe emissions by 79 percent over regular petrol
All Maruti cars will be E20 compliant by March 2023
Maruti Suzuki Wagon R flex fuel prototype: what's upgraded?
Flex fuel vehicles need a few modifications over regular gasoline engines to be able to handle the corrosive nature of ethanol and also its lower calorific value.
The Wagon R flex fuel prototype therefore comes with new fuel system technologies like heated fuel rail for cold start assist and ethanol sensor for ethanol percentage detection. It also sees updates to the engine management system, fuel pump and fuel injector and other mechanical components to make the engine more durable. The engine will also be compliant with the more stringent BS6 Phase-II emission norms.
Mr. Hisashi Takeuchi, Managing Director & CEO, Maruti Suzuki India Limited claims, "that the ethanol fuel-based Wagon R Flex Fuel prototype operating on E85 fuel will help reduce tailpipe emissions by 79 percent in comparison to a conventional gasoline Wagon R while ensuring the same power and performance."
Maruti claims it will introduce its first flex fuel vehicle in the compact segment by 2025. Additionally, as we have already reported, all cars in the company's stable will be E20 compliant by March 2023.
Apart from flex-fuel, Maruti is also massively pushing other alternate fuels such as CNG and bio-CNG – it currently has widest range of CNG vehicles in the country. And while the company is gradually building its strong hybrid portfolio, it will introduce its first full electric vehicle in India by 2025.
Toyota also exploring flex fuel technology
This, however, is not the first time a carmaker has explored flex fuel technology for the Indian market. Earlier in October this year, Toyota showcased a latest-gen Corolla Hybrid that was tuned to run on ethanol-blended fuel. It was used a technology demonstrator and a pilot project to test flex-fuel-powered cars in India. The Corolla Hybrid was powered by Toyota's 2.0-litre petrol engine capable of running on E85 ethanol, and also came with strong hybrid technology.
from Autocar Indiahttps://cdni.autocarindia.com/ExtraImages/20221213121652_Wagon%20R.jpg