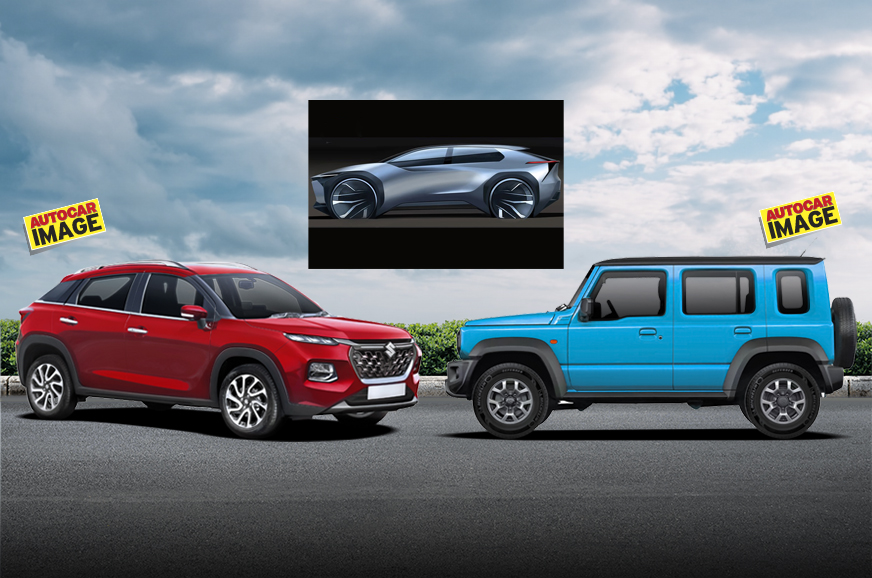 Having launched the new Brezza and Grand Vitara SUVs in 2022, Maruti Suzuki is all set to add two more SUVs to its line-up next year. It hopes that these SUVs would help it regain its 50 percent market share. Hisashi Takeuchi, MD of Maruti Suzuki said on Monday that the company will be showcasing two new SUV models and strengthen its product line-up in the country.

Apart from the two SUVs, Maruti will also take the wraps off an all-new EV SUV concept, which will spawn a Creta-sized full-EV SUV and go on sale by 2025. (CodenameYY8).
Baleno-based Coupe SUV, Jimny 5-door confirmed by MD
Both models will go on sale in 2023
Maruti's first EV SUV to be built in Gujarat
Takeuchi says his vision is "to give joy of mobility to as many people as possible in India", and the company, on its part, is working towards building a portfolio that meets different needs of Indian buyers. Takeuchi says he understands that there are "some holes" in the company's portfolio, and that they are trying "to restore it" with Suzuki Motor Corporation's support.
"We can strengthen our line-up. In the long run, we will come back to the position that we were. This year, we introduced vehicles for the Indian roads like the Baleno, new Brezza and Grand Vitara. It is an answer to those questions. We are on the way and we have more to come in the future. In January at the Motor Show, we will be showcasing two new SUV models," he added.
Our sister publication Autocar Professional had reported that the company will be showcasing it's the Jimny 5-door codenamed YWD and the Baleno based coupe SUV internally called YTB. These two vehicles are likely to bring in an incremental volume of over 2.5 to 3 lakh vehicles in 2023-2024, say people in the know.
Due to lack of SUV options, Maruti Suzuki's market share had slipped over 500 to 800 basis points to about 41-42%. However, with the entry into mid-size SUV with the Grand Vitara and the launch of the all new Brezza, the company has improved its SUV market share.

Maruti Suzuki Auto Expo 2023 line-up

Maruti Suzuki will display a total of 16 vehicles at the Auto Expo 2023 including the Electric Concept SUV, two all new SUVs, WagonR Flex Fuel prototype and its customised range of existing products like Grand Vitara, XL6, Ciaz, Ertiga, Brezza, Baleno, and Swift among others.|

Maruti Suzuki will have its stall at the Auto Expo 2023's Hall No. 9. Auto Expo 2023 starts on January 11, 2023 and opens for general visitors from January 13 to 18, 2023.
from Autocar Indiahttps://cdni.autocarindia.com/ExtraImages/20221220110725_Collage_GV_Baleno_Cross_002%20_1_.jpg