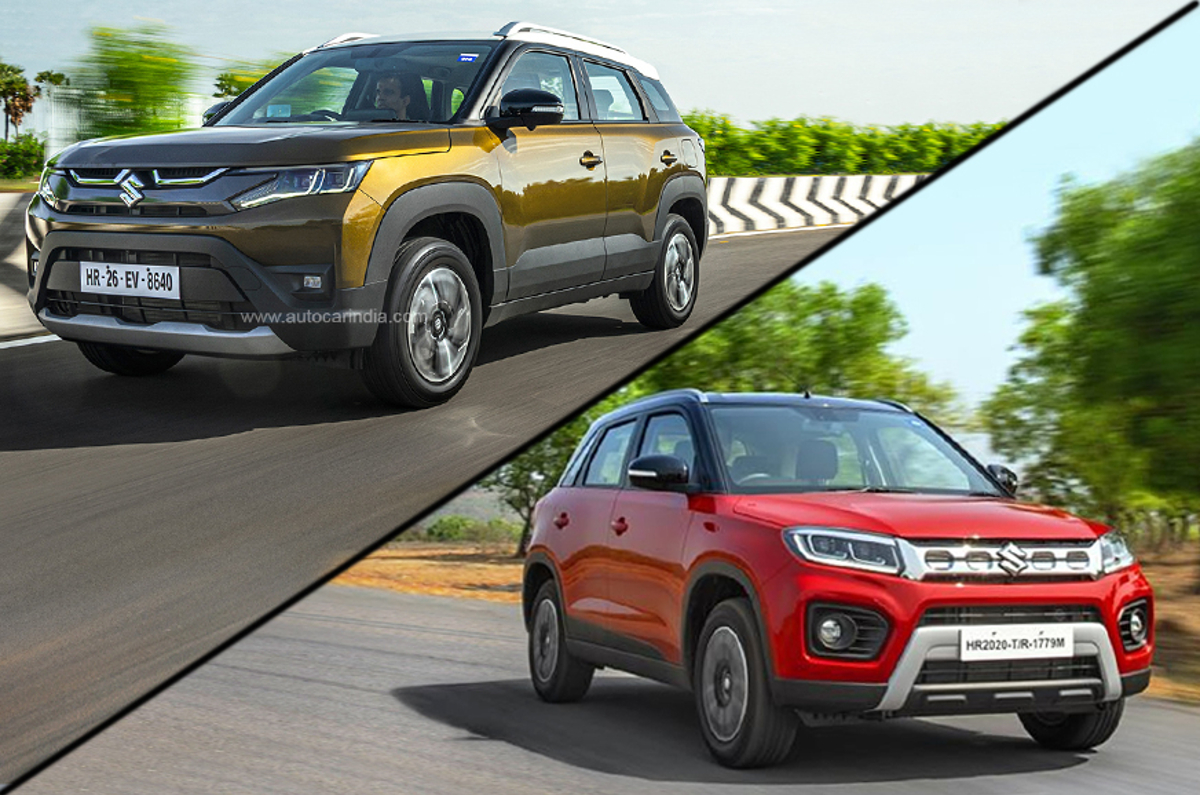 Maruti's new-generation K15C 1.5-litre petrol engine is squarely focused on fuel efficiency, and it boasts of an ARAI rating of 20.51kpl in the 2022 Brezza MT, a whopping 3.12kpl improvement over the outgoing Brezza powered by the older gen K15B (17.03kpl). But, in its quest to achieve better fuel efficiency, has Maruti Suzuki significantly dulled the Brezza's performance? Our review certainly indicates so, and to be doubly sure, we put it through our instrumented performance tests. The results are anyone's guess.
2022 Brezza is 60kg heavier than predecessor
New K15C makes 2hp and 1Nm torque lesser than K15B
Prices for Brezza start from Rs 7.84 lakh
Brezza old vs new: performance, 0-100kph compared
The 2022 Brezza's 1.5-litre petrol engine makes 103hp and 137Nm of torque, which is 2hp and 1Nm lesser than the outgoing version. On account of the added features and safety, the 2022 Brezza ZXI+ MT (top variant) tips the scales at 1,190kg, which is 60kg more than the outgoing Brezza petrol. In our performance tests, the 2022 Brezza takes a lazy 12.68 seconds to accelerate from 0-100kph, before hitting a top speed of 159kph. The 2020 model, on the other hand, did the sprint in just 11.52 seconds, and it went on to hit a higher top speed of 167kph.
The old Brezza is quicker than the 2022 iteration in rolling acceleration runs from 20-80kph in third and 40-100kph in fourth gear by 2.18 seconds and 1.79 seconds, respectively, which is a significant margin. Interestingly, Maruti hasn't altered or shortened the gear ratios to make the 2022 model feel peppier.
In our panic braking tests from 80kph to a standstill, the 2022 Brezza stops in 25.26 metres, which is similar to the outgoing version's 25.75 metre distance.
Maruti Brezza Performance: New vs Old
Speed
2022
2020
0 kph
0.00s
0.00s
10 kph
0.66s
0.52s
20 kph
1.30s
1.09s
30 kph
2.01s
1.76s
40 kph
2.99s
2.53s
50 kph
4.17s
3.80s
60 kph
5.54s
4.98s
70 kph
6.97s
6.18s
80 kph
8.58s
7.76s
90 kph
10.54s
9.55s
100 kph
12.68s
11.52s
1/4mile
18.44s
17.52s
Rolling acceleration
20-80kph in third gear
13.15s
10.97s
40-100kph in fourth gear
17.09s
15.30s
Autocar India's performance testing
For decades now, Autocar India has been putting every car sold in India through a set of instrumented performance and acceleration tests. These tests are conducted with a driver and one passenger on board, with all the fluids and tyre pressures set as per the manufacturer's recommendations. For accurate results, we use a GPS-based data logging device and do multiple runs to iron out any possible driver errors or inconsistencies, and finally, publish the quickest times.
2022 Maruti Suzuki Brezza: price, rivals
Launched back in June 2022, the Brezza currently costs between Rs 7.99 lakh-13.80 lakh (ex-showroom, Delhi) and is offered in four trims - LXi, VXi, ZXi and ZXi+. The Brezza rivals the likes of the Tata Nexon, Hyundai Venue, Kia Sonet and Mahindra XUV300 in the compact SUV segment.
Also read:
Citroen C3 Turbo performance, 0-100kph tested, explained
Maruti Suzuki Brezza long term review, first report
from Autocar Indiahttps://cdni.autocarindia.com/ExtraImages/20221227054537_vs.jpg