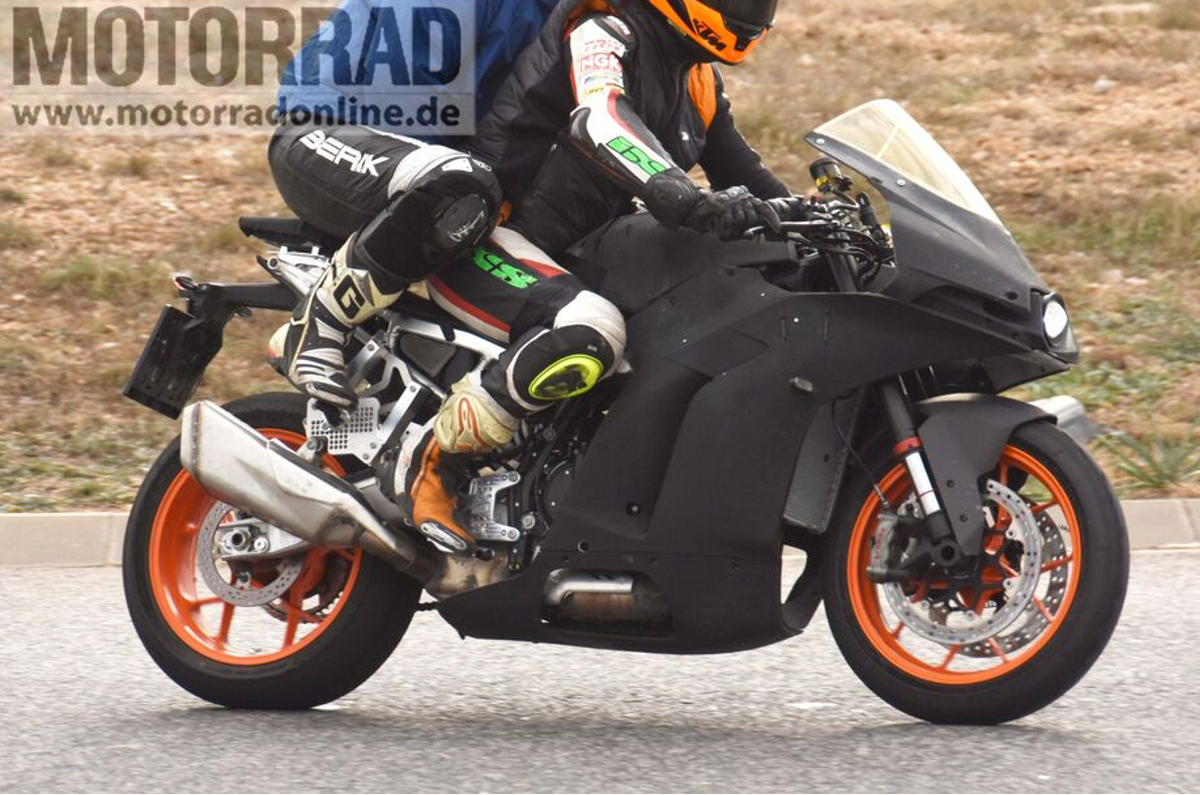 A new fully-faired KTM sportbike with a parallel-twin engine has been spied testing overseas and is widely rumoured to be the RC 990. The engine in this large-capacity KTM RC sportbike will reportedly displace close to 1,000cc and will be a bigger, reworked version of the 889cc engine found on the KTM 890 Duke.
New side slung exhaust muffler and larger radiator can be seen

Bodywork resembles KTM RC 8C track-only supersport

Production-ready model quite some time away
Parallel-twin KTM RC sportbike: design and ergonomics
The design of the fairing on this parallel-twin KTM sportbike bears much resemblance to the limited-edition track-only RC 8C supersport. However, this new bike will be fully road-legal as indicated by the presence of road-going necessities such as a round LED headlight, indicators, mirrors and a number-plate holder.
Since this is a sportbike, the handlebar has been done away with in favour of clip-ons although the riding position doesn't seem to be too extreme. This, despite the fact that the clip-ons are positioned under the top triple clamp. Looking at the relatively relaxed footpeg positioning also reinforces the idea that this bike will probably have one of the more forgiving rider triangles in the supersport segment.
The pillion perch doesn't appear to be the unforgiving afterthought that we've become accustomed to seeing and even the footpegs aren't overly aggressive. As of now, the bike features a metallic plate near the pillion footpegs, which is most likely there to fine-tune the final position.
Parallel-twin KTM RC sportbike: engine, underpinnings and electronics
While most of the engine remains out of sight thanks to the fairing, the exhaust system can be seen clearly. In stark contrast to the underseat exhausts seen on the KTM Duke 790/890, this KTM RC sportbike features a more conventional side slung exhaust end can, much like the flagship 1290 Super Duke R. Another notable difference to the 890 Duke is the presence of a much larger radiator.
Hardware seems to be top-notch stuff in the form of an adjustable WP front fork, what appear to be Brembo Stylema front calipers and a beefy gullwing swingarm. The TFT dash is much larger to the one found on the 890 Duke and bears more resemblance to the one found on the 1290 Super Duke R. One area where the parallel-twin KTM RC is similar to the 890 Duke is that it has the same cast alloy rims as the Duke. Expect a full suite of riding aids to be on offer.
Parallel-twin KTM RC sportbike: launch and rivals
Considering the overall rough finish on the parallel-twin engined KTM RC, a production model is quite some time away. In terms of what it will rival upon its launch, the bike is likely to be positioned close, but below the likes of the Ducati Panigale V2.
from Autocar Indiahttps://cdni.autocarindia.com/ExtraImages/20221205121535_KTM%20RC%20990%201.jpg