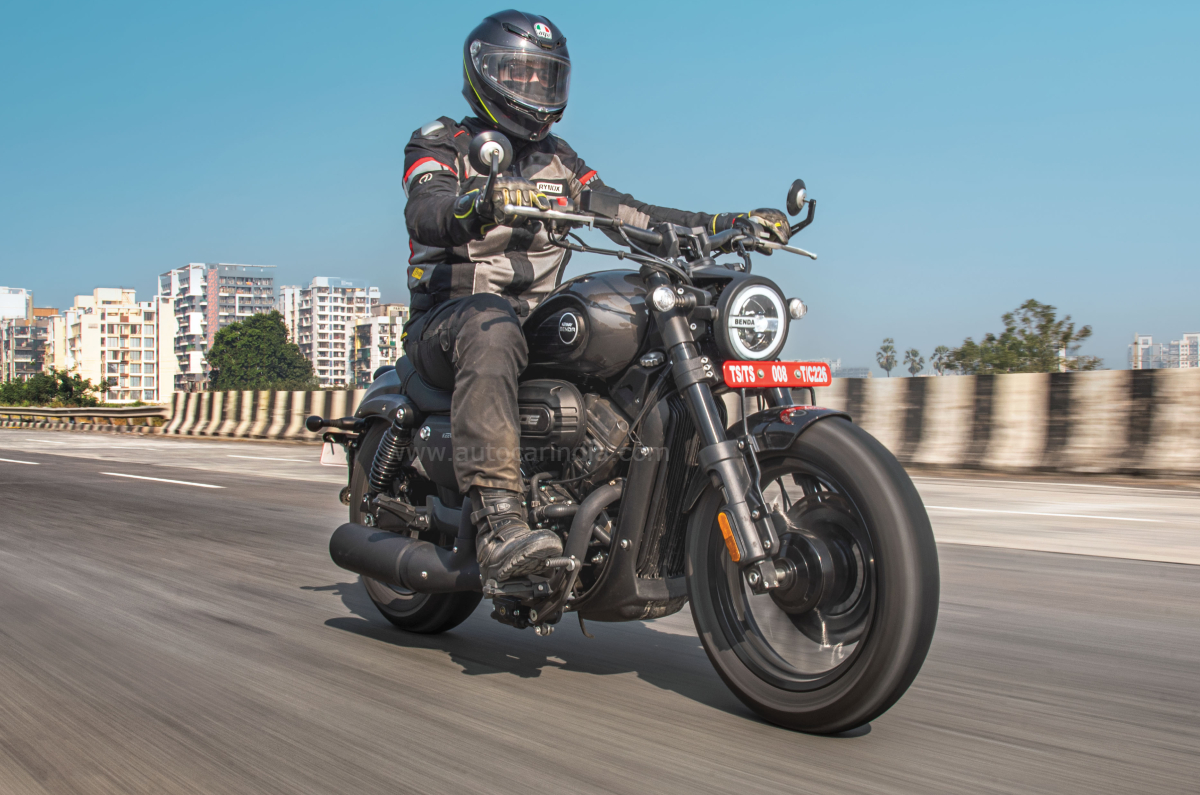 Up until a couple of months ago, if you wanted a true-blue twin-cylinder bobber experience, the Triumph Bobber and Harley-Davidson Forty Eight were your only options. Both have asking prices roughly the same as a midsize sedan, putting them out of reach for most of us. However, the recently launched Rs 3.89 lakh Keeway V302C aims to deliver a similar experience for a lot less dough.
Keeway V302C review: design
There's no denying the Keeway V302C is a pretty machine.
In the week I spent with it, many people swiveled their heads around to admire its butch stance. The handsome all-LED headlight has decent throw at high beam, although the low beam could be better. What's not nice is the exposed wiring around the front fascia and I'd have liked to see a small flyscreen to help improve the aesthetics. The front merges into a richly painted fuel tank that looks deceptively small but still holds 15 litres, which should comfortably translate to a range of over 300km, if ridden sensibly.
The rider's seat is just 690mm off the ground ensuring that riders of all shapes and sizes will be able to reach the ground. It's also quite well-padded and generous, even for my portly, err, undercarriage. In stark contrast is the diminutive, wafer-thin pillion perch, which even my girlfriend (who's 4'11") found a bit too small for comfort. Nevertheless, the cherry atop this pretty cake, in my books at least, is the dainty LED tail-lamp sat atop the swooping rear fender. However, these long, low-slung good looks do come at a price.
Keeway V302C review: ergonomics, ride and handling
Riding position is a bit awkward.
The Keeway's almost-flat handlebar canters your torso forward and the mildly forward set foot pegs push your feet ahead, resulting in the rider's triangle feeling akin to an acute-angled boomerang. This wouldn't be such a bad thing if Mumbai's roads were smooth and a reasonable amount of suspension travel was available. Unfortunately, neither point is true, with abysmal roads, and a scant 120mm and 42mm of front and rear suspension travel, respectively. This translates to your back feeling the brunt of every pothole, expansion joint and uneven surface. What makes matters worse is the rider's triangle makes it difficult to stand up and avoid impacts, making frequent stops to stretch inevitable.
While the ride quality is harsh, the V302C's handling left me surprisingly impressed. The long and low silhouette would have you believe that this bike is best suited to cruising down straight highways, but show it a twisty ribbon of tarmac and it is more than happy to boogie. The 167kg kerb weight feels effortless and the Timsun tyres are grippy enough to carry decent speed through the bends. What does hamper the corner-carving is the limited cornering clearance on offer with the exhaust and footpegs both touching down fairly quickly. The petite dimensions of the Keeway also allow you a lot of room to filter through traffic although turning radius is limited.
Keeway V302C review: engine and brakes
Brakes lack power and ABS intervention could be better.
The liquid-cooled 298cc V-Twin powering the Keeway V302C is quite an uncommon engine configuration in this segment as is its belt drive system. While the 29.5hp/26.5Nm output figures are nothing to write home about, it's the refinement that really sets it apart from the single cylinder bobbers from Classic Legends. Unlike most V-Twins, this one doesn't really heat up either.
Performance is far from lacking thanks to the strong mid-range, although power trails off above 9,000rpm. The motor also has good tractability, and 45kph in 6th gear is perfectly comfortable. One downside on the engine front is the short gearing, which caps cruising speeds at just around 100kph, after which it gets quite buzzy.
Mind you, pushing past 100kph is not something that you'd want to do given the uninspiring braking performance on offer. The brakes lack feel and need to be given a proper tug to haul the bike down. ABS intervention is much too cautious as well and can put you in a bind in panic braking scenarios.
Keeway V302C review: features, fit and finish
Upside-down name plate is shoddy.
Given its rather optimistic pricing (against its 300cc peers), there are some glaring omissions here. A simple yet informative LCD display is on duty here, but it's hard to read under direct sunlight thanks to its awkward positioning. The only other noteworthy feature is a USB charger. There's also no getting away from the fact that this is a hurriedly rebadged Benda BD300 – something that can be seen in the Benda logos visible in multiple areas like the LCD display, the fuel tank, headlight and more. We also faced some issues, like the horn would stop working intermittently, and an issue with the low rpm fuelling that the service folks solved by raising the idle rpm to a little above 2,000rpm. The company claims that higher-spec horns are on the way, which will address this issue. Perhaps the most glaring issue of all was the upside down badge installed in clear view on the air filter cover on the right side of the engine.
Keeway V302C review: verdict
At Rs 3.89 lakh, the Keeway V302C costs nearly double compared to the other 300cc single cylinder bobbers in India. Its V-Twin engine is a particular highlight and the aesthetics are spot on as well. The trouble is that besides these positives, there's not much else to cheer about. The ride is punishing if you don't have access to smooth roads, its pillion seat is all but useless and the patchy fit and finish and glaring lack of attention to detail does not justify its premium price tag. If you are on a sub-Rs 5 lakh budget but want something similarly stylish with a multi-cylinder engine, a pre-loved machine from one of the reputed brands is your best bet.
Also See:
from Autocar Indiahttps://cdni.autocarindia.com/ExtraImages/20221213023158_Keeway%20V302C%20review%201.jpg