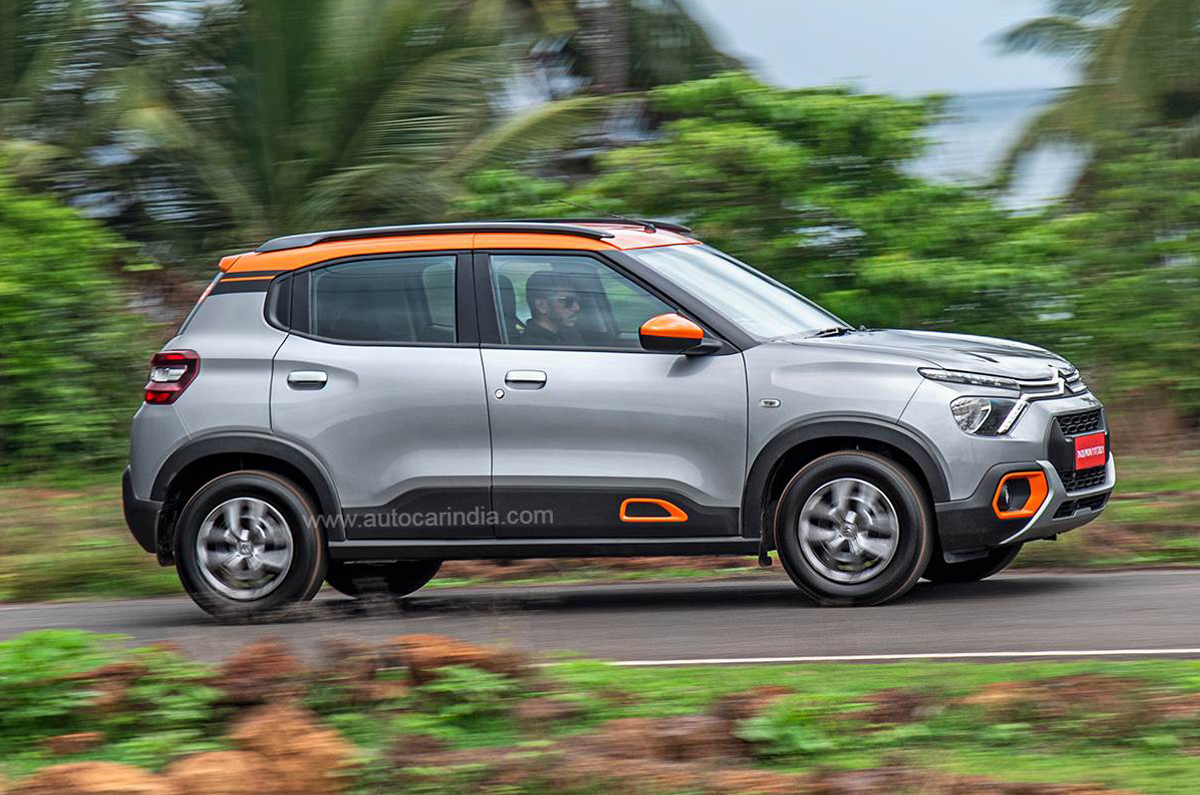 The C3 is Citroen's entry level cross-hatchback offered with a choice of two petrol engine options – 3cyl, 1198cc petrol and 3cyl, 1,199cc turbo-petrol; the former gets a 5-speed manual, while the latter gets a 6-speeder. We put the turbo-petrol version through our instrumented acceleration and performance tests, and to our surprise, it turned out to be quicker than all turbo-petrol sub-4-metre compact SUVs.
Turbo-petrol produces 110hp, 190Nm
Best power and torque to weight ratio below Rs 10 lakh
What is the Citroen C3's 0-100kph time?
This cross-hatch accelerates from 0-100kph in just 10.72 seconds, and it dispatches the quarter mile sprint in 17.34 seconds, maxing out at 159kph. Rolling acceleration times from 20-80kph in third gear and 40-100kph in fourth gear are 10.24 seconds and 14.71 seconds, respectively.
The C3's acceleration times make it significantly quicker than any of its direct competitors, and the only hatchback that's quicker is the Hyundai Grand i10 Nios Turbo, which does the 0-100 kph sprint in 9.82 seconds.
The Citroen, however, punches well above its weight, and outpaces all compact SUVs on sale. To put things in perspective, the most powerful compact SUV Mahindra XUV300 T-GDI (131hp) with a 6-speed manual does the 0-100kph sprint in 10.8 seconds, while the lightweight 100hp Nissan Magnite turbo manual's time is 11.18 seconds.
Analysis of the Citroen C3's acceleration
With a kerb weight of merely 1,035kg, the Citroen C3 boasts of segment-best power-to-weight ratio and torque-to-weight ratio of 106hp per ton and 184Nm per ton, respectively. Its 110hp turbo-petrol engine spins cleanly, and because it produces max torque of 190Nm from as low as 1,750rpm, it feels energetic right from the get-go. And complementing its acceleration are its well-judged gear ratios. But getting a quick time isn't easy in the C3, as it misses a tachometer, so you have to analyse its power band purely based on 'feel' and time your shifts to perfection to get the best times. What helps is that its clutch is easy to judge and the smooth 6-speed manual gearbox supports quick shifts.
Citroen C3 Acceleration
Speed (kph)
Time (seconds)
0
0.00
10
0.57
20
1.19
30
1.76
40
2.70
50
3.55
60
4.59
70
5.71
80
7.02
90
8.90
100
10.72
1/4 mile
17.34
Rolling acceleration
20-80kph in third gear
10.24
40-100kph in fourth gear
14.71
Autocar India's performance testing
For decades now, Autocar India has been putting every car sold in India through a set of instrumented performance and acceleration tests. These tests are conducted with a driver and one passenger on board, and with all the fluids and tyre pressures set as per the manufacturer's recommendations. For accurate results, we use a GPS-based data logging device and do multiple runs to iron out any possible driver errors or inconsistencies, and finally publish the quickest times.
Also read:
Electric Citroen e-C3 to launch in Jan 2023
from Autocar Indiahttps://cdni.autocarindia.com/ExtraImages/20221206020542_C3.jpg