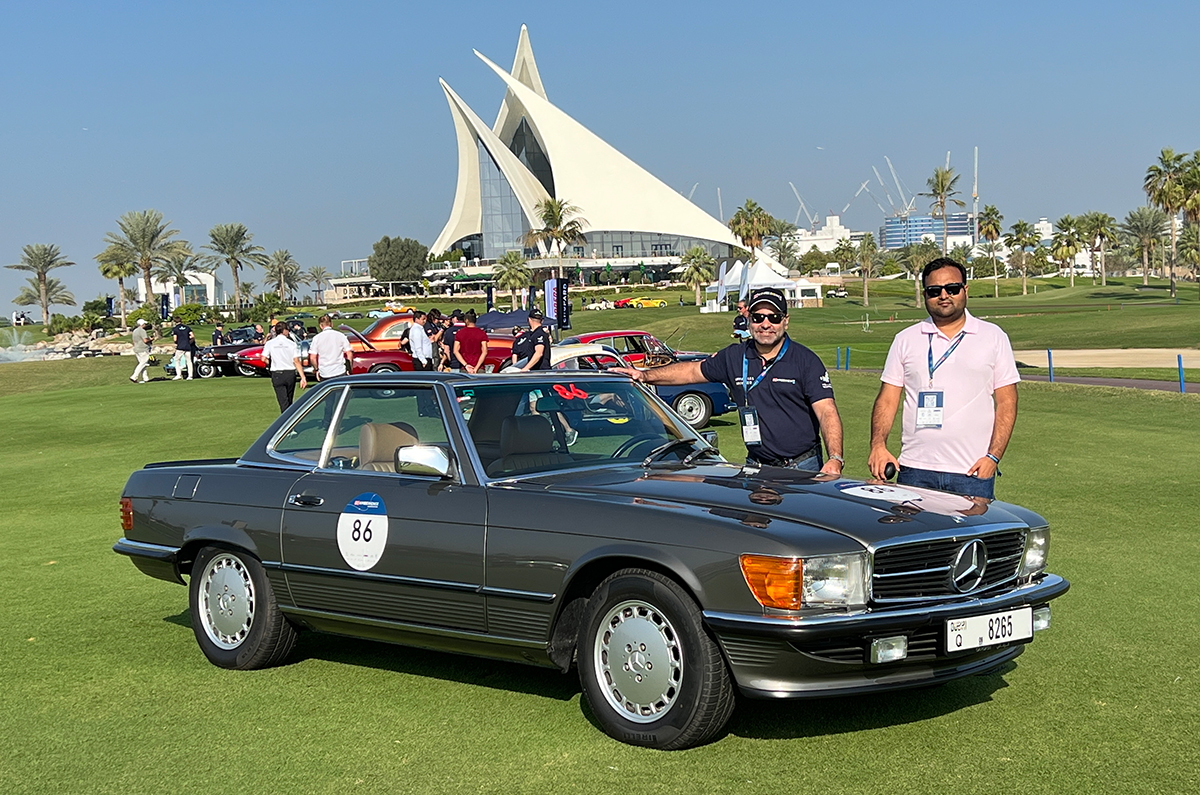 I am driving a Mercedes-Benz 560SL (R107) behind Simon Kidson's Lamborghini Countach with its legendary licence plates – UFO 77 – and have Jacky Ickx in his 1968 Porsche 911 – Bahama Mama – in my rear-view mirror. A moment later, I am being overtaken by Jochen Mass driving a Mercedes-Benz 300SL Gullwing, and just ahead of me is an invaluable 1961 Ferrari 250 Testa Rossa. In case you are wondering, this isn't a dream, rather I am at the 1000 Miglia Experience, the first of seven editions to take place in the UAE.
Over 100 vintage supercars participated in the event
Four-day 1,600km (approx) route passed through all seven Emirates
Sir Sterling Moss winning the 1955 Mille Miglia in a Mercedes-Benz 300SLR 32 minutes ahead of his second-placed teammate, the legendary Juan Manuel Fangio, is one of motorsport's greatest stories ever for me. And participating in the 1000 Miglia in a Mercedes-Benz SL was always a dream, and so when I learnt of the 1000 Miglia Experience UAE, I immediately decided to participate.
Cruising through the Emirates
Organised by 1000 Miglia SRL in partnership with Octanium, the iconic 1,000-mile event toured across the UAE, visiting all seven Emirates along the four-day route. December 4 saw over 100 cars on display at the Dubai Creek Golf Club and the historic event flagged off from Dubai on December 5, becoming the largest classic motorsport event ever staged in the Middle East. From Dubai, the teams tackled challenging time trials in Hatta, threaded the winding cliffs of Fujairah, and then stormed inland to the daunting peak of Jebel Jais Mountain in Ras Al Khaimah, before returning to Dubai via the Northern Emirates of Umm Ul Quwain, Ajman and Sharjah to a rousing traditional welcome at the well-known Flat12 Café in Dubai.
After a night aboard the famous Queen Elizabeth 2 luxury liner, the cars and teams travelled south to the UAE's capital, Abu Dhabi, for a special stage on the famous Yas Marina Formula One Circuit, before concluding at Emirates Palace in Abu Dhabi on December 8. As Martin Halder, CEO of Octanium, said: "The first 1000 Miglia Experience UAE has been an enormous triumph and a truly landmark event for the UAE automotive scene."
Day 2 was the most exciting, as the cars raced up Jebel Jais – the highest point in the UAE, approximately 1,500m above sea level – on what is probably the most beautiful mountain road in the world. Gaurav Dhar's super rare Lotus Eleven and a Ferrari 250 GT sounded mind-blowing as they blasted up the hill.
The event saw classic car celebrities and enthusiasts from across the globe like Sandra Button, chairman of the Pebble Beach Concours, driving a 300SL roadster; Hans Kleissl of HK Engineering, the worldwide specialist for 300SL, and supermodel David Gandy driving a Jaguar XK 120. British racing driver Oliver Webb was also behind the wheel of a Lykan HyperSport.
The home crowd
Several Indians participated in the event, with Amirali and Wendy Jetha winning the Jubilee Class in their 1956 Fiat Millicento. Also participating in the event was Yohan Poonawalla in his 1964 Lincoln Continental that was originally owned by the then-Pope and was later gifted to Mother Teresa; Xerxes Master and Jehangir Bhoot in their Fiat 1100 Millicento; Ishtiyaq and Lubna Nagree in their Mercedes-Benz 500SL (R107); Farida and Jimmy Tata in a Ferrari Testarossa; Shivaum Punjabi in an SL500 (R129), Amal Tanna and Kaushik Vibhor in a 1950 Ford Club Coupe V8; and myself and Chinmay Bafna in a Mercedes-Benz 560SL (R107).
An elated Imthishan Giado Octanium, head of marketing, said "Our first four-day 1000 Miglia Experience UAE event was a tremendous success, with dedicated teams that travelled from all over the world to join this extraordinary celebration of the classic automobile. I would like to particularly thank our popular Indian contingent of participants whose vehicles were a hit with the UAE public – one talented competitor was rewarded with a coveted top spot in the Jubilee Class. What an outstanding showing, I expect to see even more amazing vehicles and drivers from India next year."
As one would expect, some of the most exotic and valuable classic cars and modern hypercars participated in the event, which saw a record number of 11 Mercedes-Benz 300SL participate, alongside some iconic Bugattis, from the Type 57 Stelvio to a Veyron Grand Sport.
For me, the 1000 Miglia Experience UAE was extraordinary, and I can't wait to go back next year.
Results
Overall
1000 Miglia Class 1927-1957
1. Salim Al Rifai / Giordano Mozzi (2019 Ferrari 488 Pista)
1. Giovanni Soldo / Sabrina Messina (1956 Mercedes-Benz 190SL)
2. Giovanni Soldo / Sabrina Messina (1956 Mercedes-Benz 190SL)
2. Wilfried Porth / Robin Porth (1954 Mercedes-Benz 300SL Gullwing)
3. Wilfried Porth / Robin Porth (1954 Mercedes-Benz 300SL Gullwing)
3. Aldo Bonomi / Tarcisio Bonomi (1949 Healey Silverstone)
Also see:
Star cars at 1000 Miglia Experience - image gallery
Mercedes Benz Classic Car Rally 2022 video
from Autocar Indiahttps://cdni.autocarindia.com/ExtraImages/20221223100522_Perseus_and_Chinmay_with_their_560SL_at_the_Dubai_Golf_Club_before_the_flag_off.jpg