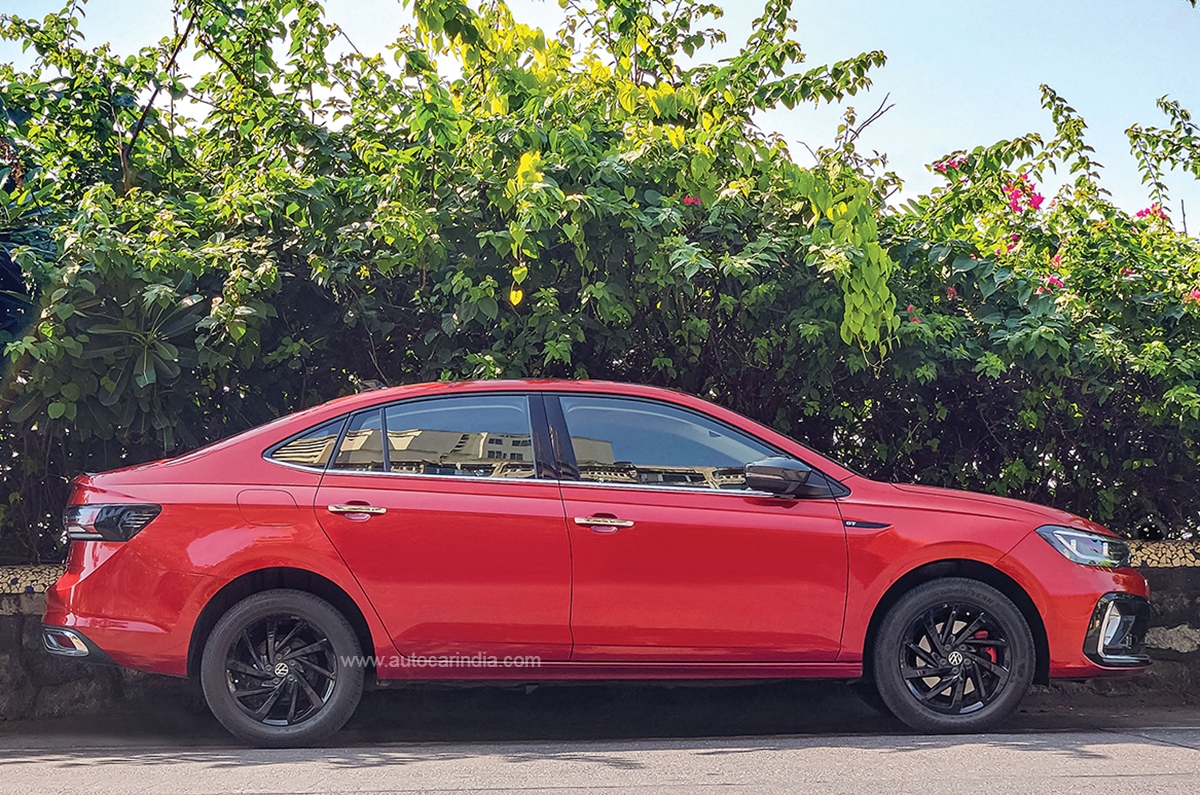 Right off the bat, let me just say, I'm a big proponent of sedans. Before the SUV boom, these longer, more stately vehicles are what told people you had moved up and out of your entry-level hatchback, and arrived in life. Now, of course, things have changed; price and body style aren't directly correlated, but that impression has stuck with me. And yes, I see the practical merits of an SUV, but just as quickly as they've managed to saturate the market, my interest in them has started to wane.
So, sedans – what makes me like them so much? Let's use our new, long-term Volkswagen Virtus as an example, which, handily, shares our office garage space with its SUV counterpart, the Taigun. I ran the Taigun for a few months recently, so the experience is fresh in my mind.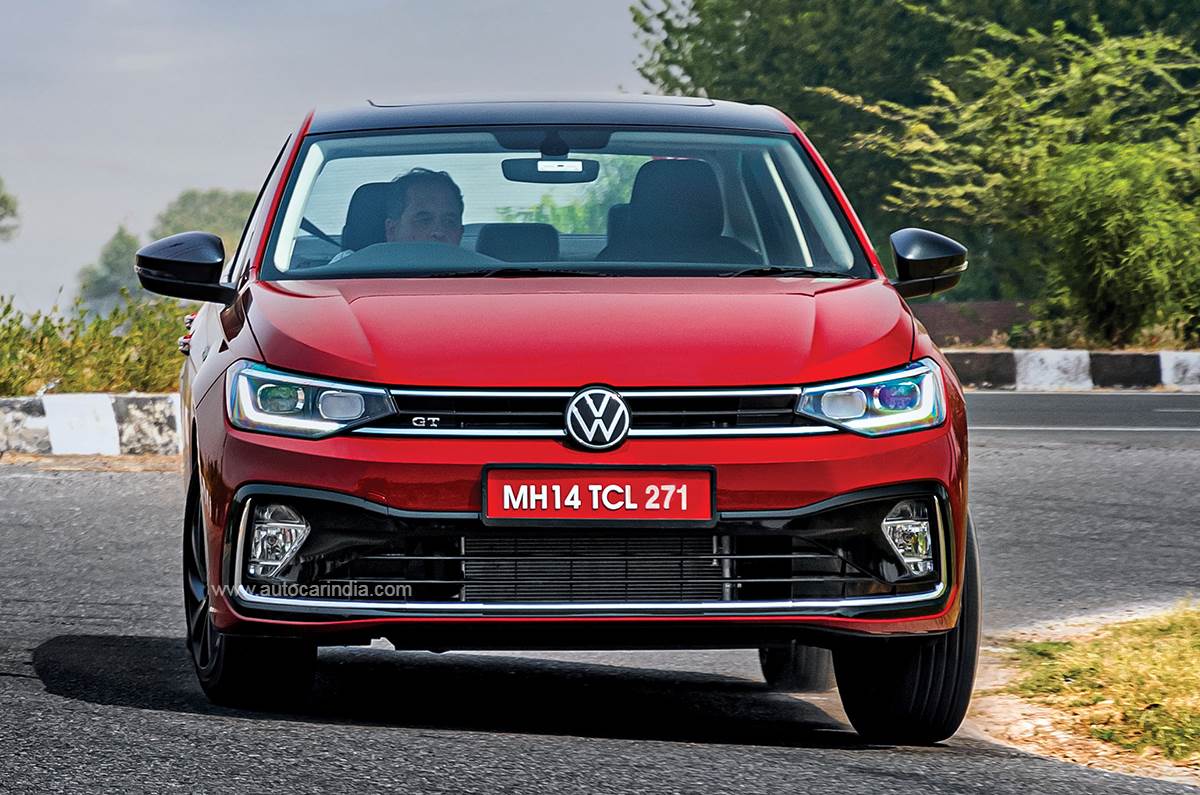 Low centre of gravity, nice steering and well-judged suspension.
Aesthetically speaking, I think the three-box sedan shape still rules the roost for that stately feeling, and boy does the Virtus have the proportions down right. In fact, it reminds me of the last Jetta, which was a masterclass in understated elegance. Okay, that chunky 'Thanos chin' that is the front bumper looks a bit excessive in the wrong colour, but otherwise, it's spot on. And here's the thing, it does that while having 179mm of ground clearance; just 9mm less than the Taigun. Now that I've mentioned it, you'll notice the gaps in the wheel arches, but somehow, I don't think they spoil the stance all that much; it's nothing a wheel and tyre upsize won't fix dramatically.
Bright Wild Cherry Red colour fits right in during the festive season.
If you think the sedan boot gives away a lot to the SUV, you'd be wrong, because, though you can't stack it to the ceiling, the Virtus' 521-litre boot is a full 136 litres more than what you get in the Taigun. And you still have the ability to drop the rear seats for more if you need it. Some might prefer the 'step into' an SUV as opposed to the 'sit down in' you have to do with a sedan, but I'll make that sacrifice while my knees are still working. Besides, the lower seats are much better for my stubby-legged dog, who I take for drives as often as I can.
DSG can be clunky and slow to respond at low speeds.
I loved driving our long-term Taigun, but thrilling as it is to have 150hp and a manual at your disposal, when all's said and done, in traffic, you really want an automatic. And my commute is almost entirely traffic. I was happy to learn, then, that our Virtus would also have the 150hp, 1.5 TSI Evo engine, but this time with VW's famously quick-shifting DSG auto. While the high-speed thrills remain, for the slow crawl that is Mumbai traffic, this iteration of the DQ200 DSG is horribly clunky.
Struggles to even hit 9kpl on my admittedly slow commute.
It slams into gears at low speeds, making it near impossible to set off smoothly, and it fumbles with both upshifts and downshifts, not responding to your inputs intuitively. Worse than this, though, even with a light throttle and without engaging S mode, it prioritises high revs, which not only lets some engine buzz into the cabin but also ruins the fuel economy. I know this thanks to the manual Taigun, which on the exact same route averages around 10.5kpl; the Virtus struggles to hit 8.
The performance from the 150hp TSI is properly exhilarating.
It's sad because this is inherently a very efficient engine, thanks to cylinder deactivation and engine stop/start. It also has enough low-down pull just above idle – at 900-1,200rpm – where it is efficient too, and perfect for crawling through traffic. Trouble is, the DSG prefers to keep things hovering around 2,000rpm, and there's nothing you can do about it. Never thought I'd say this, but I want the manual back, for efficiency!
Perhaps then, the perfect variant is the 1.0 TSI with the 6-speed torque converter, because just about everything else on the Virtus is just so good. It feels big, comfortable, prestigious and full of tech. I think it just might be my favourite of the lot of midsize sedans currently on sale. Let's see what some more time with this smart, fun-to-drive VW will bring to light.
Also see:
2022 Maruti Suzuki Baleno long-term review, first report
Audi Q5 long term review, first report
from Autocar India - All Car Reviews https://ift.tt/g0KtEOJ
https://ift.tt/72OoheA