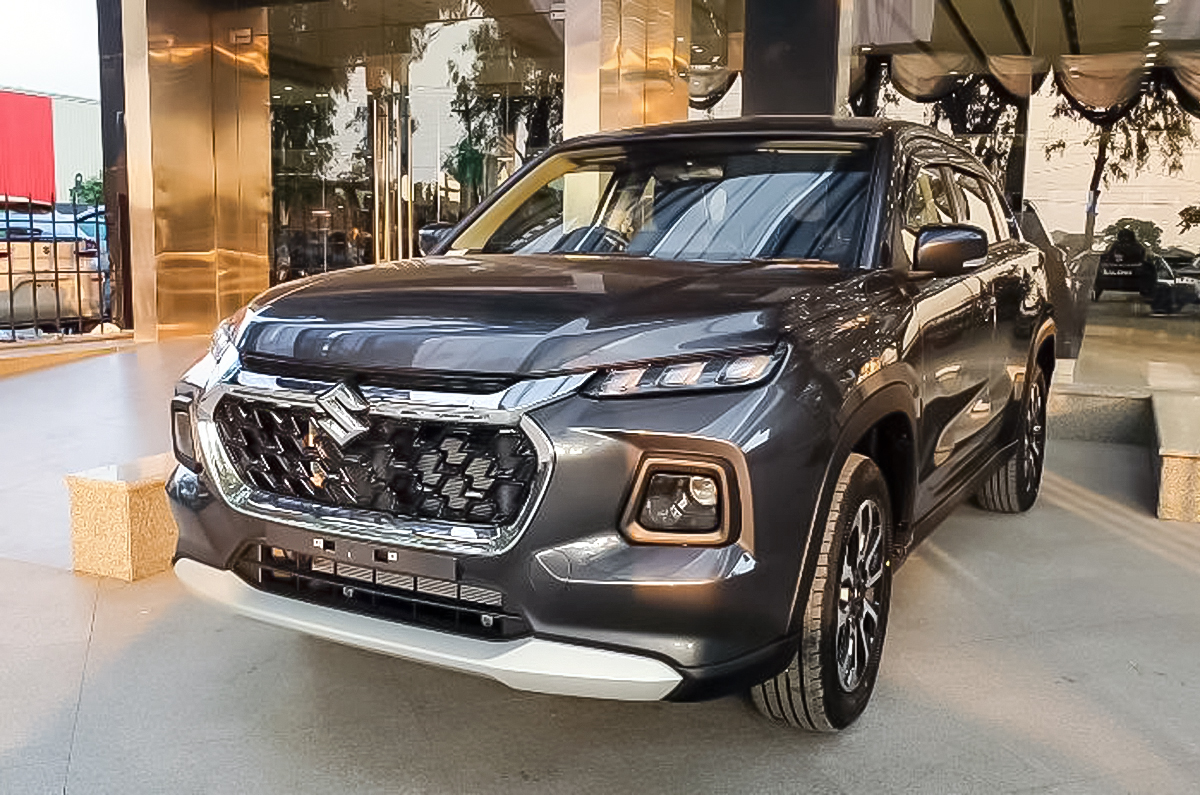 Manufacturers made the most of Dussehra and Diwali as people prefer buying cars around this time of the year in India. In October 2022, the wholesale numbers for the passenger vehicle industry – for 14 out of 16 manufacturers – stood at 3,36,298 units, which is a 29 percent increase over last year. October is the fifth month in a row where despatches have crossed 3,00,000 units.
October 2022 Passenger Car Sales
Carmaker
October 2022
October 2021
YoY growth
Difference
Maruti Suzuki
1,40,337
1,08,991
29%
31,346
Hyundai
48,001
37,021
30%
10,980
Tata
45,217
33,925
33%
11,292
Mahindra
32,298
20,130
60%
12,168
Kia
23,323
16,331
43%
6,992
Toyota
13,143
12,440
6%
703
Honda
9,543
8,108
18%
1,435
MG
4,367
2,863
53%
1,504
Volkswagen
3,510
3,077
14%
433
Skoda
3,389
3,065
11%
324
Citroen
1,195
64
1767%
1,131
The cumulative sales for the first seven months of the fiscal is 22,69,633 units, and this lays the first foundation for a continued drive to attain the highest-ever passenger vehicle sales for a fiscal. If the same pace of growth and momentum continues in the remaining months of FY2023 (April 2022-March 2023), India's passenger vehicle sales will surpass FY2019's (April 2018-March 2019) 33 lakh units by a fair margin.
The top six manufacturers – Maruti Suzuki, Hyundai, Tata, Mahindra, Kia and Toyota – together account for 3,02,319 units or 90 percent of the total sales in October. Of these, Maruti Suzuki alone has a 42 percent share. Here is a look at how the car brands fared.
Maruti Suzuki India: 1,40,337 units / 29 percent YoY
The market leader registered total sales of 1,40,337 units, up 29 percent over October 2021's 1,08,991 units, but it was a 5.42 percent decline over September 2022's 1,48,380 units. The company said that the shortage of electronic components had a slight impact on the production of vehicles, mainly in the domestic market.
What worked in Maruti Suzuki's favour was that the demand is slowly, but steadily growing for its entry-level cars – the Alto and S-Presso. All Maruti cars except the Eeco witnessed growth, and the Alto and S Presso saw combined sales of 24,936 units – up 14.22 percent over the same period last year.
The Baleno, Celerio, DZire (including Tour S), Ignis, Swift and Wagon R which sold a combined 73,685 units, showed a strong 51 percent growth over last year. Maruti Suzuki also saw growing demand from the new Brezza, S Cross, XL6 and the new Grand Vitara. These models contributed to 30,971 units, which is a 14 percent increase compared to October 2021. The carmaker is seeing a particularly strong demand for the new Grand Vitara and the Brezza.
Sales of the Ciaz also grew 76 percent with 1,884 units sold. The Eeco was the only model that saw a decline with 8,861 units sold, which is down 14 percent over the same period last year.
Hyundai Motor India: 48,001 units – 30 percent YoY
Hyundai Motor India recorded sales of 48,001 units, up 30 percent (October 2021: 37,021). The Creta midsize SUV and the Venue compact SUV, which are amongst the top sellers in their respective segments, are also big sellers for the Korean carmaker each month.
Commenting on October numbers, Tarun Garg, director (Sales, Marketing & Service), Hyundai Motor India said that the improving semiconductor situation helped them meet the customer demand.
For the first seven months of FY2023, Hyundai's cumulative sales are 3,33,006 units, up 19.13 percent over 2021's figures.
Tata Motors: 45,217 units / 33 percent YoY
In third place and very close to Hyundai is Tata Motors with 45,217 units, up 33 percent (October 2021: 33,925), which is just 2,784 units behind the Korean carmaker. On the cumulative sales front, Tata Motors, with 3,17,667 units in the April-October 2022 period, is 15,339 units behind Hyundai. Clearly, the battle between these two brands is set to intensify in the coming months as Hyundai tries to protect its turf and Tata tries to usurp the second place.
October 2022 saw Tata sell 41,146 ICE cars and 4,071 EVs. This is the highest monthly sales for Tata Motors' EV portfolio, which gives it a strong advantage over its rivals. At present, it has four models in its line-up – the Nexon EV, Tigor EV, Tiago EV and the fleet-only XPres-T EV. However, deliveries of the Tiago EV is set to begin in January 2023.
The company, which has targeted production and sale of over 5,00,000 cars, including 50,000 EVs, is well on track towards achieving its goal. At end-October, it is 1,82,333 units away from that target – Tata is averaging monthly sales of 45,381 units, which means the half-a-million units goal is possible.
Mahindra & Mahindra: 32,298 units / 60 percent YoY
With the ever growing demand for SUVs, it's not surprising that Mahindra & Mahindra (M&M) has notched a 60 percent growth over last October with sales of its Utility Vehicles (UV). Last month's total sales stood at 32,298 units, which is an additional 12,168 units over October 2021's 20,130 units. They comprised 32,226 UVs (up 61 percent, October 2021: 20,034) with the e-Verito adding another 72 units.
The carmaker's October 2022 numbers are its second-best monthly sales this fiscal, both overall as well as for UVs (September 2022: 34,508 units, including 34,262 UVs).
Mahindra's bestselling products at present are the flagship XUV700, Scorpio – both in its N and Classic avatars – the XUV300, Bolero and Bolero Neo. With improved supplies of semiconductors and M&M judiciously managing its production operations, it is expected that the waiting periods for most of its top selling SUVs will come down.
Seven months into the fiscal, M&M has sold a total of 1,99,278 UVs, which makes for a remarkable 78 percent growth (April-October 2021: 1,12,050 units). This total is already 89 percent of the company's total sales of 2,23,682 UVs in FY2022 (April 2021-March 2022), which were its best-ever UV sales.
With a large booking order, M&M could be looking at achieving the 3,50,000 UV sales mark for the first time in FY2023.
Kia India: 23,323 units / 43 percent YoY
Kia sold a total of 23,323 units in October 2022, registering a 43 percent growth (October 2021: 16,331). The sales were led by its bestselling SUV, the Seltos (9,777), followed by the Sonet compact SUV (7,614), Carens MPV (5,479), Carnival premium MPV (301) and the electric EV6 crossover (152).
Cumulative sales for Kia in the April-October period are 1,55,285 units, which is a strong 48 percent increase over last year's sales of 1,04,714 units. These comprise 59,817 Seltos', 52,716 units of the Sonet, 40,509 units of the Carens, 2,075 Carnivals and 168 EV6s. For the first nine months of the year, Kia has crossed the 2,00,000 sales mark with a total of 2,15,347 units.
Toyota Kirloskar Motor (TKM): 13,143 units / 6 percent YoY
Toyota is the last player in this list with five figure sales in October – 13,143 units. This is a six percent increase over October 2021's 12,440 units. According to Atul Sood, associate vice-president, Sales, and Strategic Marketing, TKM, the demand is driven by the Urban Cruiser Hyryder. He said that even the carmaker's higher-end models like the Fortuner Legender, Camry and Vellfire continue to get good orders. He also added that the Glanza is also consistently performing well since the facelift's launch in April.
Honda Cars India: 9,543 units / 18 percent YoY
Honda registered total sales of 9,543 units registering an 18 percent growth over last year. Their entry level model – the Amaze compact sedan – was the carmaker's bestselling model last month.
MG Motor India: 4,367 units / 53 percent YoY
MG Motor India reported retail sales of 4,367 units, a growth of 53 percent, which comes on the back of the company achieving its highest production output of 5,008 units, including 1,000 units of its MG ZS EV, also an all-time high for the carmaker.
Volkswagen India: 3,510 units / 14 percent YoY
Volkswagen India benefitted from the introduction of the Virtus sedan and Taigun SUV, and sold 3,510 units to post a growth of 14 percent over the same period last year.
Skoda India: 3,389 units / 11 percent YoY
Like Volkswagen, Skoda's sales in India were also driven by its sedan and SUV pair – the Slavia and Kushaq. The carmaker sold 3,389 units registering a growth of 11 percent over last year.
Citroen: 1,195 units / 1,176 percent YoY
French carmaker Citroen registered a strong 1,176 percent growth compared to last year by selling 1,195 units. The demand was driven by the C3 – the carmaker's first mass market model for India.
Growth outlook: SUV-charged car sales in pedal-to-metal mode
October 2022's strong sales can only spell good news for Indian carmakers as the overall industry's benefits percolate to several ancillary sectors. Despite inflationary trends, the car market is shining as a beacon of hope for the Indian auto industry, which has weathered a couple of difficult years with growth being stunted by the pandemic-induced loss of sales.
Now, with improved supplies of semiconductors, car manufacturers ensured that showrooms were well stocked in October, particularly with popular models, even as automobile dealers offered good-value deals in a market thronging with new models and scores of variants, sold at multiple price-points.
The surging demand for SUVs, which now account for nearly one out of every two cars sold in India, is reflected in the new charge in the PV market. All brands, with a strong and fresh SUV product portfolio are firing on all cylinders. While the compact SUV segment remains high on the consumer radar, the growing demand for midsize SUVs is apparent. Meanwhile, there is also a smart uptick for some sedans. With the car industry having cumulative pending orders of around 7,50,000 units at the end of October 2022, expect the remaining five months of FY2023 to be high on numbers.
Also see:
Electric car, SUV sales at all time high aided by new launches
from Autocar Indiahttps://cdni.autocarindia.com/ExtraImages/20221102011453_Sales_story_AP_resized_image2.jpg