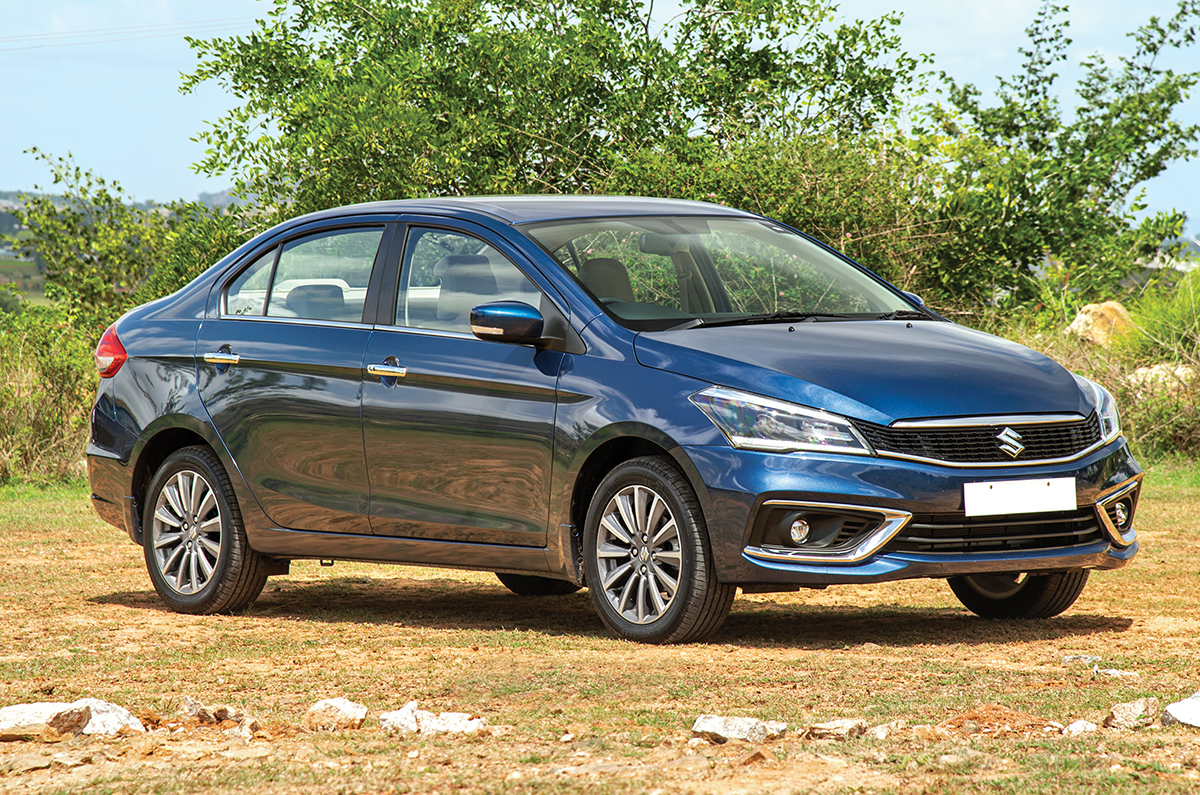 GOOD FOR: Cabin space, Efficient engines
LOOK OUT FOR: Suspension wear, Steering
The Ciaz is a spacious, efficient and value-for-money offering from Maruti Suzuki, rivalling the likes of the Honda City and Hyundai Verna. And with prices of used examples on par with prices for new hatchbacks, it is worth considering it as a used option. Here's what you need to know about the Ciaz.
The Ciaz was first launched in 2014 as a replacement for the SX-4 and received a facelift four years later. The 2018 model brought in an updated design, a new petrol engine and more equipment to help it better compete with its rivals.
Maruti Suzuki Ciaz: engine, gearbox and fuel efficiency
The Ciaz facelift was available with three engine options – one petrol and two diesels. The petrol is a 1.5-litre K15B four-cylinder motor that makes 105hp (104hp with the auto) and 138Nm and can be had with either a 5-speed manual or a 4-speed torque converter automatic gearbox. It also comes with mild-hybrid tech, which helps aid fuel efficiency. ARAI-rated figures for the Ciaz petrol are 21.56kpl for the manual version and 20.28kpl for the automatic (BS4).
The smaller diesel option was the Fiat-sourced 1.3-litre unit that put out 90hp and 200Nm. This engine came mated only to a 5-speed manual and had an ARAI fuel efficiency figure of 28.09kpl (BS4). Meanwhile, Maruti introduced the larger, in-house-developed 1.5-litre diesel engine to the Ciaz line-up in 2019. This unit made 95hp and 225Nm and was paired with a 6-speed manual only. However, unlike the petrol and the 1.3 diesel, the 1.5 diesel didn't get the mild-hybrid system. Still, the Ciaz 1.5 diesel is claimed to do an impressive 26.82kpl (ARAI, BS4).
All engines are efficient enough so your usage should ideally determine the one you go for. If your running is less than 30-40km on a daily basis and you will only take it out for the occasional weekend trip, then the petrol makes more sense. It also comes with the option of an automatic gearbox for added convenience, without affecting the fuel economy much.
However, if you will be using the car quite a bit every day and will be going on long road trips, one of the diesels would make more sense. Although they are hard to find, it's worth going for the larger 1.5, as it is more powerful and also more refined than the 1.3 diesel, without having a big effect on the economy. Though, bear in mind, with fewer units of these sold, engine spares too could be a potential issue.
Maruti Suzuki Ciaz: variants and features
Styling is conservative, but the LED tail-lamps and dual-tone alloys look nice.
The Ciaz facelift is available in Sigma, Delta, Zeta and Alpha trims. While the petrol-manual and 1.3 diesel can be had in all, the petrol-auto and the 1.5 diesel can't be had in the base Sigma trim. There was also the sporty S trim on offer for some time, which came with a body kit, spoiler, black alloys and an all-black interior. The mid-spec Zeta trim has most of the bases covered, as it comes with auto LED headlamps, 15-inch alloys, auto climate control, push-button start/stop, parking sensors and a rear camera. However, if you can stretch your budget, it's worth going for the top-spec Alpha versions as they get the larger 16-inch alloys, leather upholstery and a touchscreen.
As is the case with Maruti Suzuki models, the Ciaz is a reliable car and the list of issues isn't long. Maintaining it also won't be a problem, as spare parts are well-priced and Maruti's service network is spread across the country.
What to look out for in a second-hand Maruti Suzuki Ciaz
Suspension wear
Some owners have reported that the Ciaz's suspension bushings tend to wear out quickly. Take a test drive of the car you're looking to buy and listen for any excessive thudding from the suspension, as this is a sign of worn-out bushes.
Steering
Though typical of many Marutis, there have been reports by some owners about their Ciaz's steering wheel not returning to the centre position on its own after taking a U-turn. This is worth checking out on a test drive.
Touchscreen
The Ciaz's 7.0-inch SmartPlay touchscreen isn't the slickest around and is known to lag and crash on occasion. Before buying, check if it functions fine and ensure that the USB/AUX ports are in working order.
Maruti Suzuki had issued a recall for Ciaz petrol models manufactured between May 4, 2018, and October 27, 2020, for a suspected faulty motor generator unit. The affected vehicles were inspected, and if found faulty, the motor generator unit was replaced free of cost. If you're looking at a petrol Ciaz from this time period, ensure this has been taken care of.
Second-hand Maruti Suzuki Ciaz price and resale value
Rs 6 lakh-9 lakh
Being a Maruti, the Ciaz is holding its value well in the used market. Still, getting one for anywhere between Rs 6 lakh-9 lakh, depending on the powertrain, trim level, manufacturing year and mileage, is a good deal.
Maruti Suzuki Ciaz factfile
Years produced
2018-Present
Price when new
From Rs 8.19 lakh (ex-showroom, Delhi)
Engine
4 cyl, 1462cc, petrol / 4 cyl, 1248cc, turbo-diesel / 4 cyl, 1498cc, turbo-diesel
Power
105hp (P MT)/104hp (P AT)/ 90hp / 95hp
Torque
138 / 200 / 225Nm
Boot space
510 litres
Also see:
https://ift.tt/CPtMjSU