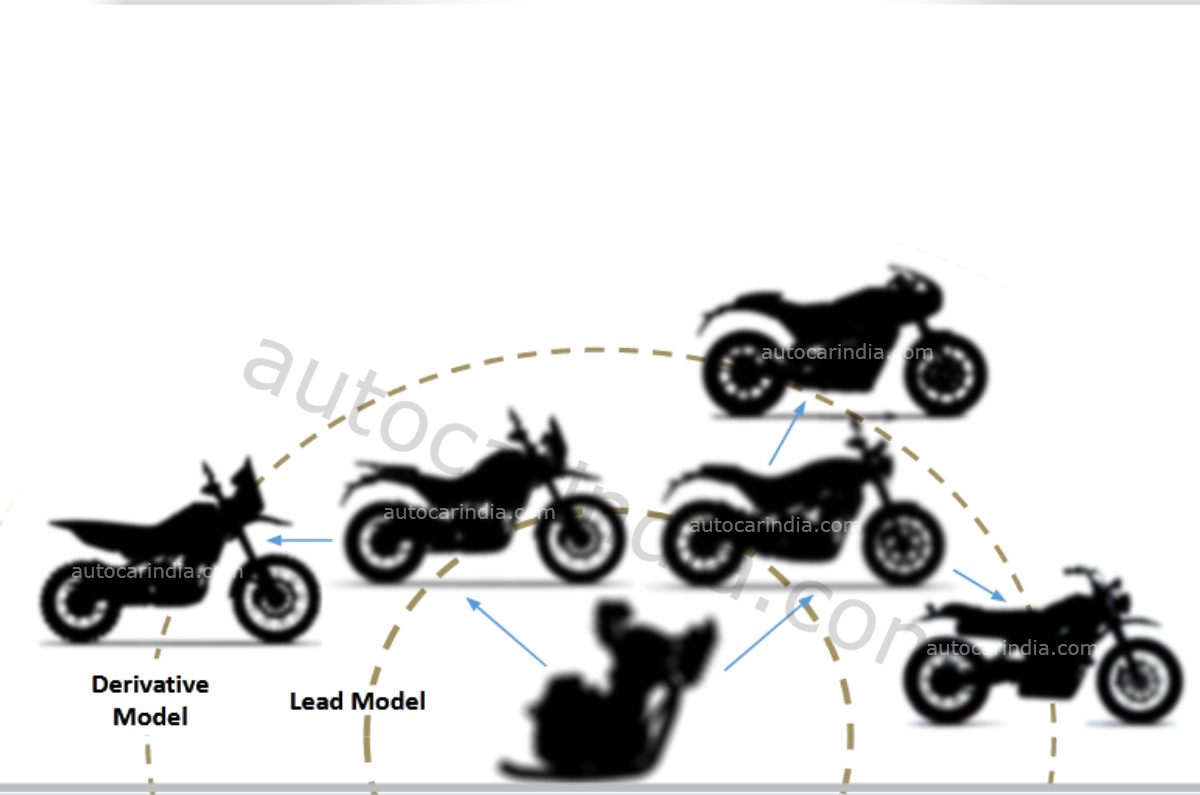 Royal Enfield has some big plans afoot, with a flurry of diverse products being launched in the next few years. One of the most anticipated products is a new liquid-cooled Royal Enfield Himalayan 450, but this platform will also underpin four more bikes.
Himalayan 450 to get more hardcore off-road variant

450cc street naked roadster also in the works
Royal Enfield Himalayan 450: details
Royal Enfield is working on an all-new liquid-cooled engine, widely rumoured to displace 450cc, which will underpin the upcoming Himalayan 450. The big news now is that this engine will power as many as five new models, as per an official Royal Enfield document. Spy photos of the Himalayan 450 have been doing the rounds for quite some time now and the test mules have started to resemble production-spec bikes rather than rough, early prototypes.
It was widely rumoured that there will be an even more off-road biased variant of the Himalayan 450 that will follow, and this latest document seems to confirm that. We see a more serious looking motorcycle listed as a variant of the Himalayan, but with a flat, single-piece rally-style seat. Ground clearance and suspension travel also appear visually greater than on the standard Himalayan, and overall, the silhouette wouldn't look out of place for a focused Dakar machine. Of course, these are just rough sketches at this point and only time will tell what the production-spec bike will look like.
Royal Enfield 450cc scrambler: details
Much like RE's other current engine platforms, this 450cc platform will have 'lead' models, which will then spawn derivatives, and these in turn will give rise to distinct variants down the line. Alongside the Himalayan 450, we see a second lead model that resembles a naked street roadster. This bike will likely be more approachable and road-oriented than the Himalayan 450 , with a lower seat height and alloy wheels unlike the latter's wire-spoke units. The wheels appear to be the same size at both ends and will likely be 17-inchers, opening up greater possibilities in terms of tyres.
Beyond this roadster, we see there will be two further motorcycles – a faired cafe racer and a scrambler. The design sketch of the cafe racer shows many similarities to the 450cc roadster, especially in terms of underpinnings. But in true cafe racer fashion, it has a bikini fairing at the front and lower handlebars (presumably clip-ons).
The scrambler variant, however, has a much more distinct appearance, with more differences compared to the roadster. Noteworthy elements include a high-mounted scrambler style underseat exhaust system, a front beak, a tall handlebar and wire-spoke wheels. A scrambler-typical flat bench-style seat is also visible, and the tail-end seems to be quite minimalist, with a small tail-lamp and a short fender.
To sum up, it seems like there are going to be five distinct models to be based on the liquid-cooled 450 platform, and it's quite likely that the Himalayan 450 will be the first of these to be launched. These are very long-term plans, so it's tough to say when the first of these will be launched. But as we mentioned earlier, the Himalayan is shaping up to be a finished motorcycle, and you could see an official unveil in the latter half of next year. Stay tuned for more details.
Also See:
SCOOP! Royal Enfield 650cc ADV under development
SCOOP! First picture of Royal Enfield electric bike emerges
Royal Enfield 350cc bobber in the works
from Autocar Indiahttps://cdni.autocarindia.com/ExtraImages/20221128025624_RE%20450.png