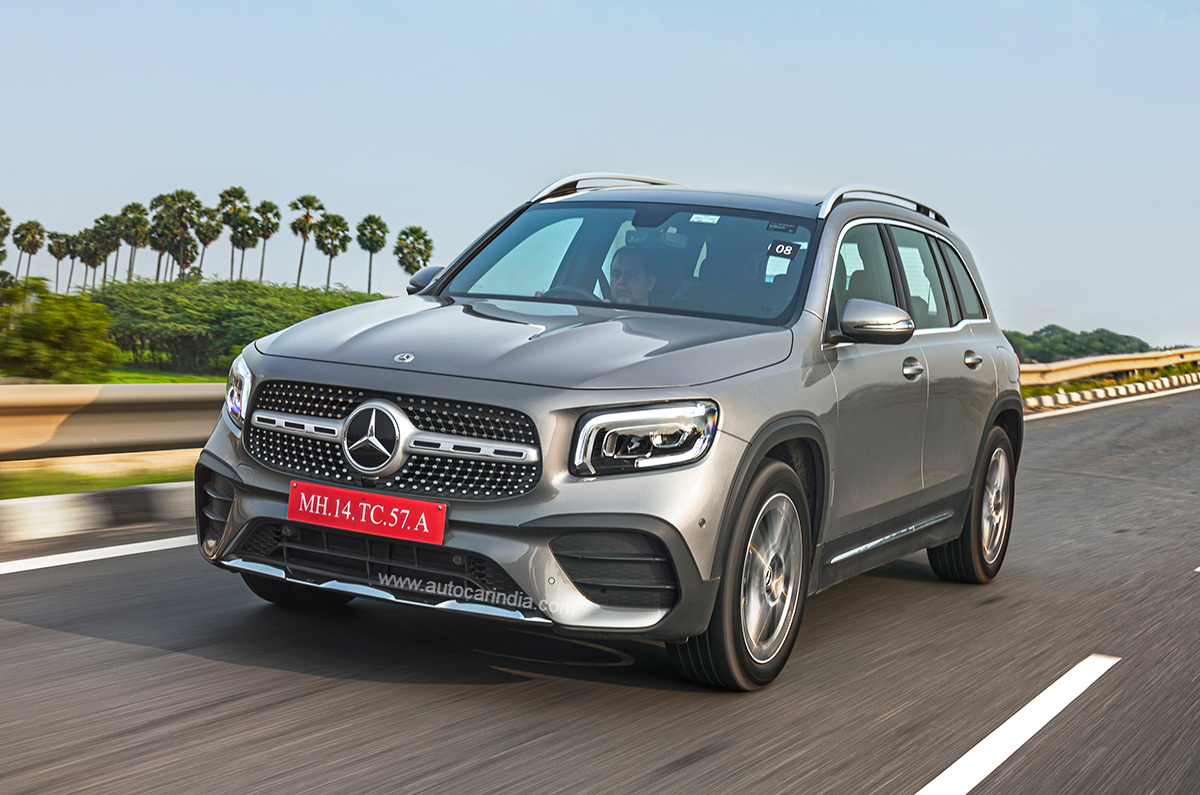 The Mercedes-Benz GLB is a luxury SUV that seems tailor-made for India. The only seven-seater among its immediate rivals, the GLB has an imposing presence, is as large as SUVs a class above, and the large and flexible cabin gives it a USP that Indian luxury car buyers are likely to appreciate. There are challenges, too. The GLB, unlike its sister cars – the GLA and A-sedan – will be imported and not assembled in India. This is because the plant where it is made in Mexico doesn't supply it in kit form. And that will mean that the GLB will be expensive. Expect prices to range between Rs 68 lakh and 72 lakh, the petrol GLB 200 being more affordable than the 220d. Question is, just how much appeal does the GLB exert at this price? Will buyers pay more for more seats? And will it be luxurious enough? We put it under the microscope.
Mercedes Benz GLB: exterior design
The GLB makes a good first impression, an extremely good one. Long in beam, it looks big, the upright stance is exactly what Indian SUV buyers want, and what works even better is that the design, styling and detailing are just as good as on any Merc SUV. In fact, it looks so big and is so lavishly detailed, it has all the chutzpah of a Rs 70 lakh SUV, no two things.
The upright grille and rectangular headlights set the tone, it has a long flat bonnet, the squared wheel arches give it a solid stance (despite it not being as wide as other SUVs of this size) and the 'D' pillar and tail-lights make it easy to confuse with a GLS from the rear. This is a mistake Mercedes designers want you to make. The GLB is even called the baby GLS, just as the C Class is called the baby S Class.
It isn't all GLS design cues, however; the GLB has an interesting kink in the shoulder line. Its job is to raise the shoulder line towards the rear, but without making the SUV look tipped forward. And doesn't the GLB 220d 4Matic, seen here in AMG-line trim, look on point with its studded grille, more fleshed out bumpers, and attractive 19-inch alloys?
What will also help the GLB's case is the fact that it is considerably larger than the GLA. The length at 4,646mm is seriously impressive and it is built on a 2,829mm wheelbase. This compares extremely well with the 4,658mm-long GLC, and what's interesting is that the wheelbase is even longer than that of the Audi Q5! Underneath it all, the Mexico-built GLB uses the same MFA2 platform as the Mercedes-Benz A-sedan and GLA.
That means it is predominantly front-wheel drive and a bit narrower than rivals of this length; but the front-wheel drive and transverse engine architecture give it super space efficiency. This is especially true when it is compared to the GLC, which, with its longitudinally mounted engine, uses a lot more space for the engine compartment.
The GLB also benefits from having 100mm more in the wheelbase than the GLA and a fair amount of overhang at the rear. The suspension used to keep this car comfortable and stable uses struts up front with a multi-link rear taking care of suspension at the rear.
Mercedes Benz GLB: interior, space, features
The GLB's interior looks familiar because it has a lot of parts shared with the GLA and A-sedan. The deconstructed dash with individual elements like the twin screens, circular vents and air-con controls neatly assembled in a row are all familiar. Factor in the door pads and touchpad controls, and this is clearly a familiar cabin. The sporty, high-quality steering blends leather, brushed aluminium and red stitching, the buttons on the steering wheel function in an intuitive manner, and what is also being carried forward onto the GLB is the tough overall build. As on other Mercedes MFA models, there are a few ordinary-looking plastic bits that seem even more out of place on a car of this price. The doorpads look and feel below par and the bottom of the dash and the glovebox are made of lower-grade plastics.
The long central tunnel with its shutters finished in piano black, however, hits the spot and the decorative block of metal above the dash adds definition. Other points of interest up front include two-zone climate control and wireless phone charging but Android Auto and Apple CarPlay are not wireless. The 10-speaker audio system is also well specified, the resolution of the reverse camera is good and, as on the GLA, you get bright LED ambient lights that perk up the cabin and come in 64 colours. Also familiar are the 10.25-inch screen, Merc's MBUX interface and the 'Hey Mercedes' voice commands that seem to work better every time we use them. This 4Matic version also gets very attractive and nice to touch part-suede and part-leatherette sports seats, with lateral and lumbar support.
Space and legroom on the second row are also excellent as you can slide the second row back quite a bit. And the solid construction of the seats feels good. The backrest can be reclined, the seat back is supportive and what helps is that you are sat at a good height. The seat base, however, is a bit small, probably to help with the variable seating, and so under-thigh support isn't as good.
Meanwhile, space, comfort and access to the third row are all poor, especially for adults. Ingress is very tight; the second row slides and folds, but the aperture between the canted forward backrest and the door is very narrow. And then, even with the second row seat pushed forward, there's hardly enough space to place my size 12 feet.
The seat is also very low – even Mercedes says the rear is for children only. It has a sticker inside the door frame that effectively says only for passengers who are under five feet five inches. Should be more like four and a half feet. You do get cupholders on the third row, a shelf to keep odds and ends and a 12-volt socket, but there are no air conditioning vents, which could pose a problem.
The GLB also gets a powered tailgate that lifts to reveal 130 litres of luggage space with all seats up. You can place a couple of soft bags here, no more. The third-row seats, however, fold flat and then you then have 500 litres of space, or half that if you fold only one seat; 1055 litres of cargo space is available if you also fold down the second row. You don't get a spare tyre, however, only a puncture repair kit, which could be a first for a Merc SUV in India.
The safety suite includes seven airbags with curtain airbags that extend all the way to the third row. There's ABS, ESC, hill descent control and tyre pressure monitoring, and the GLB gets a 5-star NCAP crash test rating. There's active braking too, but the system is overactive in our conditions and needs to be switched off. Other equipment includes kinetic seats, a panoramic sunroof, driver modes and paddle shifters, among others.
Mercedes Benz GLB: engine, performance, refinement
The GLB will go on sale in India this week, offered in both petrol and diesel engine options, and there'll also be its all-electric derivative, the EQB (read the review here). The front-wheel drive GLB 200 petrol is powered by a 163hp and 250Nm, 1.3-litre direct injection turbo petrol engine. The GLB 220d, reviewed here, gets a stronger 190hp and a very healthy 400Nm of torque. It can be had with front-wheel drive or, as here, with all-wheel drive.
The 2.0-litre diesel is one of the most responsive diesel engines in its class. This is especially true at low and medium speeds. Tap the throttle and torque delivery is immediate, urgent and very strong. Keep your foot down and the GLB pulls forward with plenty of energy, with no let up in the flow of torque even as you swap to the next gear. It doesn't quite feel as strong as when powering the smaller and lighter GLA, especially at higher engine speeds, but there still is plenty of performance. It's so quick, Merc claims a 0-100kph time of 7.6 seconds for the 220d 4Matic, and at times it feels even faster.
While the GLB diesel cruises nicely and NVH is well contained, pull the engine and it gets gruff and makes quite a din further up the powerband. And idle isn't the smoothest either. The 8-speed dual-clutch gearbox, however, is quick on the draw smooth, and with the tightly packed ratios, it manages to keep the engine on the boil quite effortlessly. What also makes the gearbox pleasing to use is that it responds sharply to a tug on the left paddle and there's very little hesitation or dithering that you normally get with twin clutch gearboxes.
Mercedes Benz GLB: ride, stability, handling
With Mercedes engineers having to balance ride and driving manners on what is an SUV with a long wheelbase and a tall suspension, a bit of a compromise has been made. While the GLB rides well over small bumps and doesn't really toss you around on bad patches, big potholes and sharp bumps do expose some shortcomings. Here, you feel more thuds and can occasionally hear the suspension at work. And over deeper bumps, the suspension does hop and toss you around more.
Straight-line stability is excellent though. You are generally unaware of the elongated footprint, the four-wheel-drive system helps with traction (20 percent of torque is sent to the rear wheels, 30 percent in Sport and 50 percent in off-road mode), and the GLB even steers into corners with a fair amount of enthusiasm. There is some body roll, as you would expect, but the GLB rolls in a progressive manner, feels neatly tightly tied down in corners and directional control in general is good. It's no BMW X1 though, so while you do enjoy nudging it into corners, it doesn't exactly excel at corner carving. That said, the steering is accurately calibrated and that means the GLB can be driven at pace without too much effort or correction of the wheel, which makes it mildly entertaining to drive.
Mercedes Benz GLB: verdict
The GLB makes an intriguing addition to Merc's SUV fleet, incidentally the largest of any carmaker in India. On one hand, it is a seven-seater and has no real rival apart from the Land Rover Discovery Sport, at best a niche player. It looks appropriately imposing, has plenty of Merc SUV bling and looks, feels and drives like a more expensive SUV than it is. It is even well equipped, comfortable for four and pleasing to ride in. On the flipside, the GLB isn't a real seven-seater – the third row is very cramped and only fit for kids, even by Merc's own admission. And being an import, it will be expensive. So, it doesn't really appeal to the head.
Thing is, Merc's GLB exerts tremendous appeal and luxury SUV buyers really want a seven-seater. They want the added flexibility, they want the ability to travel with family, friends, staff and pets (not necessarily in that order); and with no real rivals, Mercedes could be on to something. In fact, if anything, Merc's own GLC is likely to be its most serious rival. There's no getting away from it, the GLB is a very likeable SUV, one we are likely to see a fair amount of, despite the price.
Also see:
Mercedes-Benz GLB India video review
from Autocar Indiahttps://cdni.autocarindia.com/ExtraImages/20221130102308__AAB4660.jpg