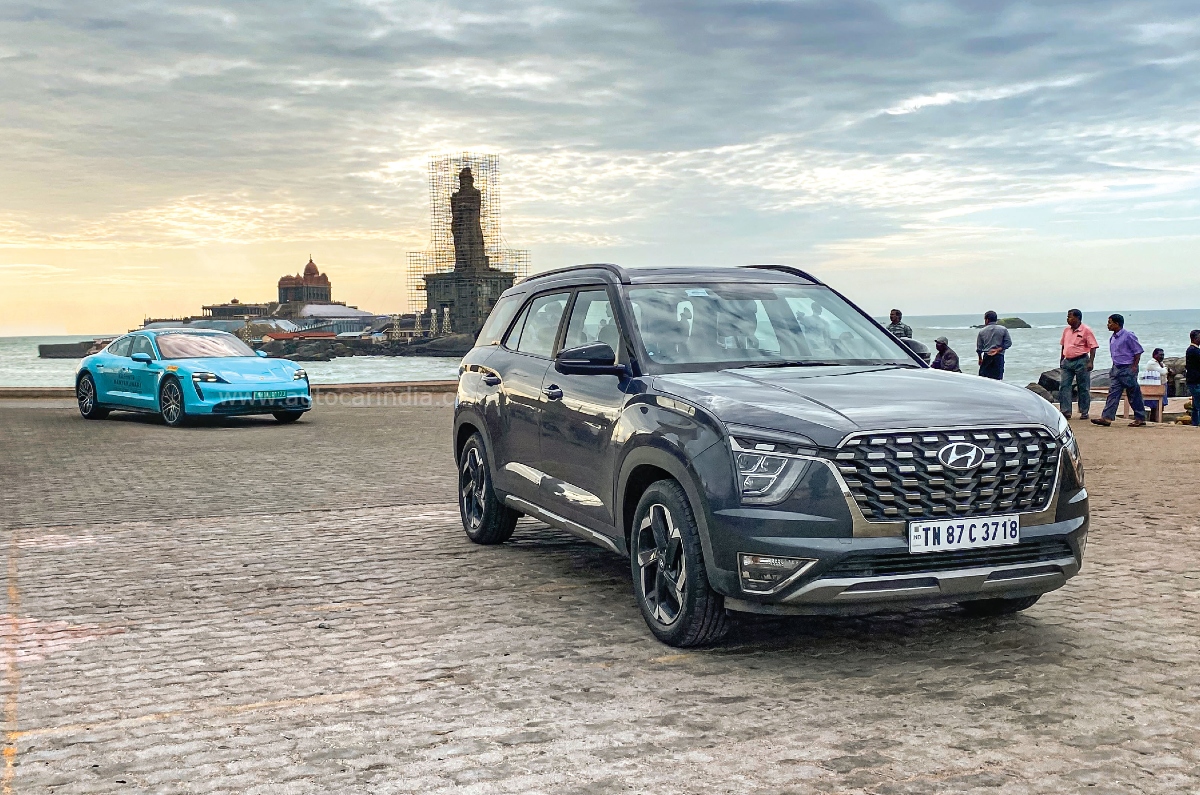 For our epic Porsche Taycan Kashmir to Kanyakumari drive we needed a support car, and a monumental drive like this called for one that would not only be reliable but also frugal, spacious and comfortable. Our Alcazar long-termer ticked all these boxes, and thus, was assigned to the task. While the Taycan would start its journey from Srinagar and end at Kanyakumari, the Alcazar had to be driven over 2,400km from our Mumbai office to Srinagar and, at the end of the journey, from Kanyakumari to Mumbai. This means the Alcazar would have done over 8,000km, that's the legendary K-to-K route twice over!
Flat-folding third row easily doubles the 180-litre boot capacity.
What I like about the Alcazar is that it delivers really well on the three fronts we selected it for – the space it offers, its frugal nature, and most importantly, how reliable it is. While the crew travelling in the Alcazar consisted of only four people, including myself, there was a whole lot of camera equipment that needed to be accommodated along with our luggage. Thankfully, the third row can be folded flat, which opens up a whole lot of space for storing that extra luggage. With more space opened up, all the bags we had to fit in were accommodated without any fuss.
Foldable tray, retractable window shade and head cushion add to the comfort.
What's nice is there's also enough and more space to store knick-knacks, and the doors can hold one-litre water bottles with ease. The armrest too doubles up as storage to keep small items like wet wipes, bills and so on. The second row even has hard plastic trays, which can be folded away – a very useful feature for the crew to place their laptop on and work comfortably while on the move.
Coming to its frugal nature, with a full tank of diesel – 50 litres – and running a heavy load of luggage with four passengers, it still managed to run at least 700km on average during this expedition. That translated to 14.26kpl (overall), which was really impressive.
The Alcazar provides an effortless driving experience.
Although our Alcazar has a manual transmission, I did not have any reason to complain. The clutch has the right amount of firmness; it's not too soft and not too hard either, which made it easier on my left foot. The 1.5-litre diesel motor is pretty much effortless to drive in most scenarios. The suspension did a fantastic job of handling a variety of terrain that was thrown at it across the country, especially in the hills, which I was really impressed with, given that the Alcazar was loaded to the hilt. I also like the strong bite the brakes provide; it's good that disc brakes all-round are standard across all variants of the Alcazar. I found the auto-hold feature very useful on many occasions, as working the electronically operated handbrake of the Alcazar manually would have been inconvenient.
What I am a bigger fan of after this drive though are the seats. There were days on the drive when I spent close to 12 hours behind the wheel and did not have a backache or feel fatigued from sitting too long. They are ventilated too, which I found really cool, literally. The massive panoramic sunroof also adds a lot of light inside. However, the button to operate it is a bit fidgety and I unintentionally opened the glass along with the sunshade on many occasions.
The Bose 8-speaker set-up with a subwoofer is well-balanced and sounds good.
My colleagues in the rear seat were also pampered with the retractable window sunshades, a wireless phone charger and pillows; not to forget that the captain's seats can be adjusted for legroom and recline too. And keeping us all entertained was the crisp sound quality of the Bose music system.
I must also mention that the all-around visibility is great and is aided by the 360-degree view cameras and sensors. Especially the camera up front, which helps a lot while parking in tight spaces. The blind view feature too is helpful, and is displayed on the instrument cluster as soon as the indicators are turned on.
No wireless Apple CarPlay, so phone battery is constantly charging even when not needed.
Of course, there are a few things that I am not a fan of, like the Apple CarPlay connectivity, for example. I sorely missed the wireless connectivity and had to make do with the cable connection, which means on a long drive like this, the phone battery is constantly being charged. Another thing that I thought would have been nice to have on this top-variant Alcazar is automatic wipers.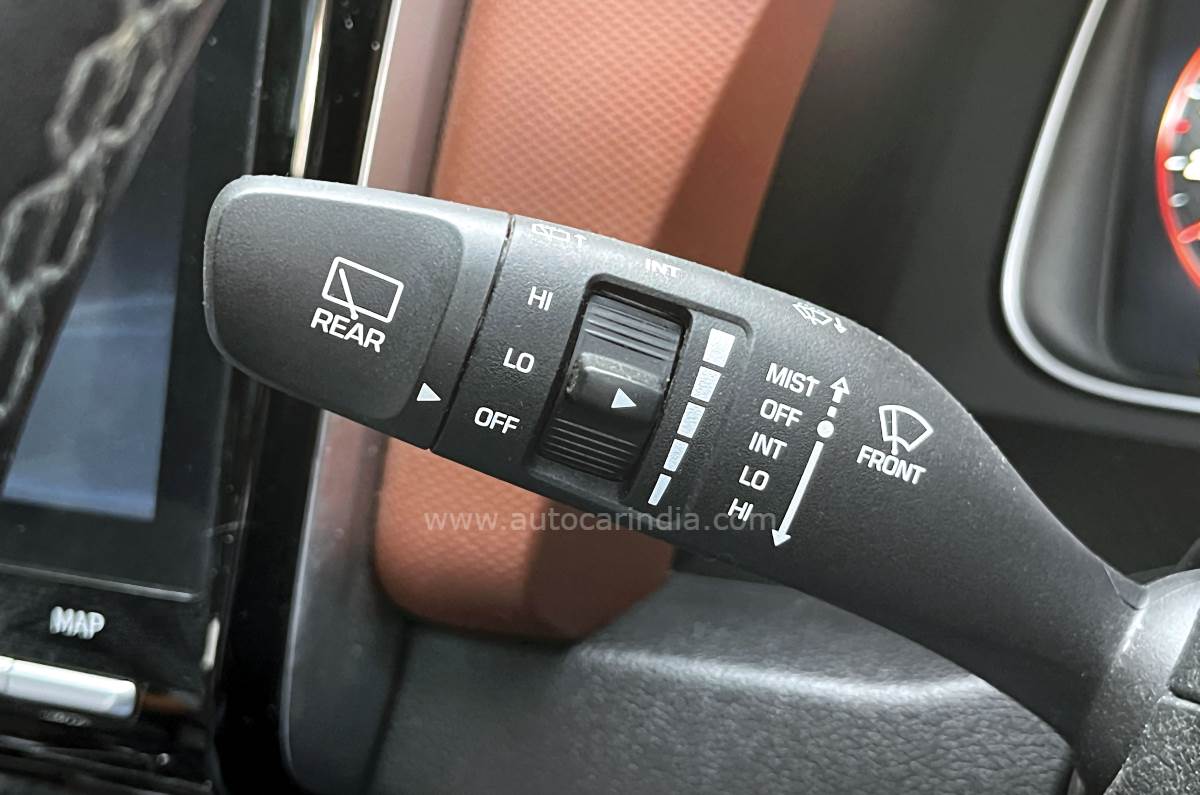 Automatic wipers are a sore miss on this top Signature variant.
Having run a marathon, the Alcazar has had the much-needed TLC in the form of a visit to the Hyundai service station in Mumbai. With a new set of wipers, engine oil, brake oil, air filter, oil filter, etc, it has been primed to run yet another one, maybe west to the east this time. What do you think?
Also see:
from Autocar India - All Car Reviews https://ift.tt/YkeDHCh
https://ift.tt/1jkJYq9