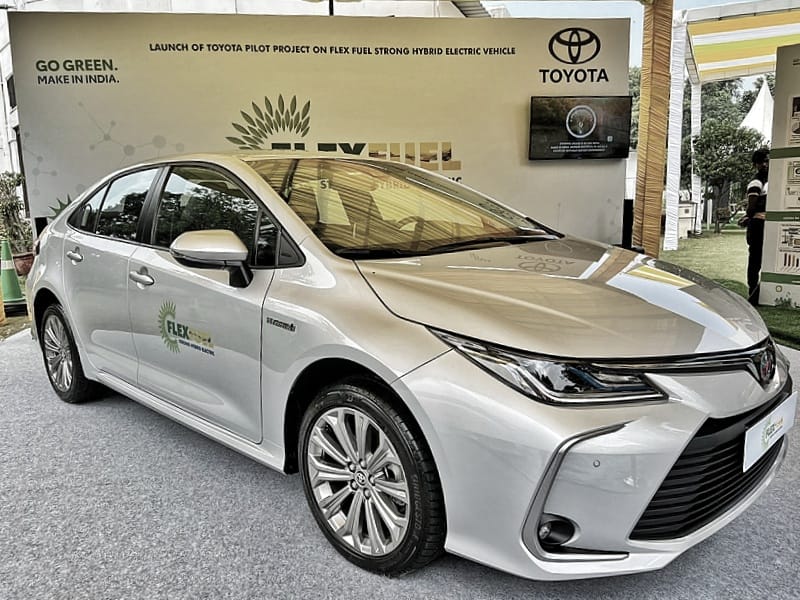 Toyota has showcased the Corolla Altis Hybrid – its pilot project to test flex-fuel-powered cars in India. The car, which also runs on ethanol, was unveiled by Union Minister for Road Transport and Highways Nitin Gadkari.
Corolla Altis Hybrid unveiled in India can run on ethanol-blended fuel
Current-gen Toyota Corolla not on sale in India
The Corolla Altis Hybrid is already on sale in markets like Brazil where the car is tuned to use ethanol-blended fuel (E85). It also gets Toyota's full-hybrid technology, which is seen in vehicles like the Camry and the Urban Cruiser Hyryder in India, among a few others. Last month, we had reported that the car that will be showcased here as the tech-demonstrator for flex-fuel will be the Corolla hybrid and not the Camry.

Will the Corolla Hybrid flex-fuel be India's first ethanol-powered car?

Sources tell us that the model being used for testing is a left-hand-drive unit. The Corolla hybrid shown today will be more of a technology demonstrator for the brand, similar to the hydrogen-powered Mirai that Toyota showcased in India earlier this year.

What is a flex-fuel vehicle?
A vehicle equipped with a flex-fuel engine can run on more than one type of fuel, and also a mixture. Such an engine is capable of automatically adjusting to any ratio, thanks to modifications like a fuel composition sensor and suitable ECU programming. Flex-fuel engines are capable of running on 100 percent petrol or ethanol and are already available in countries such as Brazil, the USA and Canada.
India already has ethanol-blended petrol with a doping level of about 10 percent. Last year, the government brought forward its target by two years – from 2025 to 2023 – to produce 20 percent ethanol-blended petrol (E20).
from Autocar Indiahttps://cdni.autocarindia.com/ExtraImages/20221011033746_CORO1.jfif