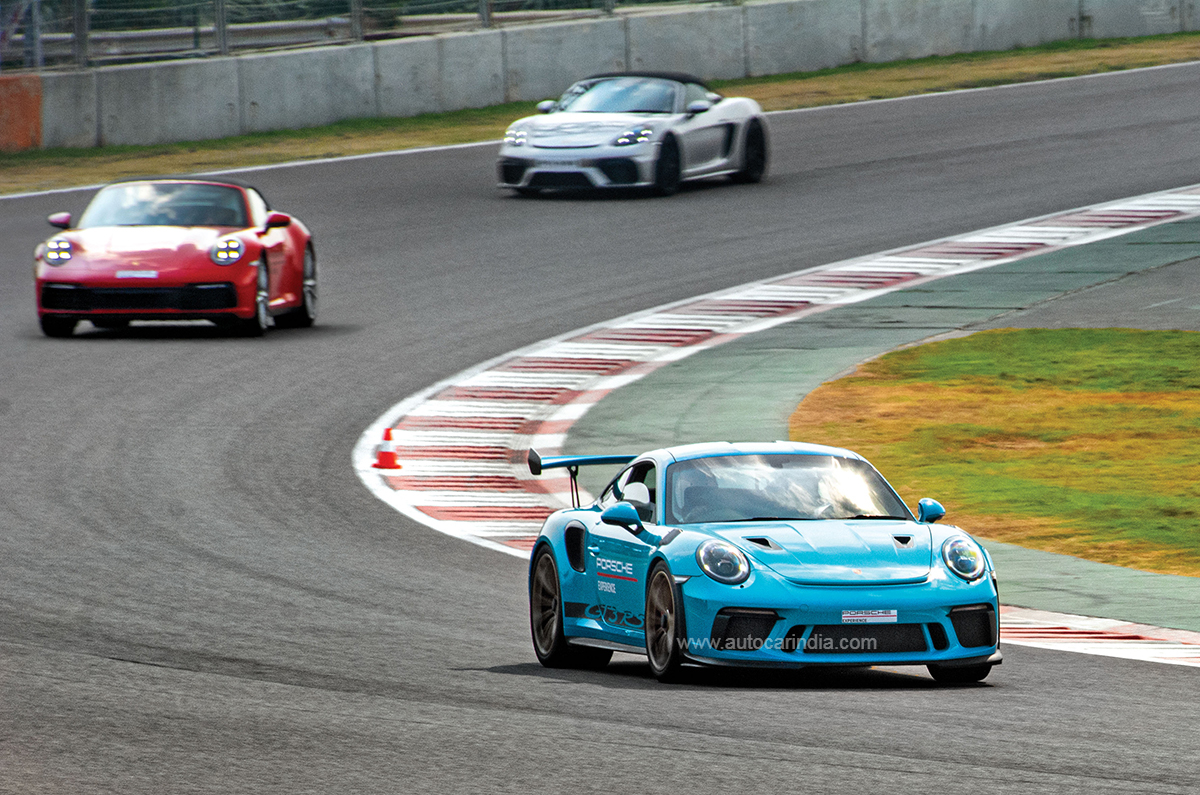 911 Carrera S cabriolet
It's a well-known fact that the 911 is not tail heavy anymore, but what baffles you is just how tame and forgiving the new cars are when pushed hard. We got a taste of the Cabriolet's sharp dynamics on a tight autocross track, but it was only on the race circuit where we could truly push its handling limits and make its 3.0-litre, flat-six turbo engine sing, exploiting its 450hp and 530Nm of torque.
With 450hp on tap, the Carrera S effortlessly reached 230kph on the straights.
While we weren't setting lap times, reaching speeds of 230kph on the back straight of BIC felt effortless. Adding some spice was the optional Sport Chrono Package, which makes it 0.2sec quicker to 100kph, at 3.7sec.
911 GT3 RS
Jumping into the GT3 RS after the 911 Carrera S Cabriolet was quite a revelation. The Miami Blue GT3 RS is an out and out race car that just happens to be road legal. Sure, it's an older generation, which you can't buy new anymore, and the test car didn't even have air-con, but could these factors dissuade us from getting behind the wheel of Porsche royalty? Absolutely not! Gentle dabs to the accelerator are reciprocated with instant responses and raw mechanical sounds. Being completely stripped of any form of insulation or dead weight, you hear every road and powertrain sound inside, adding to the unadulterated driving experience.
Extra aerodynamic bits and slick tyres allow for astounding levels of grip.
The steering is telepathic, the PDK is the fastest I've experienced, and that soundtrack from the 4.0-litre flat-six engine is so seductive – and spins so quickly till about 9,000rpm – it is simply addictive. And with astounding levels of grip, thanks to aero bits and ultra-sticky tyres, drivers will reach their capabilities around corners much sooner than the car reaches its limits. For those who say don't meet your heroes, I'd recommend driving the GT3 RS on a track once; your respect and love for this hero will only multiply.
718 spyder
Saving the best for the last, what's often referred to as a 'Junior 911', the 718 Spyder. This particular car is special on many fronts. Firstly, taking the heat up to eleven was the savage 420hp, 4.0-litre six-cylinder engine, and the best part was its 6-speed manual. Yes, it is a rare breed. And boy oh boy, what a hoot it is to drive. Rowing through the slick gearbox, with its flat-six howling away to 7,600rpm, is extremely satisfying. When compared to the Carrera S Cabriolet, the 718 feels more agile and, dare I say, more exciting to drive.
Unlike the 911 Carrera S and GT3 RS, the 718 Boxster sports a mid-engined layout.
Having a mid-engine layout, its weight distribution pivots around its axis, akin to a perfectly-executed pirouette by a pro ballerina. And I even found the steering a touch more precise than the Cabriolet. The manual's ratios are just too tall for street driving, the clutch requires effort, and it is slower than the PDK auto, making a strong case for the latter. So, if you want an out-and-out driver's car with a perfect balance, do yourself a favour and get the 718; hard top or convertible, take your pick!
Also see:
Kashmir to Kanyakumari: 4,500km in a Porsche Taycan EV
Dr Nirmal Krishnan: Daily driving a Porsche 911 GT3
from Autocar Indiahttps://cdni.autocarindia.com/ExtraImages/20221012011051__DSC3881.jpg