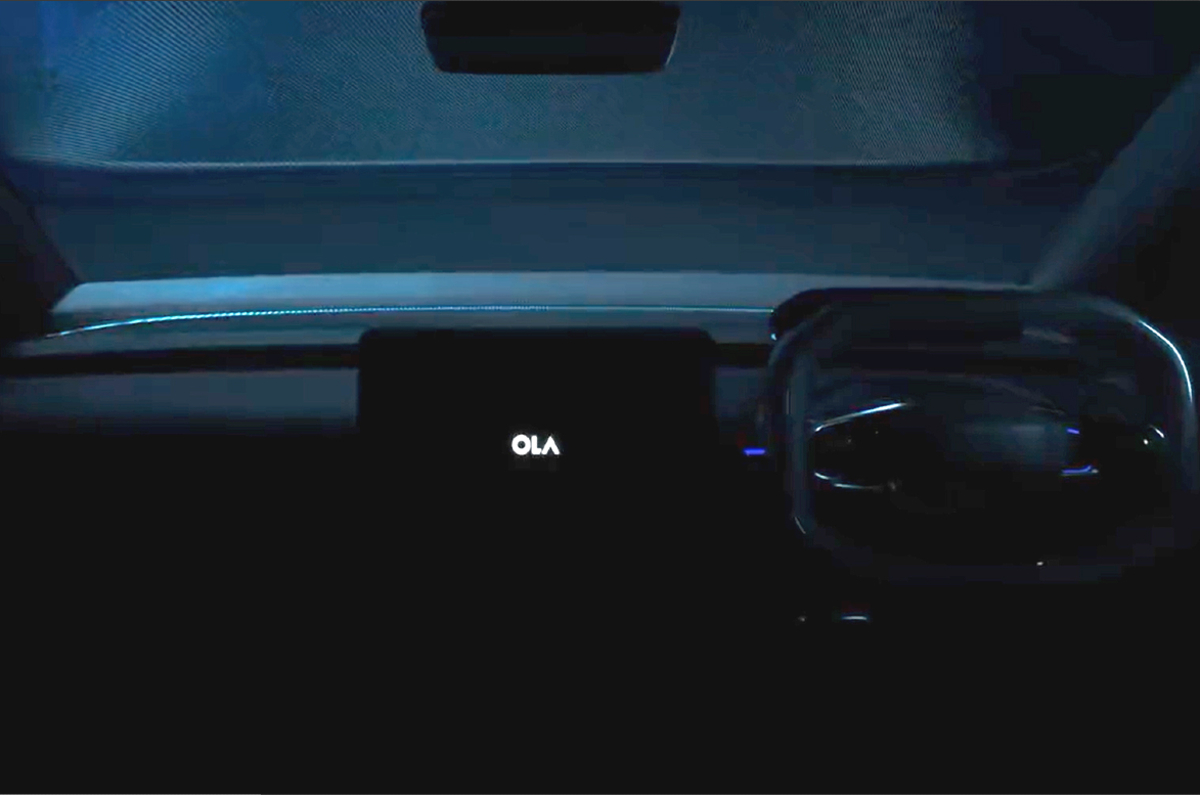 Indian EV start-up Ola Electric has chosen the occasion of Diwali to put out another teaser video for its upcoming electric car. Unlike previous teasers that showed various exterior design possibilities, this time the teaser gives us a brief glimpse at the interior.
Ola EV four wheeler to get 'square' steering, digital dials
Large touchscreen expected to house many vehicle controls
New teaser shows crossover-shape; other styles expected too
Ola Electric car to get digital dials, touch controls
Though heavily obscured by shadows, some details of the Ola Electric car's interior can be made out. The first thing shown inside the car is the steering wheel, which reveals a two-spoke design with an octagonal centre boss that has the Ola logo embossed in it. On the spokes, there are what appear to be backlit touch controls on either side, as well as a pair of toggle switches. The most interesting thing, however, is that the steering 'wheel' itself appears to be almost rectangular in shape.
Behind the wheel, one can see some cool blue interior ambient lighting and set a bit further back is a free-standing digital instrument cluster, showing a digital speedometer readout. A wider shot of the entire dashboard reveals more of the clean, minimalistic design. There's a slim strip of ambient lighting at the very top, and just ahead of that could be a slim bank of AC vents. There's a better look at the steering wheel, too, but also at a massive, landscape-oriented touchscreen with a floating design at the centre. There aren't any other controls or switches visible on the dashboard, and that could point to all controls being integrated into the touchscreen itself.
Ola Electric car exterior reveals new crossover design
The final glimpse of the vehicle shows the exterior head-on and reveals yet another look from what we've been shown before, hinting that the design has not yet been finalised. It appears to be a high-riding vehicle with a relatively upright windscreen, hinting that this is a crossover. The visual links to previous teasers include a minimalist, rounded shape, smoothened air 'intakes' low in the front bumper, and a horizontal LED light bar across the nose with the Ola logo at the centre. New here is the headlamp signature, which appears to be pairs of stacked horizontal blocks. There's even some sculpture to the bonnet, as well as cameras instead of wing mirrors.
At this stage, it's unclear whether there will be one or multiple body styles, with the brand having shown various, different details through a series of online teasers, the last of which depicted a sedan-like model. The car is due in 2024 and technical details remain scant for now. We do know, however, that Ola is not targeting the budget segment, and instead going premium with its first electric car, with a starting price likely upwards of Rs 25 lakh. It will also likely employ a 70-80kWh battery with an intended range of over 500km, a 0-100kph time of under 5 seconds and a drag coefficient of just 0.21; however, the latter will likely be for the sedan model.
This teaser comes right on the back of yesterday's launch of the Ola S1 Air, the base model of the brand's electric scooter, whose lower price of Rs 79,999 should help those who were on the fence about taking the plunge on an EV. The model not only features changes like fewer drive modes, but also different underpinnings and lighter weight. Moreover, the brand has declared its intention to explore the more expensive electric motorcycle space as well, and all this does put paid to the idea that multiple four-wheeler models will be possible too. However, the EV space is filling up fast – with established entrants like the Tata Nexon EV Max, Hyundai Kona Electric and MG ZS EV soon to be joined by the Mahindra XUV400 and BYD Atto 3 – so Ola's first four-wheeler offering will have its work cut out.
Do you think the Ola car will have the same impact as the S1 scooter? Comment below.
Also see:
Opinion: Ola Electric teasers – virtual or reality?
from Autocar Indiahttps://cdni.autocarindia.com/ExtraImages/20221024090321_Ola_3_resized.jpg